His Highness Sheikh Mohammed Bin Rashid Al Maktoum, Vice President and Prime Minister of the UAE and Ruler of Dubai, has just presented the ''Mohammed Bin Rashid Sash'' to the mother of martyr of duty, Tareq Al Shehi, on the occasion of Mother's Day.
إلى أمهات الشهداء .. أمهات الوطن .. صانعات المجد ..كل عام وأنتن أقوى .. كل عام وأنتن أكثر فخرا وعزا ورفعة pic.twitter.com/XoqXBuMxcb

— HH Sheikh Mohammed (@HHShkMohd) March 21, 2017
Sheikh Mohammed wrote a poem dedicated to the mothers whose sons died serving the country. "Rejoice oh mothers of martyrs, for you have found in [Sheikh] Mohammed and myself a family," His Highness said.
He also added that the women were an asset to their people and the country, and the "most precious and highly esteemed are the shapers of heroes and makers of men." Sheikh Mohammed congratulated the mothers on behalf of himself and Sheikh Mohammed bin Zayed.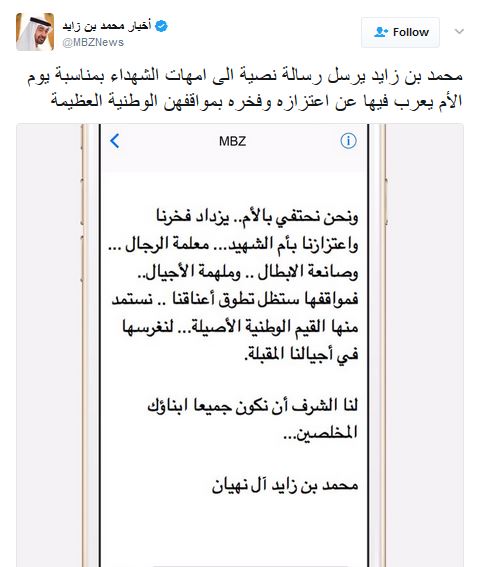 Not only that, he also posted a very touching video on Instagram, praising the mothers of the nation.
WE SAID THIS: God bless UAE leaders!