By Sarah Alblowi
Wedding prices are as high as skyscrapers in busy Dubai. Surfing the web for the perfect venue is time-consuming and challenging. The type of wedding, the guest count, and everything in between all matter when it comes to having a happy wedding.
Whether you're into an over the top indoor ceremony full of interior crazes, an open-air wedding, or an out of the box quirky one, this article's for you. One venue can make or break your party and wedding photos. Avoid bridezilla mode and check out these top wedding venues that include all budgets and styles. 
Indoor Weddings
Dubai Opera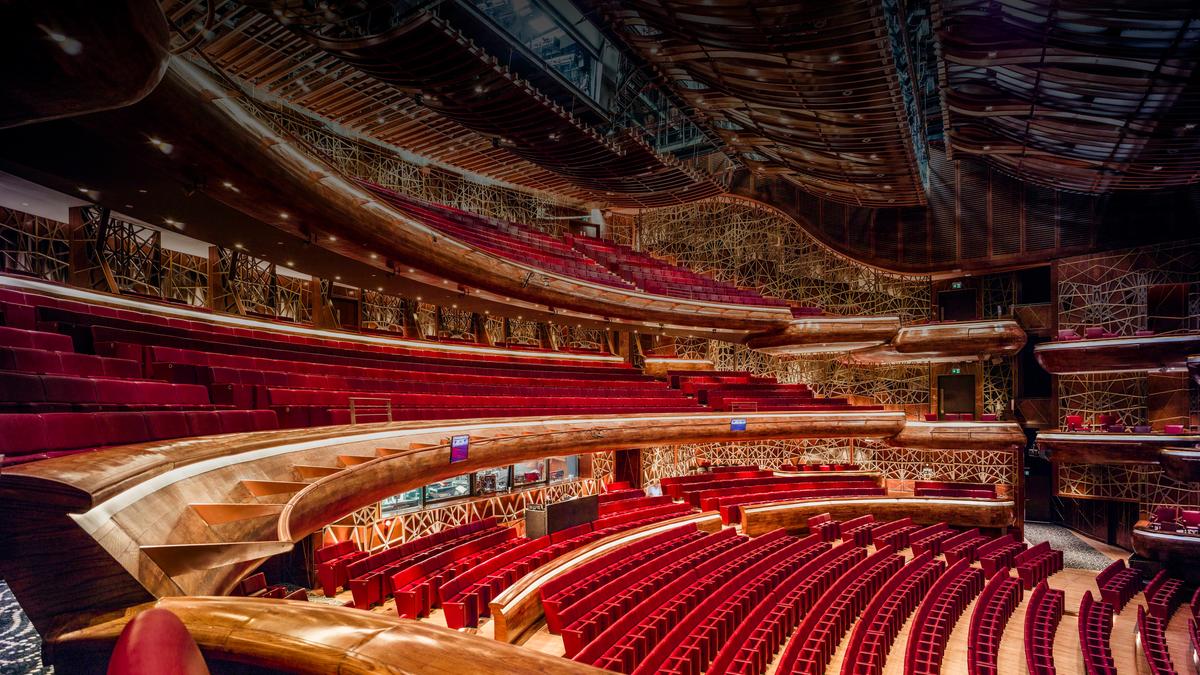 Velvet red seats and dim lights make up this architectural heaven. The curved hall can hold up to 1,000 guests under the drop chandelier of 30,000 glass pearls, creating a welcoming atmosphere. The sophisticated glass details and carpets make for amazing wedding pictures. The venue has a bonus of a rooftop restaurant with amazing views of downtown Dubai. 
Armani Hotel Dubai
In the heart of Dubai, and in the first 39 floors of the world's tallest building, the Armani hotel is named after designer Giorgio Armani. And just like the luxury Italian designer's haute couture and leather goods, the hotel speaks world class luxury. Formerly hosting Balqees' wedding, the ballroom offers a landscape garden by the Dubai fountain waterfront as a backdrop.  
Palazzo Versace Dubai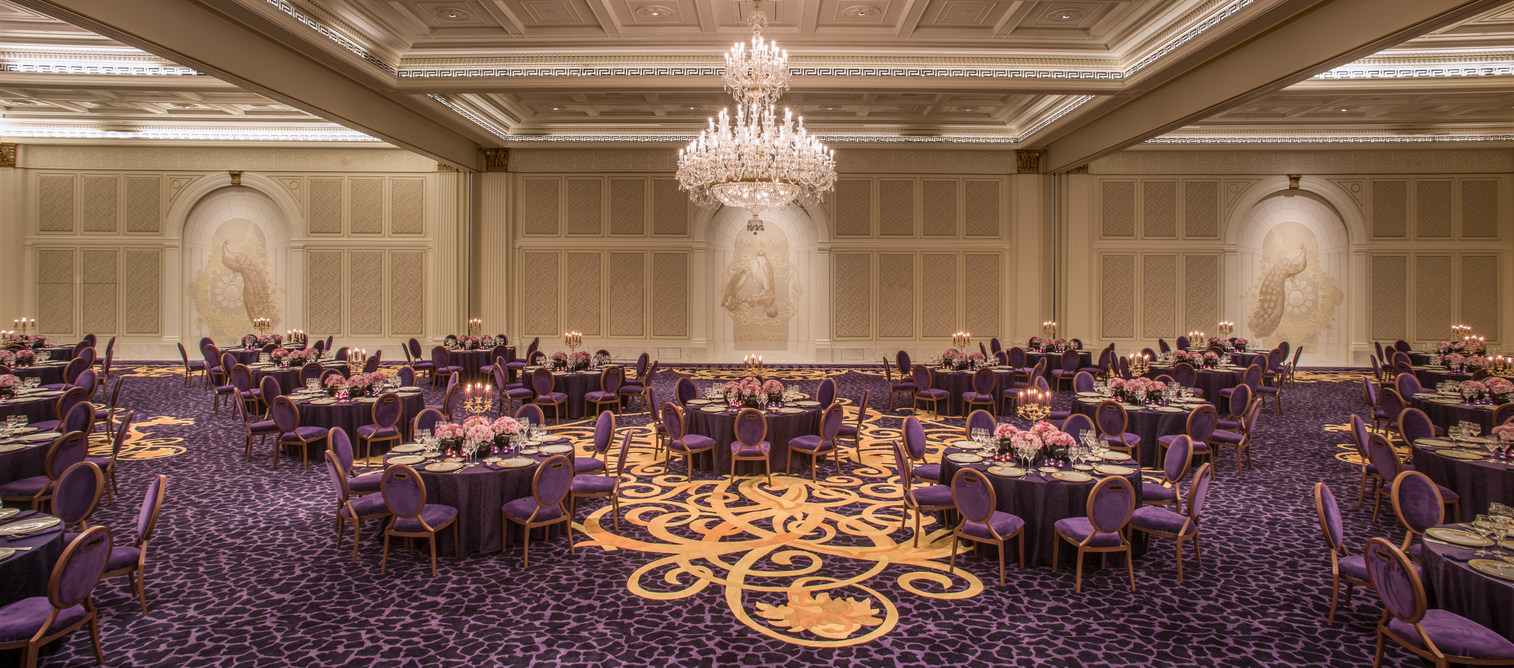 The Italian palace of high ceilings and marble floors offers a dramatic very glamorous scenery. Champaign glass, crystal chandeliers, and Versace home decorations and fabrics with the classic head of Medusa. With views of Dubai's creek, the gold embellished details are designative you can't find them anywhere else. 
Outdoor Weddings
Ritz-Carlton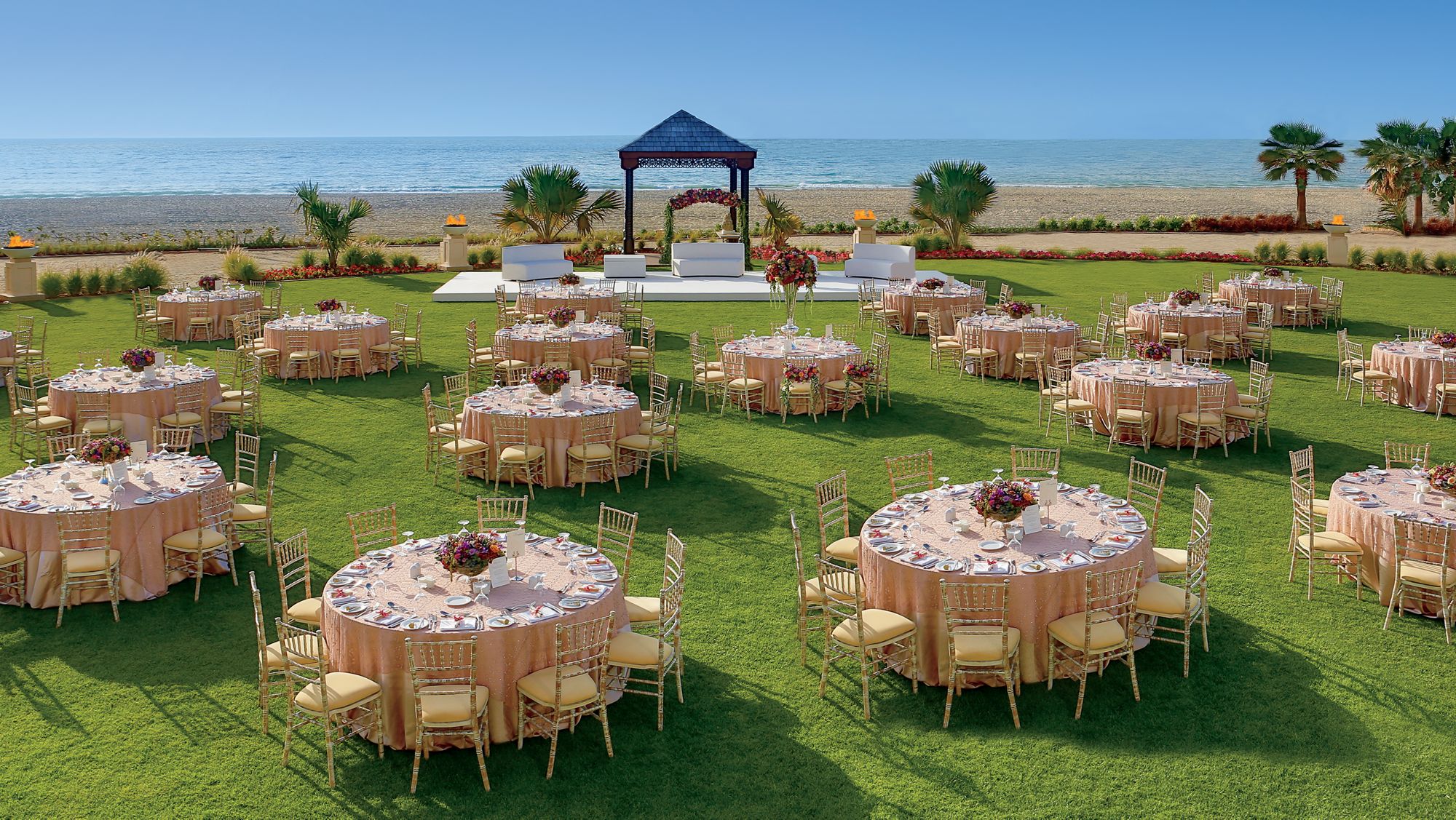 In the lush gardens and by the beachfront, JBR's Ritz-Carlton offers a shore for open-air outdoor weddings. The luxury reception includes indoor ballrooms but is a beachfront garden wedding hotspot in busy Dubai. Nothing beats an "I do" with a waterfront and beautiful flower arrangements. 
Dubai Polo and Equestrian Club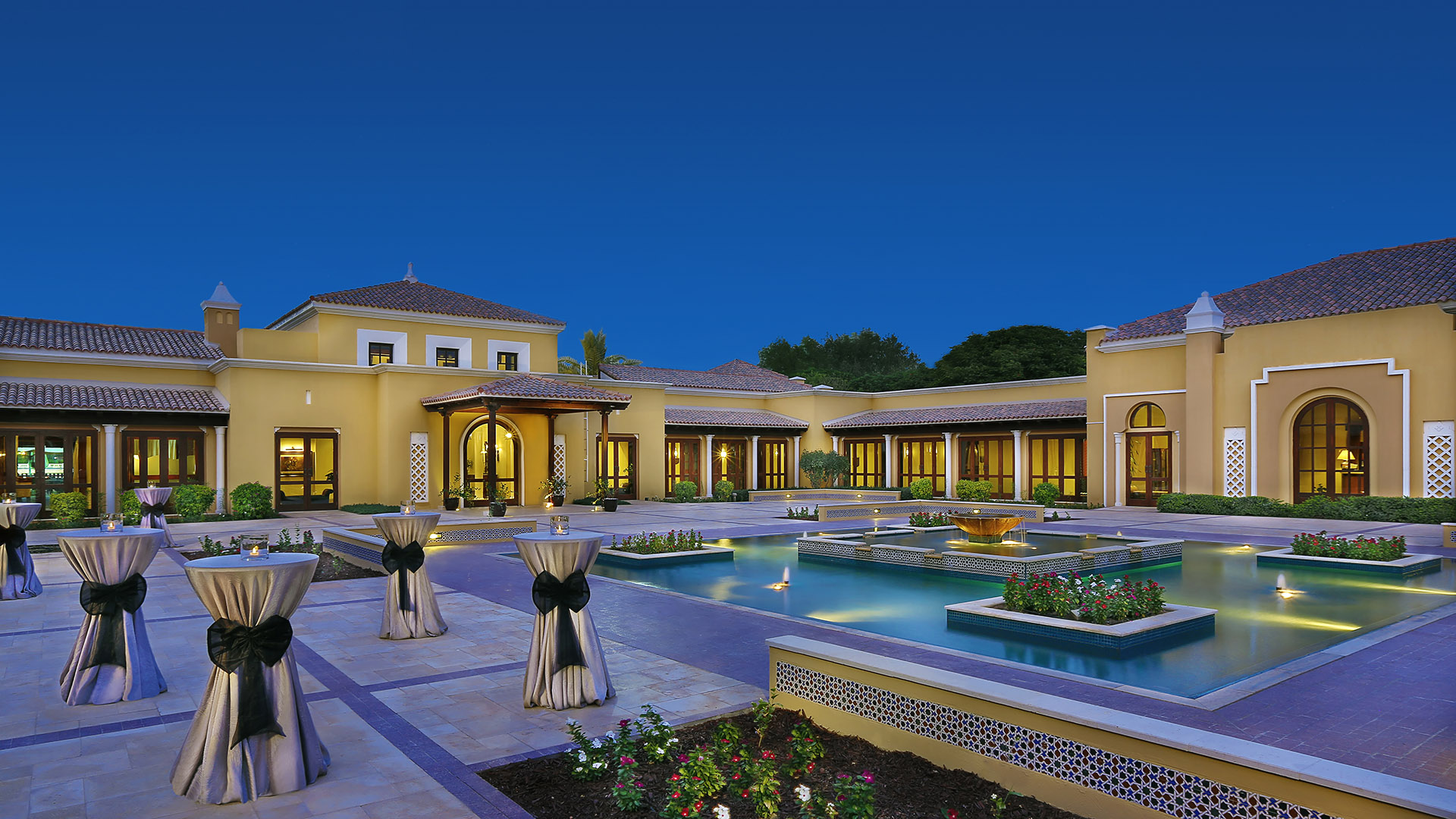 This ranch-inspired wedding invites guests for a magical night under the stars. Surrounded by stallions, and open polo fields, you can ride to your ceremony like Cinderella in a horse carriage. 
The Farm, Al-Barari
Can you believe this is Dubai? Planted in the middle of turquoise waters and filled with flowers, it's very fresh and minimalistic, perfect for pictures at sunset.   
One & Only Royal Mirage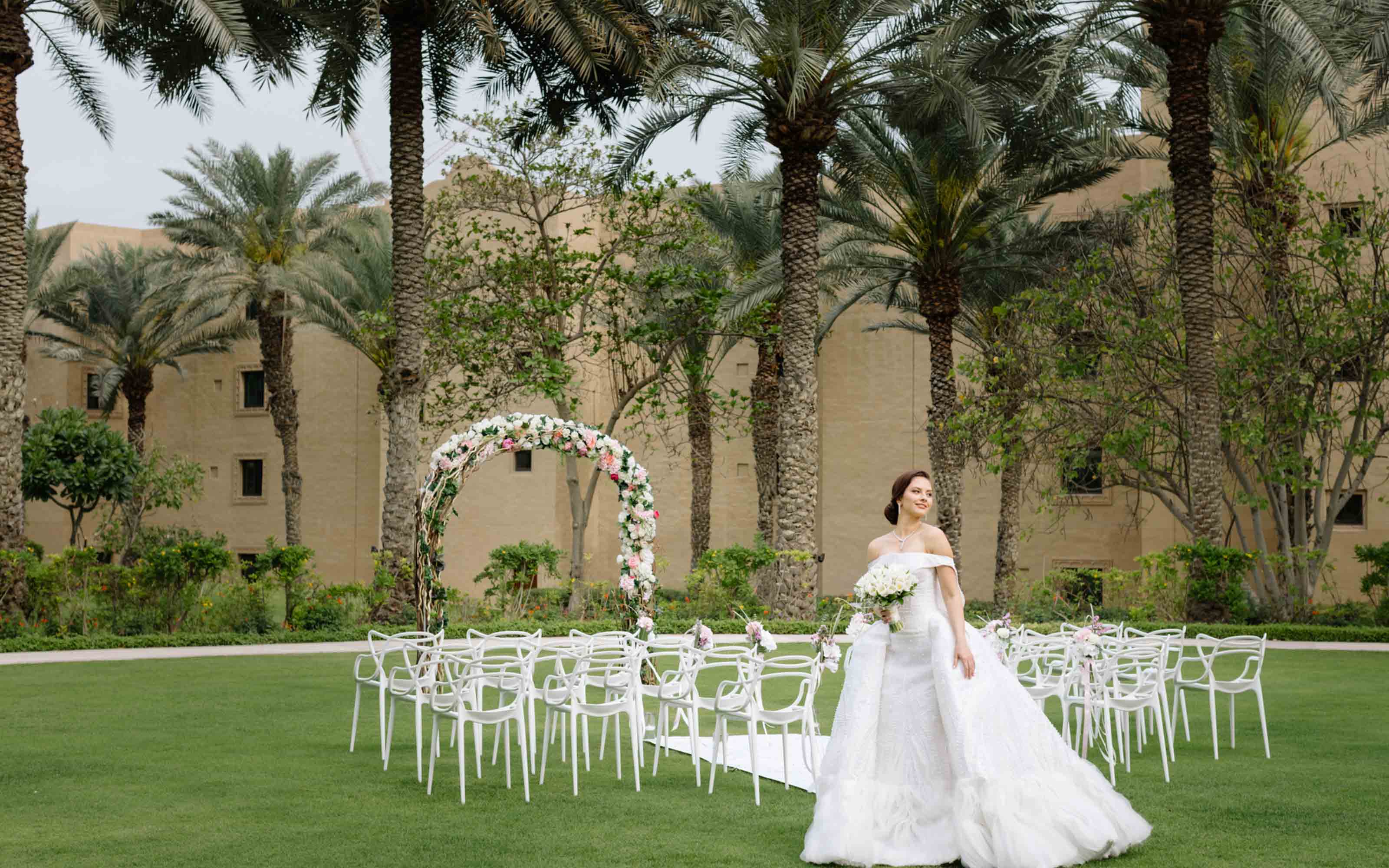 Between the skyline and water, start your life together. The gardens are full of palm trees and freshly cut grass on the side of infinite waterfronts. The venue offers an Arabian atmosphere with domes and engraved walls. Spacious and free, it fits between 100 to 250 guests with comfortable features like private parking and entrances. 
Park Hyatt
Share all your intimate lovey-dovey moments at the breathtaking sight of beds of flowers and grass. The venue offers patios, terraces, and a beautiful staircase where the newlyweds can descend. With strings of fairy lights and candles, the open-air venue makes for a romantic moment out of a movie scene. Bonus: You have the option of hosting a small or large wedding with the guest count of 100 up to 900 people.
Madinat Jumeirah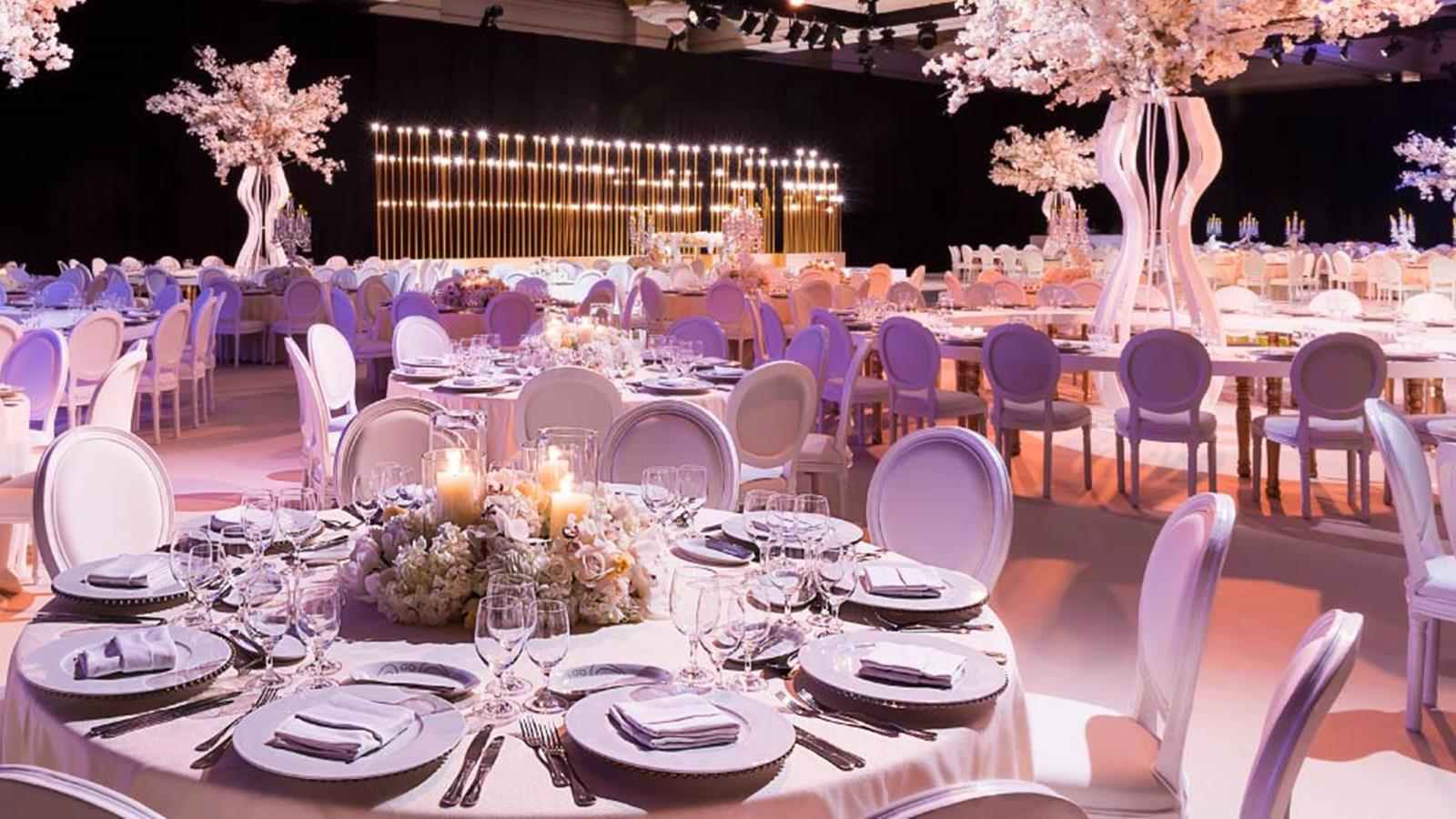 Home to lavish ceremonies by the fort island, no two weddings are the same here. Customized to preference, the selection of ballrooms and arenas offers endless themes and styles. The Arabian architecture inside the ballroom gives a rich cultural feel, while the lagoons surfacing adds magical movement. 
Atlantis The Palm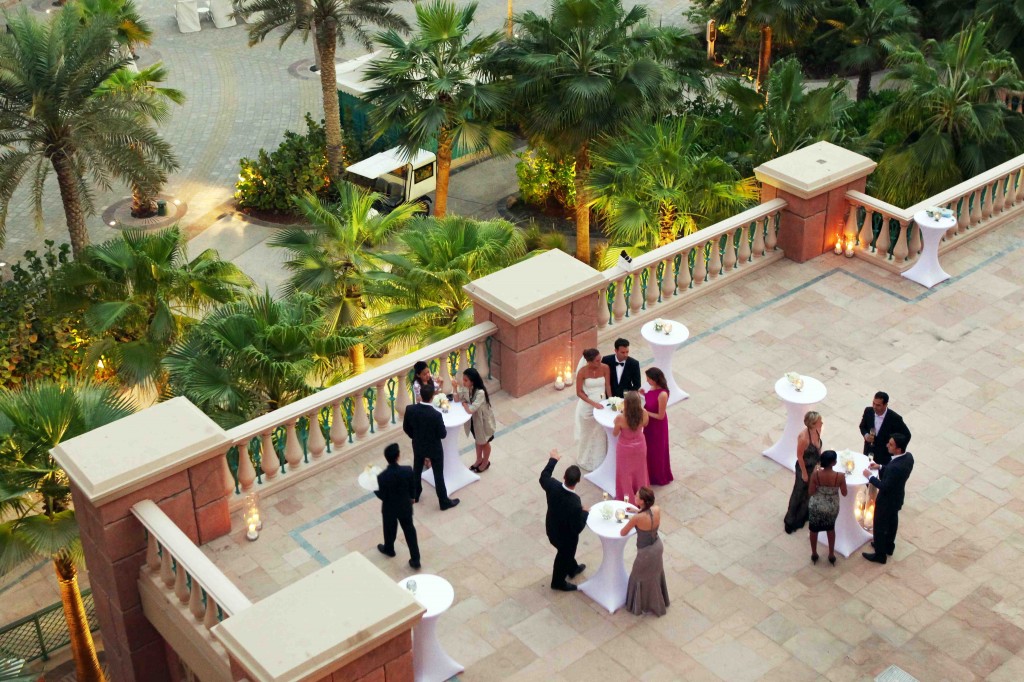 The Atlantis gives lovers the freedom of choosing venues no matter how big or small! The hotspot offers a variety of indoor-outdoor spaces as venues within the property, which guarantees endless photos. The all exclusive hotel is a playground full of spas, restaurants, activities, and amazing views. 
Jumeirah Beach Hotel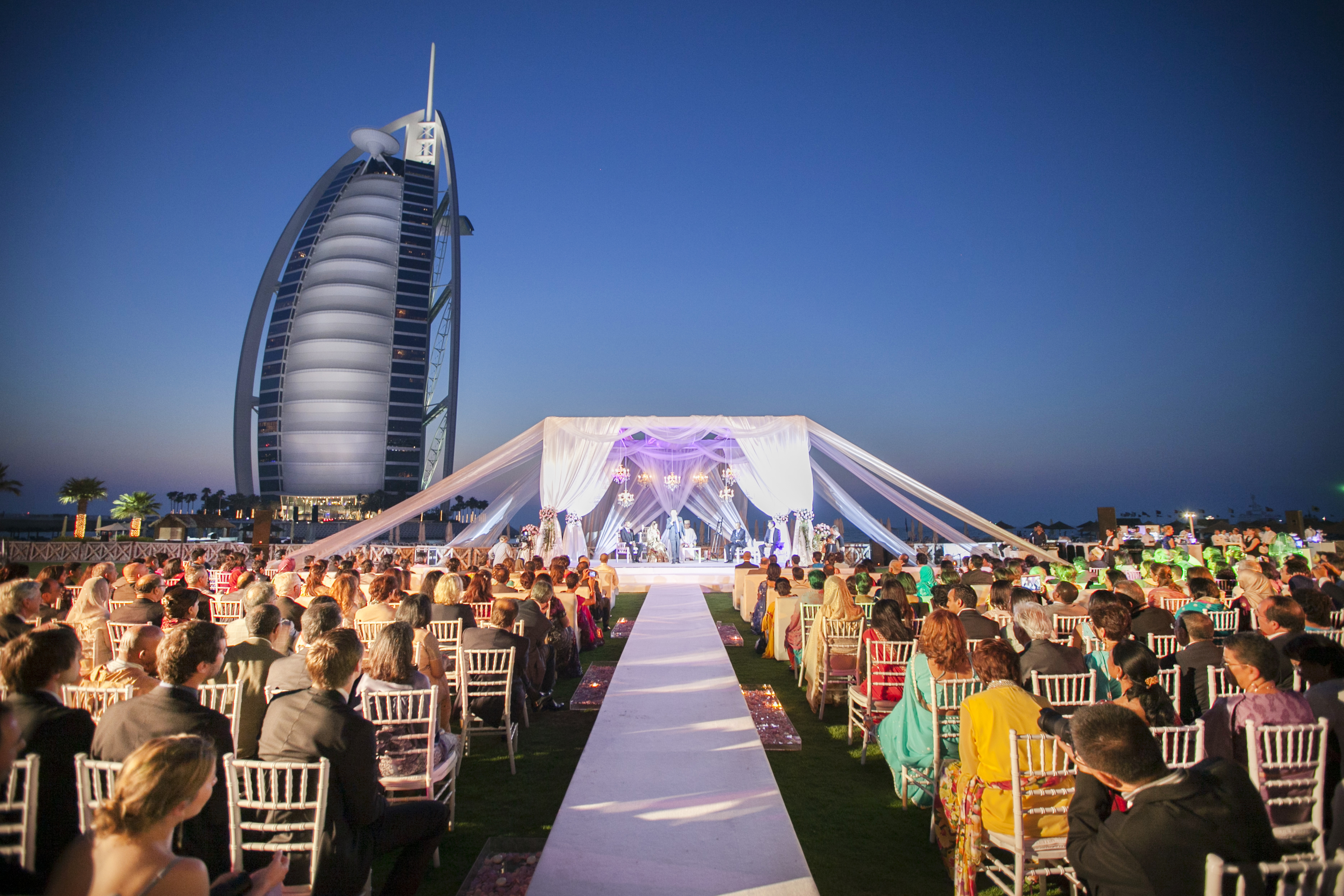 The one and only home to the only seven-star restaurant in the world, on the beach overlooking Burj Al-Arab, is a timeless spot. Between the busy city and water, the spot offers endless photography opportunities. Greeted with a line of Rolls Royces, you will impress your guests. The hotel hosts a luxurious reception and offers great features. 
Queen Elizabeth 2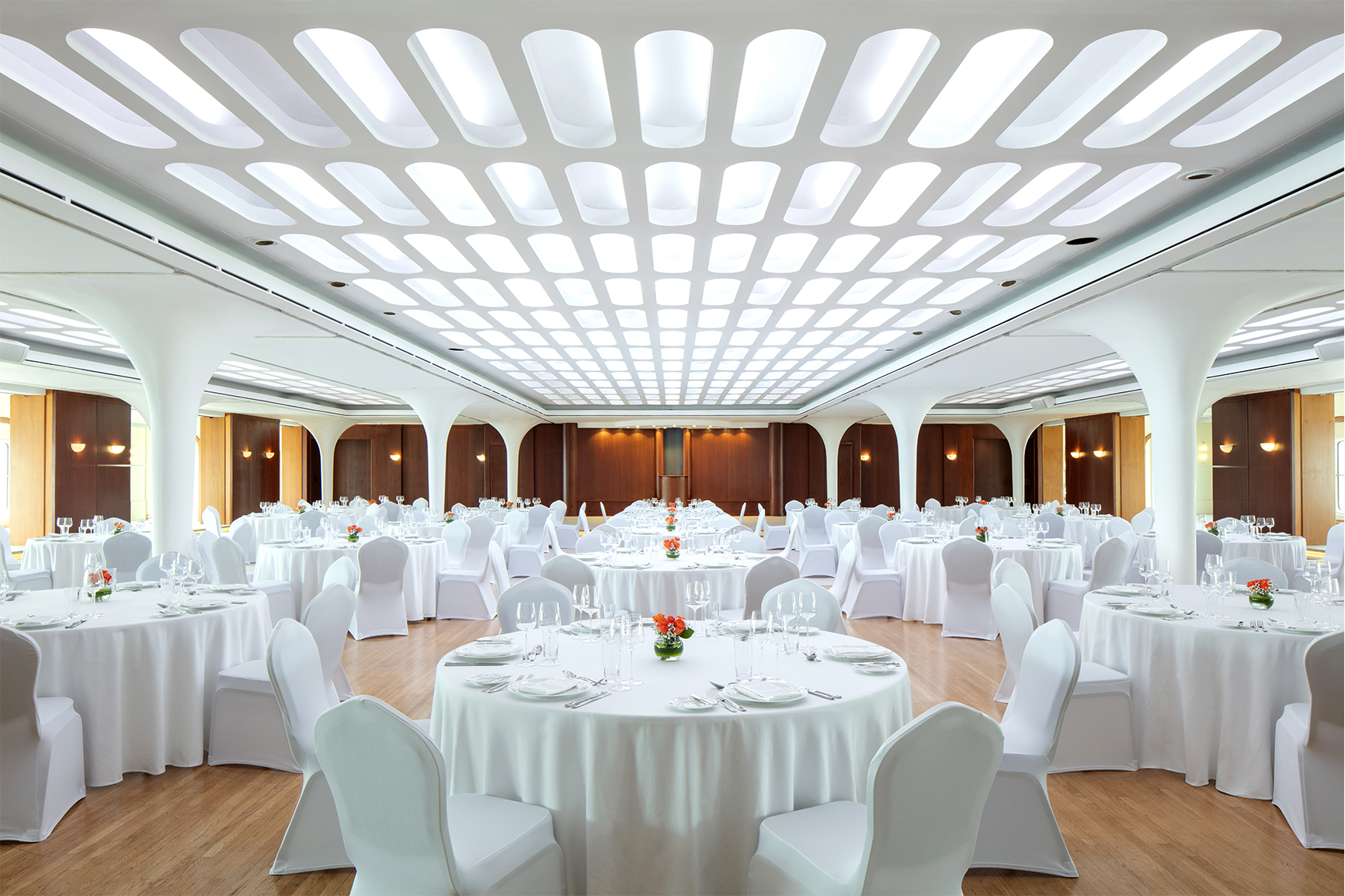 Authentic and out of the box, the floating venue is an unforgettable experience. If other venues are too mainstream but you want a sense of luxury and tradition, nothing is more suitable. The interiors are absolutely breathtaking and romantic, especially for Titanic lovers. The gigantic ship is full of halls ready to be explored. 
Anantara The Palm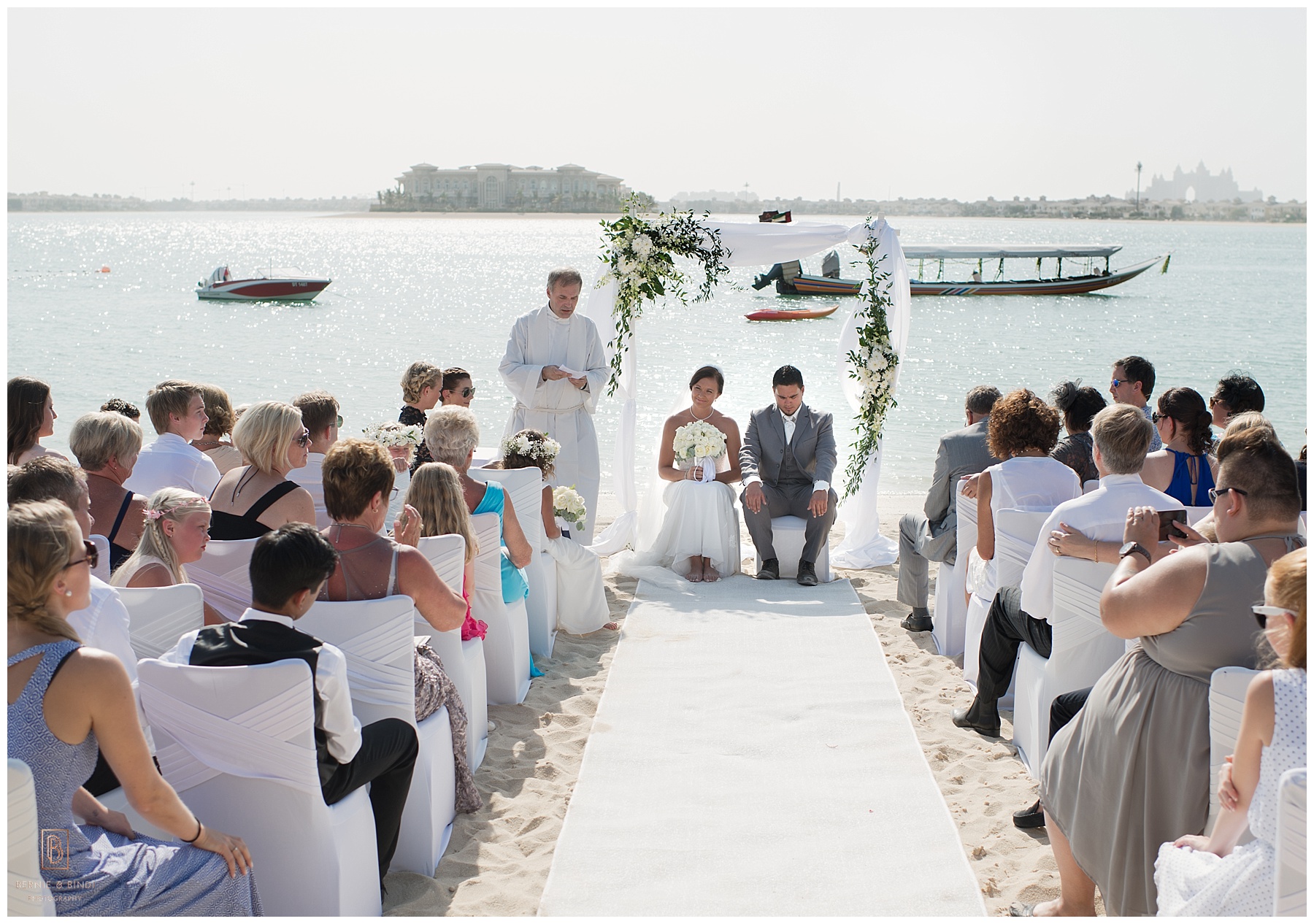 A breathtaking panoramic view of the Arabic Gulf shore is one of the island's many retreats. A mix of Thai and Arabian luxuries, the hotel has a wide selection of spa treatments and culinary journies to treat your guests on your special day. Celebrate by the ocean with the 400-meter beach overlooking lagoons.
Desert Weddings
Al-Maha Desert Resort & Spa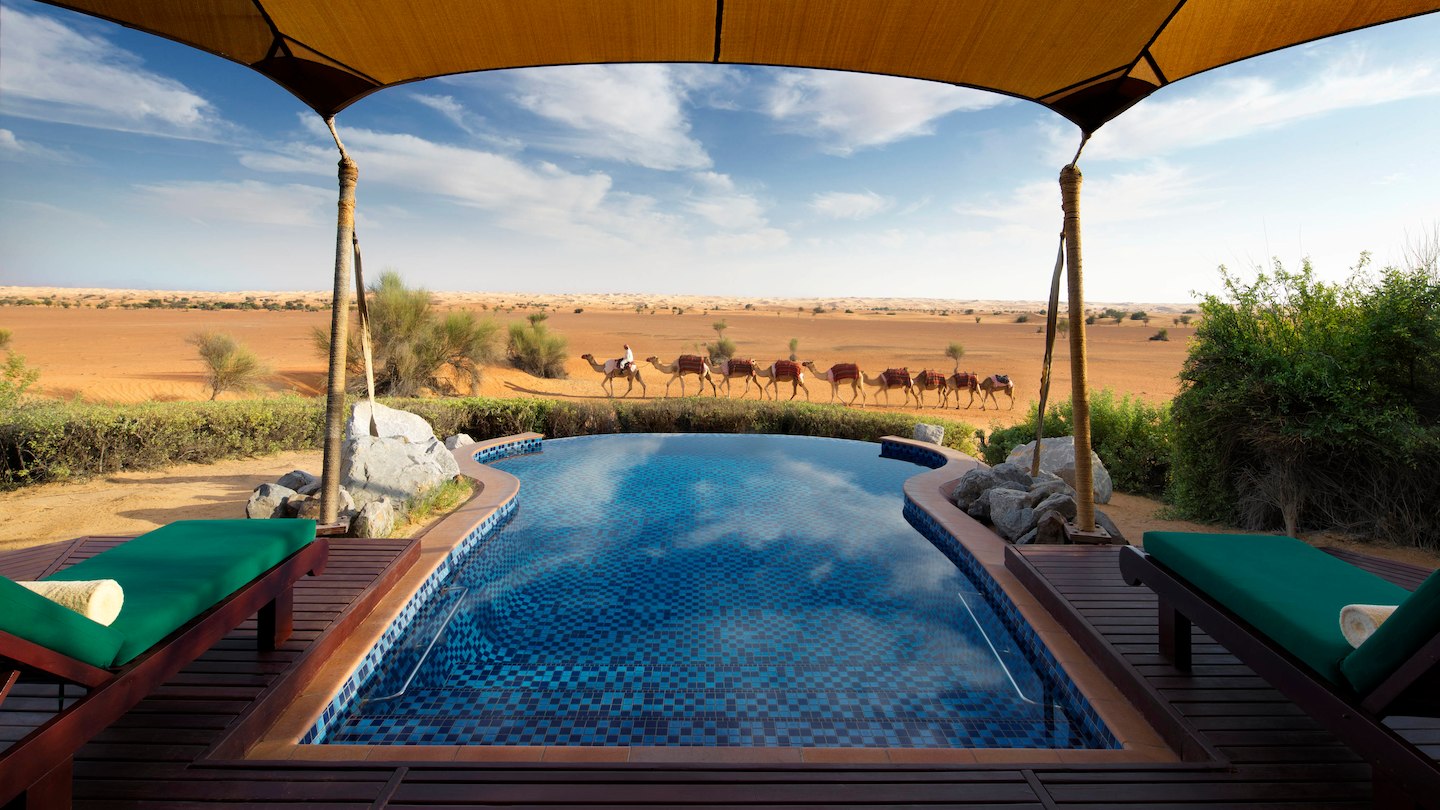 Have you heard of a desert wedding? The sand dunes, reflecting the Dubai culture, are a local wedding craze. Camels, horses, bonfires, tents, and shooting stars are the highlights of this atmosphere. You can take pictures by the Hajar mountains and smooth folded vessels of sands just 45 minutes outside Dubai. Panoramic views of the desert over dinner by expert culinary teams just perfect the whole experience.
Bab al-Shams Desert Resort & Spa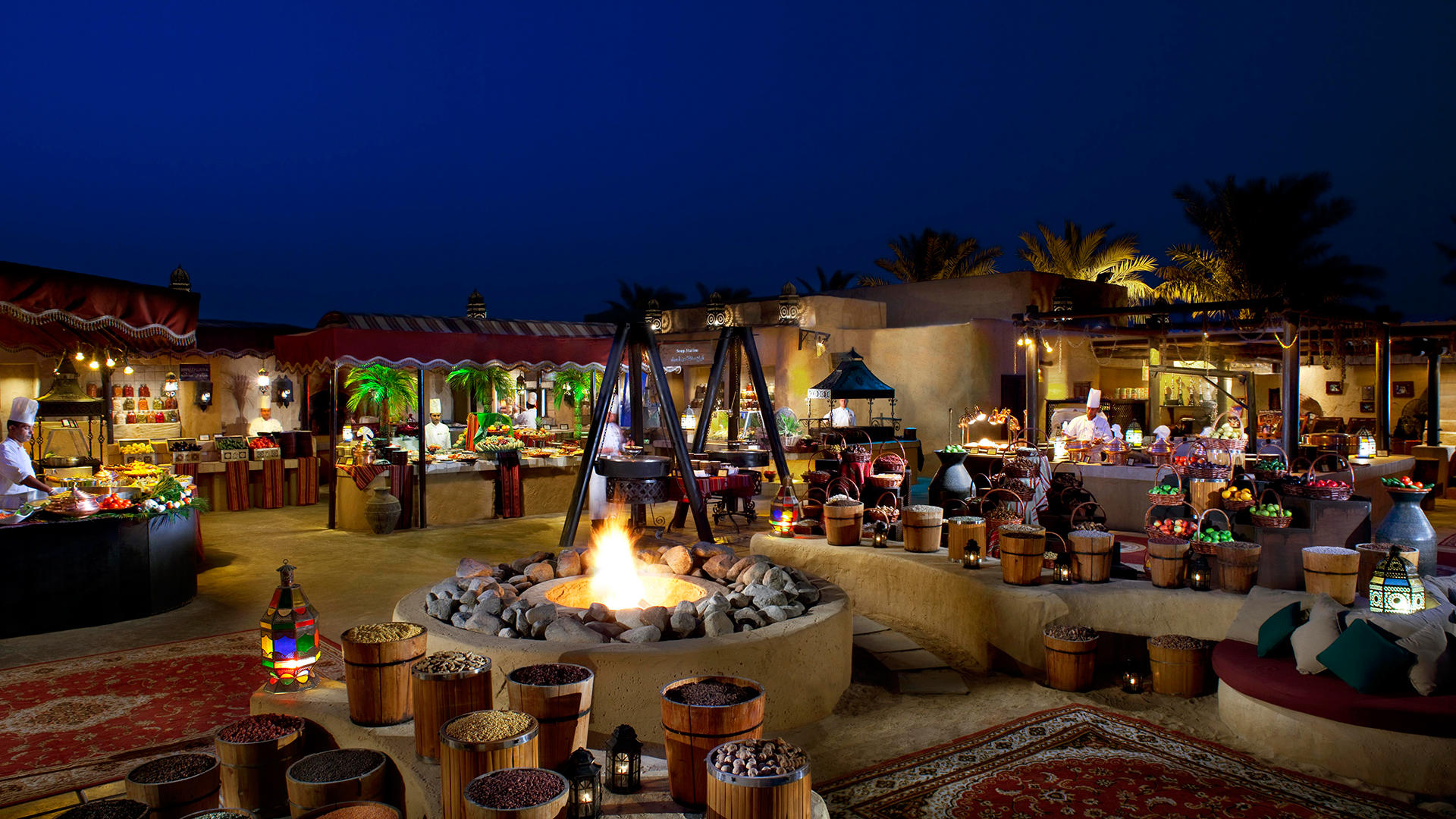 Another amazing five-star desert wedding option. However, don't be misled by the desert aspect; this venue is cutting edgy luxury. Enjoy a blend of lavish desert and Arabian night-themed resort. The quiet spot offers privacy and picture-perfect spots. 
Quirky Weddings
Burj Al-Arab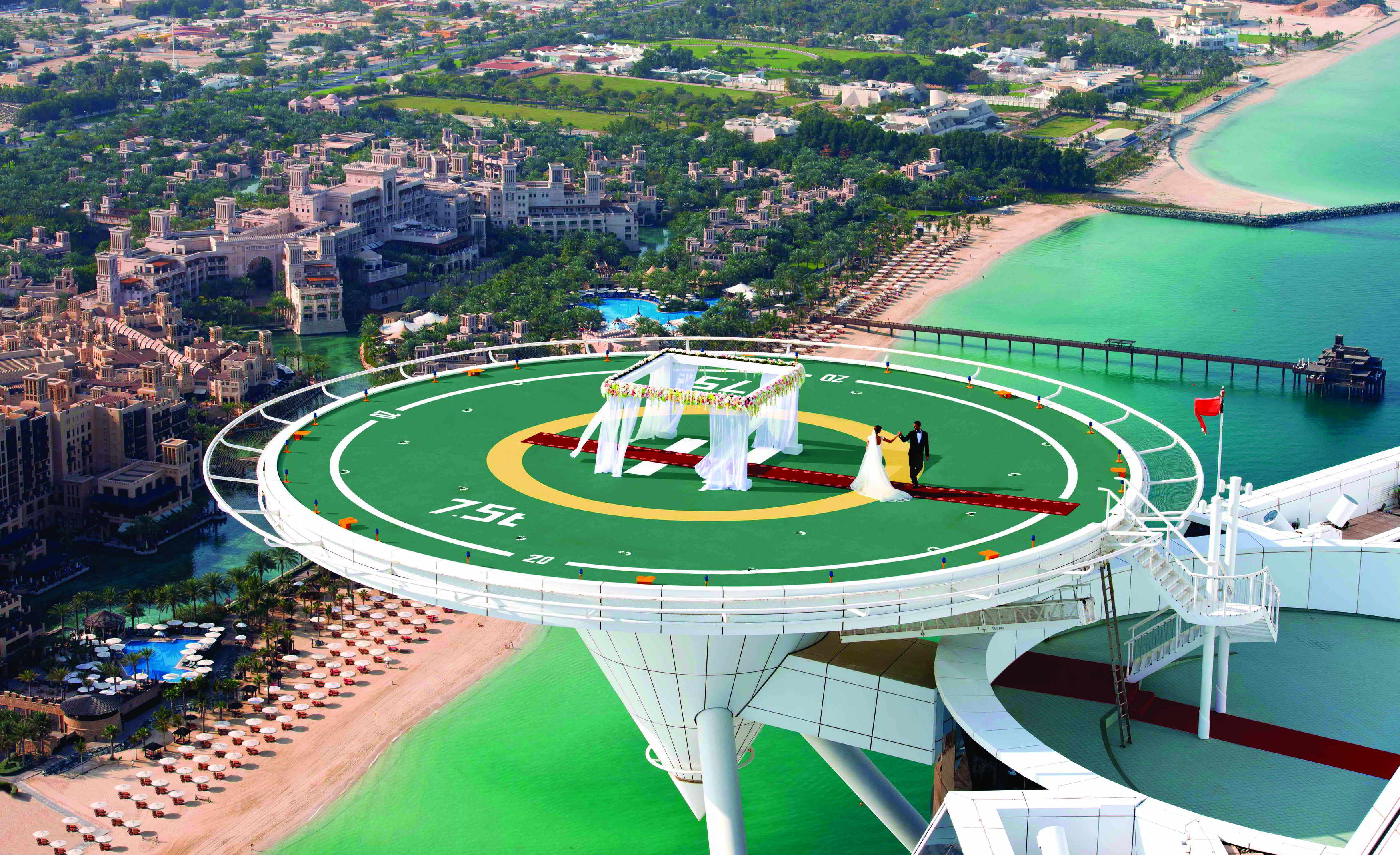 In between the city and water, say "I do" in Dubai's skyline at the helicopter base. Why not take a ride too? This hotel has multiple fascinating aspects. After the crazy empowering rooftop experience, go down to the seven-star restaurant for a romantic dinner under water. 
Platinum Heritage
This romantic desert dune is made for adventure loving couples who want something cool and not overdone. The campsite is a protected area, offering authentic luxury events including weddings. Activities featured include a safari and a hot air balloon ride over sunset for an adrenaline-filled wedding. 
Bateaux Dubai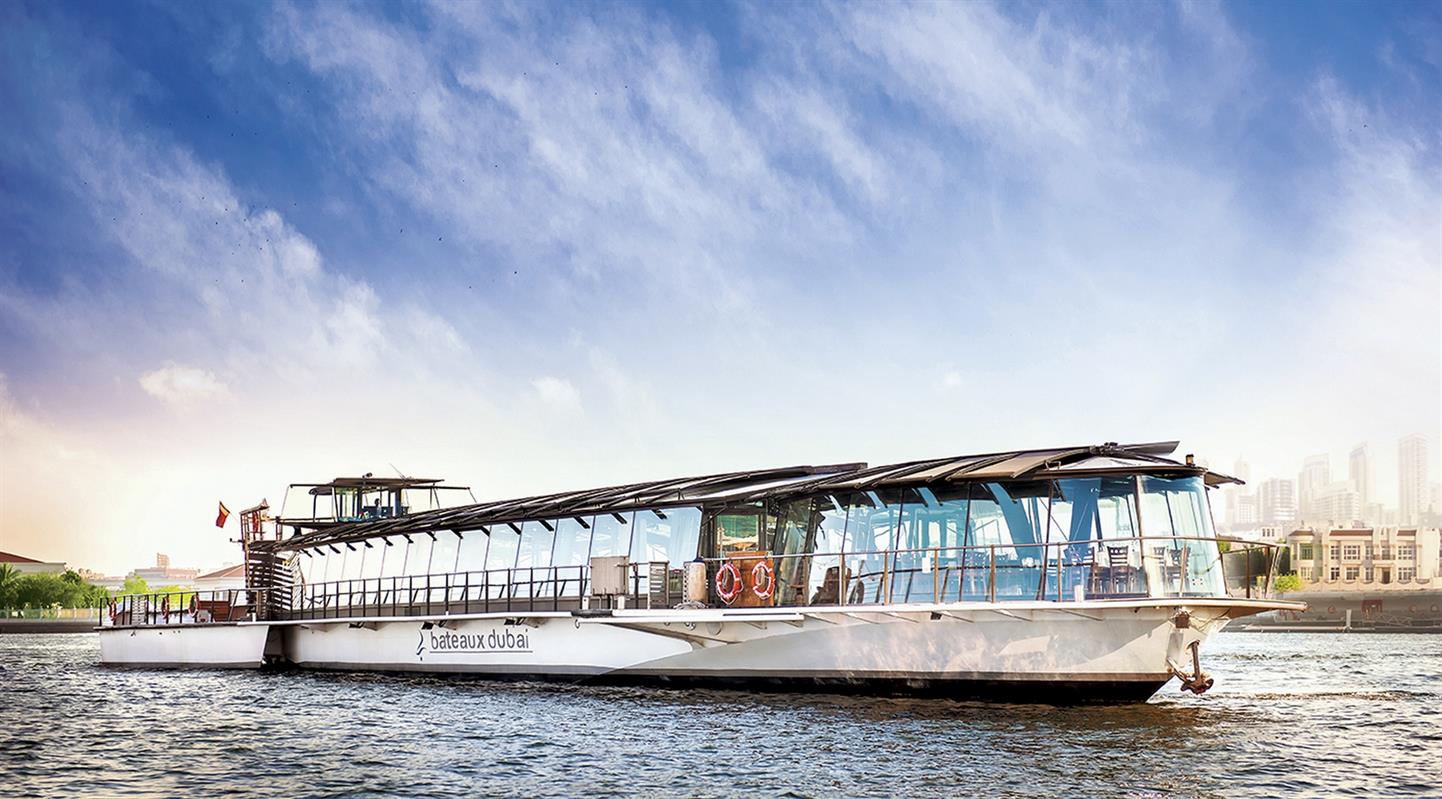 Rent this mini cruise and hit different spots during your wedding. Why limit yourself to one venue when you can move around and take fascinating pictures as you please? Privileged with a private chef and staff, this private elegant bateau is far from ordinary. 
The Lost Chambers Aquarium
Last but not least, this quirky underwater aquarium is a show-stopping wedding venue. Bring out your inner children and have some fun tying the knot. What's not to love about over 65,000 species of marine animals swimming around and appearing in photos?
WE SAID THIS:  Who's ready for wedding season?