New York City happens to be a dream destination for many travelers. Every year, a number of people land in the city of skyscrapers to enjoy some time away from work. New York is one of the world's most prominent commercial hubs and holiday destinations, and you may also find people honeymooning in the big apple. If you wish to give rise to some everlasting memories, then do pay a visit to New York.  
The place won't cease to amaze you. If you are fond of skyscrapers, hot dogs, and baseball, then New York just has to be there on your list. You do not need to worry about anything if you haven't visited New York before. The city is safe because the rule of law in and around the city happens to be quite strong. You might find people in LASD uniforms conducting mock drills in various areas of the city. 
There is a lot you can do. Here's a list of places you can visit if you are traveling to New York for the first time in your life.
The Statue of Liberty
The Statue of Liberty was gifted to the United States of America by France in 1886. It is a symbol of freedom and is visited by tourists from different parts of the world. It measures 152 feet in height (from the base to torch) and weighs 450,000 pounds (approx.)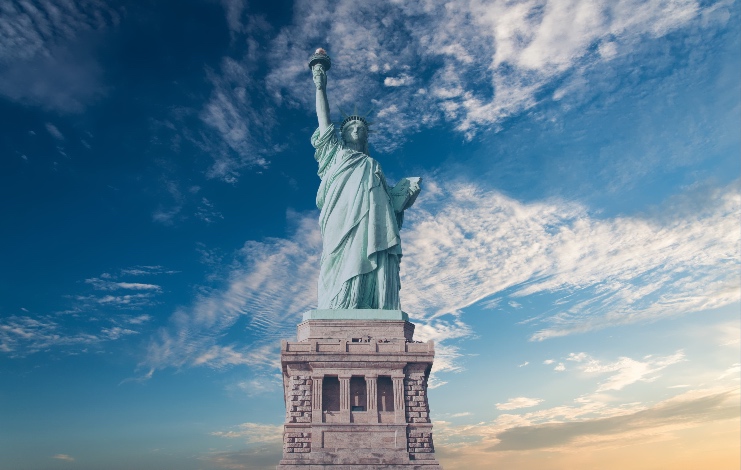 You'd be able to enjoy some breathtaking views of this landmark if you happen to be roaming around in the Battery Park (somewhere close to Manhatten's southern tip.) However, if you wish to admire the beauty of it, then you need to take a short boat ride to Liberty Island. Get the reservations done well in advance and once you reach the base, make your way to the top. It is always good to buy tickets ahead of time. 
Central Park
Central Park is one of the city's most iconic venues. You can spend hours here while roaming around and you can ride around the park in the carriage. It's a huge park that offers facilities such as skating so you can put on your skates and enjoy some quality time; the Wollman Rink offers you an opportunity to skate around. The place is tailor-made for you if you wish to spend some time in the arms of mother nature.
Rockefeller Center & Top of the Rock Observation Deck
This has to be on your list if you are planning to visit New York. Rockefeller Plaza offers you a lot of opportunities to shop and eat out and it is one of the city's prime commercial and entertainment venues. This area houses some of the biggest media outlets, such as NBC-TV. The Rockefeller Plaza is comprised of 70 storeys and provides some breathtaking views of the city. You'll have to buy a ticket well in advance if you wish to enjoy these breathtaking views.
 Shop around the city and treat yourself to some good old American street food. Donuts and hot dogs can be found with ease and you will never have enough of them.
So, do visit these places if you are planning to land in New York this winter. The Christmas carnival held in New York happens to be a sight to savor. You won't be able to forget the fun and frolic that you experience.
WE SAID THIS: Visit the place if you wish to have a good time with family and friends.