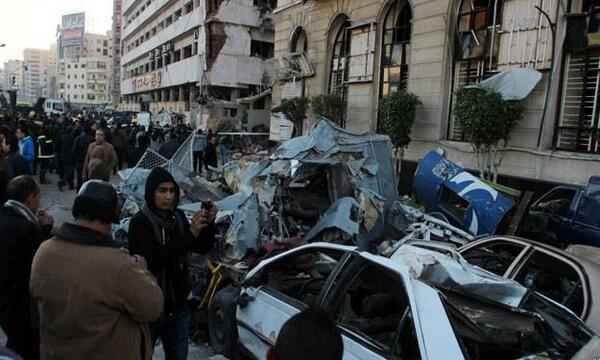 This morning, three separate bomb blasts rocked Cairo claiming the lives of five people and injuring scores. The jihadist group Ansar Bait al-Maqdis has reportedly claimed responsibility for the string of coordinated attacks that appeared to target the police headquarters in the Bab El Khalq area downtown, police patrolling in Dokki and a police station in El Haram.
These militant attacks came as Cairo authorities were buckling down security in anticipation of anti-government protests commemorating the Jan. 25 revolution's third anniversary on Saturday.
The first explosion occurred in front of the Cairo Security Directorate downtown at around 6:30am. The attack was carried out with a parked vehicle rigged with explosives. It was the most significant affront to security forces in the past several months, resulting in four deaths and as many as 73 injured according to the Health Ministry. The building was also damaged along with the nearby Museum of Islamic Art.
The second explosion  occurred this morning on Tahrir St. in Dokki near the Behooth metro station, resulting in one death and 15 injured. According to State TV, the blast was caused by a small, improvised explosive device.
The third and most recent bomb blast was an IED that exploded inside a billboard on Al Haram St. near a police station in the west Talbeya district in Giza. No casualties or injuries were reported.
UPDATE 1 (5:00pm) – A fourth bomb has exploded on Giza's Al Haram St. in front of a cinema. One person has been reported killed and seven others injured.
UPDATE 2 (6:30pm) – A video taken by a surveillance camera outside the downtown Cairo Security Directorate has surfaced showing the car bomb. Watch it below:
WE SAID THIS: Stay tuned for more developments.