This Viral Hashtag Has People Sharing Their Best Photos of Egypt and the Posts Are Awe-Inspiring!
By: Toka Omar
Travelers from all over the world share their experiences on social media platforms, either on their personal accounts or through travelers' groups, and some Egyptians decided to take advantage of one of the biggest travelers' groups on Facebook to promote tourism in the country through a hashtag called "اتصور_كأنك_في_اوروبا", or take a photo like you were in Egypt. The hashtag is very simple; all that you need to do is post a photo of yourself in an exciting Egyptian location that looks as beautiful as a European destination. The post with the most votes wins a free trip to Dahab courtesy of Go Relax tour group.
Since the beginning of the hashtag, Egyptian destinations have been all over social media, and, interestingly, they are showing the beauty of not only the more famous sites but also some unknown places.
For instance, this photo shows us the Casa d'Italia, or the Italian House, in Port Said. The place was built in 1936 to act as the headquarters for the fascist regime in Egypt during War World II. This piece of art was designed by the famous Italian architect Clemente Busiri Vici.
At first sight, you will think that this is a painting or a photo of Turkey, but actually, it's a photo from the window of a ferry in Port Fouad city in northeastern Egypt.
No, it isn't one of London's medieval palaces, this is El Sakakini Pasha palace in the middle of Cairo.
The photos also show the diversity of the Egyptian environment. For example, this is not a forest, it is Montazah Gardens in Alexandria!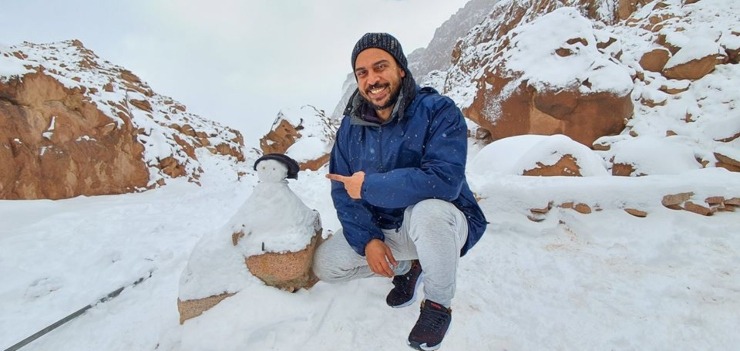 And here we see the winter snow in Saint Catherine!
The Egyptian sense of humor, of course, was quick to provide its own take on the trend. Funny photos are being shared that highlight the beauty of Egypt but in a hilarious way. For example, the girl in the above photo captioned it saying, "This is not Russia or Saint Cathrine, it's my rooftop and this is white cement".
And this guy over here said, "No, it isn't the Maldives, it's Marsa Matrouh, and I hope you liked my floatie!"
This girl took it to another level by posting a photo of herself eating corn on the Cornish and saying "From the heart of Europe, with a European friend."
Finally, this guy featured Said Saleh in Madrast Al-Mushaghebeen (The School of Mischievous) play saying, "Can't you see that this is Europe, you educated people!"
We Said This: Did you post your own photo yet?