Regardless how long you've lived in Dubai or plan on it, there are a few things you must do, eat and drink before truly considering yourself a Dubaian.
If you haven't done the following yet, then clear your weekend schedule, because you've got some catching up to do!
Ride the sand dunes
You can't live in the Middle East and not dune jump; it's a regional staple. Some may consider it touristy, but it's actual extremely popular with the locals. The city is full of desert safari tours that take you out for the day to dune jump with professional drivers.
After you've sailed the sand waves, they take you to a desert camp for a night of shisha, henna, belly dancing and delicious oriental barbecue. You can also spend the night under the stars!
Drink a steaming hot cup of chai karak
You haven't tasted chai until you've had a carefully prepared glass of chai karak. Chai karak is a blend of black tea, evaporated milk, sugar and cardamom boiled together on a low flame. The aroma by itself is intoxicating.
You can order the drink all over the city, but we prefer the small tea shops on Jumeirah Road that serve it in a styrofoam cup – the less fancy, the better!
Eat at Ravi's
You have not tasted naan until you've tried Ravi's. This world famous Pakistani restaurant is a trademark in Dubai. Located in Satwa, the place is always jam packed with locals and expats alike seated on the street, dipping naan into plates and plates of curried deliciousness.
From the creamy spicy dhal to the rich butter chicken, your taste buds will thank you… and so will your wallet!
Have a slice, or five, of kunafa from Feras Al Defaya
You think you know kunafa? You thought wrong. You haven't tried kunafa, or knafeh (depending on your dialect) until you've tried Feras.
Jump out of a plane
Whether or not you have the courage, sign up. Skydive Dubai is one of the world's leading sky dive centers, with an unbelievable staff that guides you and your anxiety through every step.
The view above The Palm is like no other in the world, and it's truly one of the most euphoric experiences.
Travel on an abra on the creek
Travel the Dubai Creek in traditional abra style. It's the best way to reach Old Dubai where all the souks are located. Plus, there's no traffic!
Watch a movie in the Platinum Cinema
Living in the Gulf comes with it's perks… such as watching a movie on a stretched out Lay-Z Boy with a blanket and a personal waiter service.
Drive to Abu Dhabi for F1 weekend
Every November, Dubai residents and locals migrate towards Yas Island for the annual Formula 1 Grand Prix weekend celebrations. From yacht parties to races, the weekend is jam packed with events, celebrities and concerts.
Visit the gold souk
The Deira Dubai gold souk is a must-see landmark in the city. With over 300 shops selling hand-crafted pieces from all over the world, it's the number one jewelry destination in the Middle East.
Visit the spice souk
If you're in the need for spices, dried fruits, or medicinal herbs that are beautifully packaged in burlap sacks in a colorful arrangement, this is the place to go. Even if you don't need any spices, go soak up the aroma and culture.
Eat Al Mallah Shawarma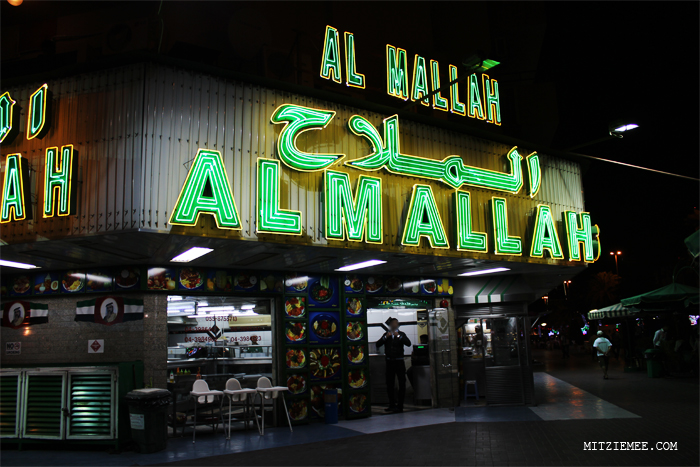 In a nutshell: best shawarma in Dubai.
WE SAID THIS: Don't miss "20 Things No One Tells You When Moving To Dubai"!