Cairo has given birth to numerous fantastic novelists and poets throughout the centuries and has been the setting of many memorable novels. Driving this has been a thriving literary culture throughout the city that has nurtured and inspired many young writers. To this day, it is not uncommon to see people reading in street cafes and for there to be book stalls on many street corners. Yet, if one knows where to look, book lovers can also find some of the region's oldest, if not the oldest, bookshops, often hidden away and seemingly unchanged for decades.
The following is a book lover's guide to Cairo for both residents and tourists looking to explore the city's most unusual and atmospheric bookshops. We've included bustling book markets, ancient bookbinders, museums dedicated to some of the greatest writers, the locations of some of the city's greatest novels, and much more.
Cairo's Most Unique Bookshops and Book Markets
L'Orientaliste
Hidden away in downtown Cairo is a treasure trove of antiquarian books, fascinating old maps, and unusual lithographs. With tens of thousands of books in Arabic, English, and French mainly covering philosophy, classical literature, history, and Egyptology, there is little free space as books line the walls followed by framed prints reaching up to the ceiling.
Hidden within the shop are numerous fascinating and historically important documents for you to find, making this bookshop feel more like a museum. However, while the bookshop may give you a sense of stepping back in time, the name of the bookshop and some of its contents similarly take you back to a more problematic period that should be more remembered than celebrated. The shop was run and owned by Hassan Kamy until his death in 2018, who was one of Egypt's most well-known opera singers and actors.
Soor el-Azbakeya (Book Market)
Squeezing out of Attaba's bustling metro station, you'll find yourself in the middle of the Soor el-Azbakeya book market. Within this incredibly compact market whose history dates back more than a hundred years, you will find more than a hundred small wooden huts populated with piles of books. From old newspapers, early Arabic comic books, to academic books, the market has it all, and can even print you out a copy of whatever you want if they can't manage to find what you're looking for.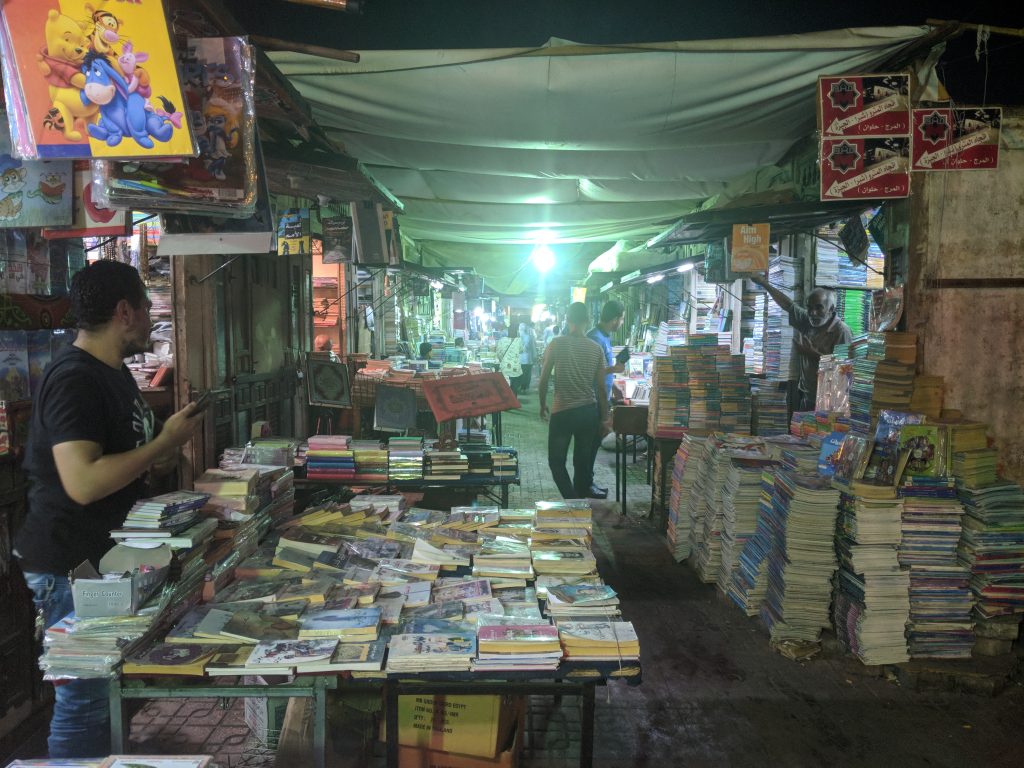 Soor al-Azbakeya refers to the fence that once surrounded the Azbakeya Gardens where the market now stands. In the early 1900s, booksellers would gather around the fence and sell their books in street stalls, often having to run away from the police that would drive them away with water hoses to ruin their books. This game of cat and mouse between the informal booksellers and the colonial authorities trying to enforce a formalized economy on the Europeanised side of the city became emblematic of Egypt's revolutionary struggle against the British. It is said that Gamal Abdel Nasser and Anwar al-Sadat along with Nobel prize-winning writer Naguib Mahfouz all brought their books from the market in their early lives.
Lehnert and Landrock
Another hidden-away gem of downtown Cairo is Lehnert and Landrock. At the turn of the twentieth century, Lehnert and Landrock were two Swiss photographers that took landscapes and portraits across the Middle East. The two photographer's images became synonymous with Europe's orientalized view of the Middle East, which remains as historical documents that tow the incredibly awkward line of being as beautiful as they are problematic.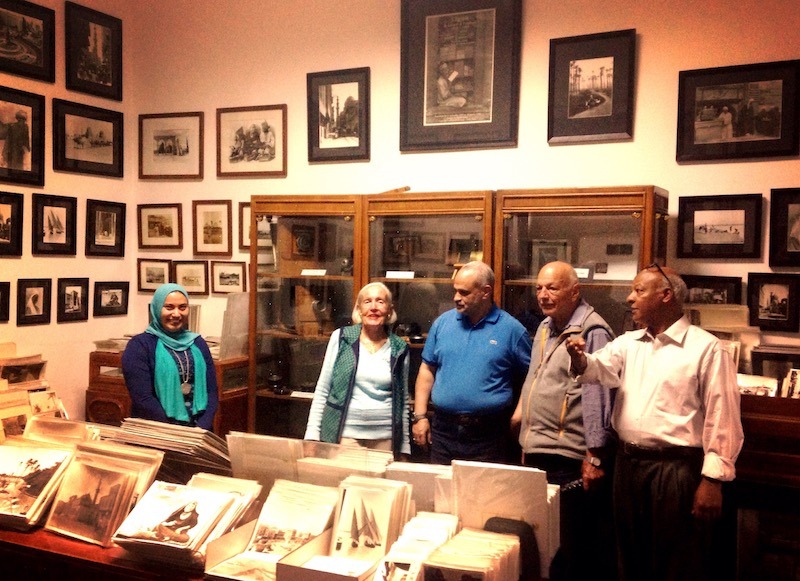 The two opened a studio in Cairo in 1924, and while this isn't the original studio, much of the pair's original photographic equipment and negatives have remained. However, Lehnert and Landrock also house a very good library with German and English titles that are not to be missed by any book lover in Cairo.
Cairo International Book Fair
Since 1969, the Cairo International Book Fair has been getting together publishers, writers, and readers from throughout the region. With attendance occasionally reaching two million, the Cairo International Book Fair is undoubtedly the region's largest and most important book fair. However, the book fair is only held once a year in the last week of January, so be sure to plan accordingly.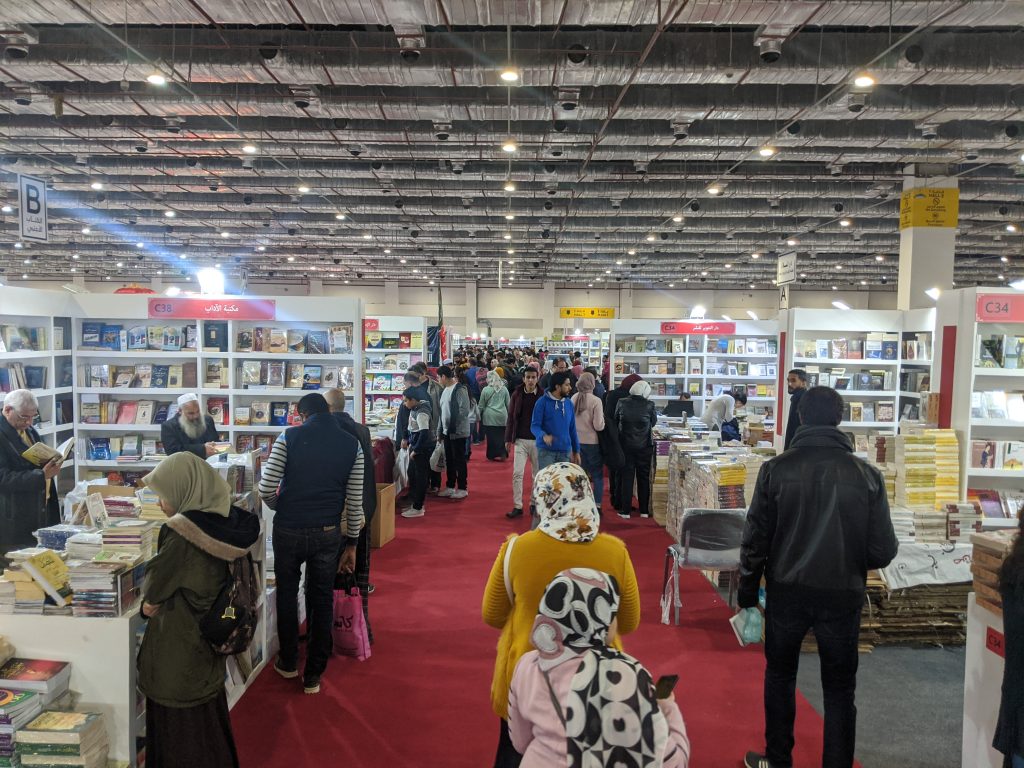 Unfortunately, the book fair is now held in a convention center on the outskirts of Cairo, which lacks much of the charm of its former location. Nevertheless, there are some great publishers to discover, some bargains to be had, and some interesting events to go to if you're interested in seeing what the Arab world's literary scene has to offer.
Abdelzaher
Nestled in between the Mosque of al-Azhar and the Wikala of Qaytbay in historic Cairo is a small bookbinder called Abdelzaher. As one of the last of Cairo's traditional bookbinders, Abdelzaher is preserving a dying and beautiful tradition by re-marketing its goods for tourists and locals in search of unique and well-made notebooks.
Choose from a selection of beautifully made leather books and get whatever you want embossed on the leather with gold leaf in either Arabic or English. The notebooks make excellent presents and it's fascinating to watch the craftsmen get to work.
Visit the Locations of Famous Books
The Real Yacoubian Building
For fans of Alaa al-Aswany's The Yacoubian Building, one of Egypt's modern classics, searching for the real Yacoubian Building, on which the novel is based upon, and snapping a picture of its ornate sign in the hallway is a must. The Yacoubian Building is an incredibly insightful novel into Cairene society and reflecting on the current state of this once notoriously elite residence is a revealing experience as to the changing dynamics in this colossal city.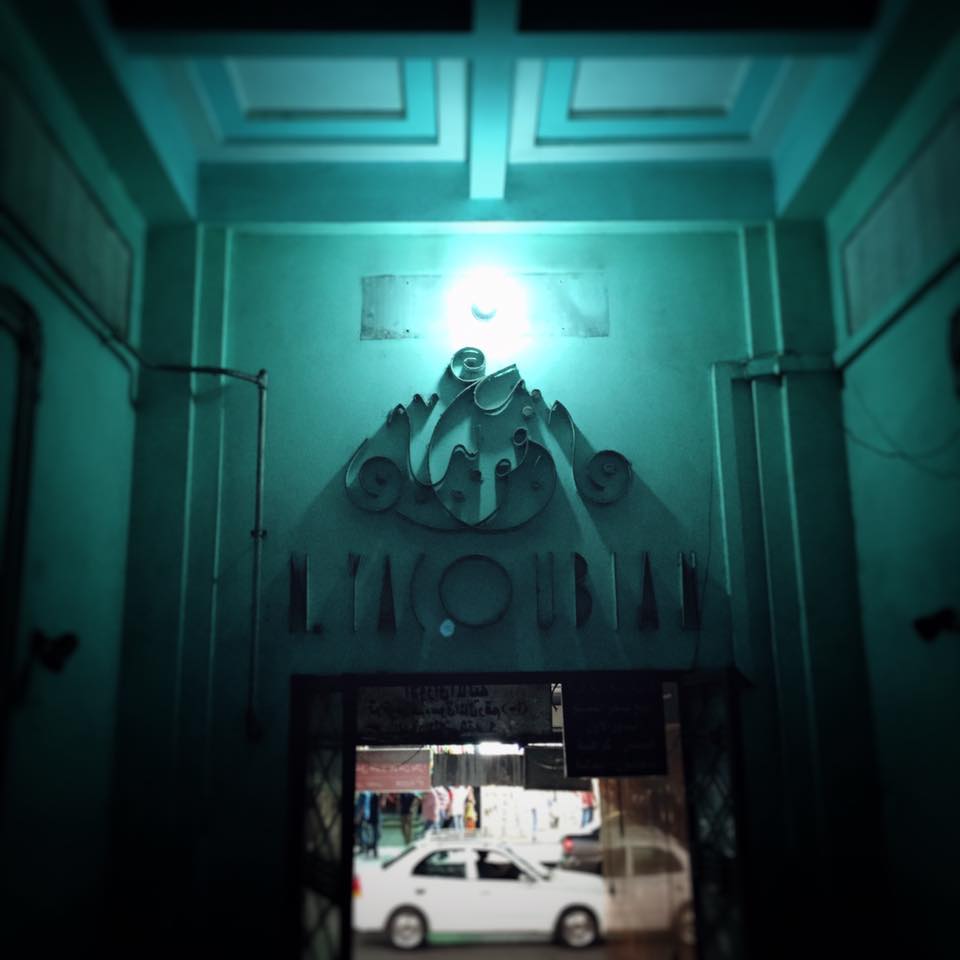 Drink Tea at El Fishawi Cafe
In historic Cairo's Khan el-Khalili market, you can find the legendary El Fishawy Cafe. Famed as supposedly the city's oldest cafe, novelist Naguib Mahfouz is said to have written much of his Cairo Trilogy in the cafe and was often seen writing there while drinking green tea. Some have speculated that many of the characters of his books were inspired by regulars at the cafe and that some of his stories came from local disputes and tales he overheard there while drinking tea.
The Automobile Club of Egypt
Alaa al-Aswany's masterful insight into Cairene high society just before the 1952 revolution and the many other classes that serve them as doormen, cooks, and cleaners in The Automobile Club of Egypt is another modern Egyptian classic that has been read all over the world. In downtown Cairo, this exclusive establishment is still up and running and is a place to pop past if you're a fan of al-Aswany.
Museums and Libraries
Egyptian National Library Museum
At the back of the incredible Museum of Islamic Art is the little-known Egyptian National Library Museum. The beautifully curated museum housed in the old Khedival Library is home to very early examples of Arabic writing that is central to our understanding of how the language developed. The museum also houses many books and manuscripts of unique aesthetic and historical importance to understanding the history of the country.
Naguib Mahfouz Museum
Another great museum for book lovers is the Naguib Mahfouz Museum in the heart of historic Cairo. The museum is housed in a beautifully restored historic building opposite the equally impressive Wekelat al Ghoury and is home to a whole array of objects and documents detailing the life and work of Nobel Prize-winning novelist Naguib Mahfouz. For anyone wishing to get a better insight into the man behind some of Cairo's most memorable novels, the museum is a great way to explore what inspired and drove Naguib Mahfouz throughout his long and colorful career.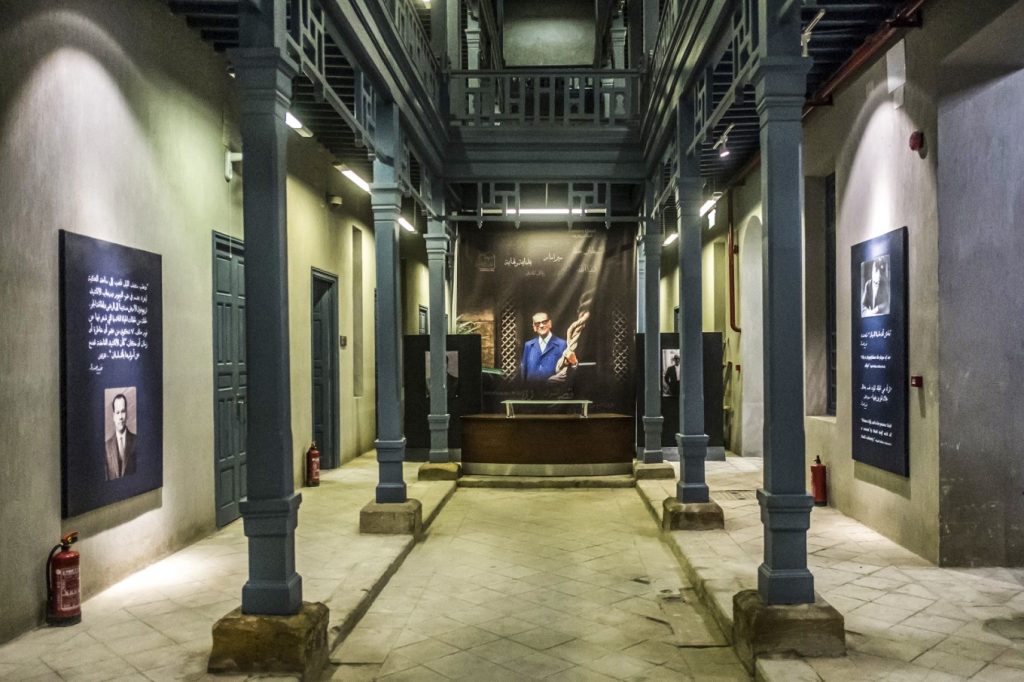 Taha Hussien Museum
Although not known that well outside the Arab World, Taha Hussien is an incredibly important writer and modernist figure in the Arab world that changed the region's cultural landscape irreversibly. The museum is at the former home of Taha Hussien and has preserved many of the rooms just as they were when he lived in the house to give you an insight into the mind of the man himself.
Bayt Yakan Rare Books Library
The appointment-only Bayt Yakan Rare Books Library is a beautiful library specializing in Arab architecture that just opened in Darb al-Ahmer in Islamic Cairo. The library itself is a beautiful example of historical restoration mixed with more contemporary design features and is a sight to behold. The library is part of Bayt Yakan, which is a restored historical residence that hosts a community garden and workshops for locals in the heart of Islamic Cairo.
Many people would not have guessed that Cairo holds such a thriving literary community marked by all these cool and historic localities that have kept the world of literature alive and well all those years. Visiting any of these book lover havens will surely make for a memorable experience in the city of Cairo.
WE SAID THIS: Don't miss… The Lessons We Can Still Learn From The Poetry Of Nazik Al-Malaika