As I soon discovered after moving to Cairo, the best place to get delicious, authentic Egyptian food is from your Egyptian mother's kitchen. Everything is just better homemade.
Since we didn't have 24/7 access to your Egyptian mother's kitchen and since we didn't have Egyptian mothers ourselves, my flatmate and I set out in search of an Egyptian cookbook.
After a mini-tour of the bookstores in our area (where we discovered that the Egyptian cookbook market is virtually nonexistent), we took home what seemed to be a promising tome.
To be honest, we didn't touch the damned thing for a couple of months. But then Ramadan rolled around, so we dusted off its cover, made a tidy shopping list of all the ingredients we needed and invited everyone we knew for iftar.
Suffice it to say, maghreb came and went and our hangry (hungry + angry = that characteristic crankiness brought on by hunger pains) guests were even hangrier. We ended up ordering from Otlob.
We all laugh about it now – and, of course, they all laughed at us for it then… fuck it, I'm never going to live that night down.
But wait a minute – before you dismiss our culinary abilities, my flatmate and I are no newbs in the kitchen. We're decent cooks – sometimes even amazing. Sometimes.
I still blame that damned cookbook for that complete and utter failure of a meal. We knew that the measurements had to be wrong, but we thought maybe it was just an Egyptian thing…? We should have known better – proper proportions have no language barriers. Regardless, the flavors were bland and, as I later learned, the recipes were missing key spices for classic dishes.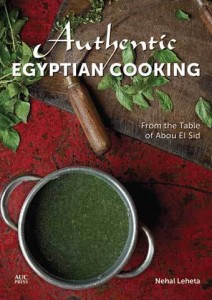 That flatmate has since left Egypt, but I know exactly what I'm getting her for Christmas this year: Authentic Egyptian Cooking from the table of Abou El Sid. Yup, everyone's go-to restaurant for out-of-town visitors looking to sample local flavors has released a cookbook.
"This book has all of Abou El Sid's recipes. I came every day for about three hours to sit with the restaurant's cook, who would explain how he cooked the food. I also watched him as he cooked all the recipes to take down notes of the ingredients and methods. When I returned home, I would write down everything I learned that day," author Nehal Leheta said.
And I'll definitely be getting a copy for myself, too.
WE SAID THIS : You can find Authentic Egyptian Cooking online here and in bookstores soon.