At the end of the month when you're waiting for your next pay cheque and counting the pennies, it's easy to scroll through Instagram with envy as influencers sip cocktails on the beach. While a trip to the Maldives or a luxury Nile cruise might be out of the question, why not try being a tourist in your own city? We put together a list of ideas for a budget day trip for you to explore Downtown Cairo and be a tourist in your own city.
Get Up Early and Stroll Along the Corniche
Before the Nile is full of felukkahs and party boats blasting music and the corniche blocked with Cairenes on their morning commute, it feels like a completely different city. Strolling past the iconic lions of Qasr Al Nil Bridge and along the corniche in the early hours, you can see fishermen out on their morning trip to check their nets and birds eagerly scouting the surface of the river for any fish to dive upon. Even the air feels different at this time during this rare moment following sunrise for about an hour when the city is yet to awake. To save as many pennies as you can, you can get to the corniche and start your budget Downtown Cairo staycation by taking the Metro, which starts at five in the morning, to Sadat Station on Tahrir Square.
Explore the Architecture of Downtown Cairo Before the City Wakes Up
Downtown Cairo in the early hours of the morning is like a different city. With almost no cars and just a few people dotted around, it's the perfect time to start your staycation and see Downtown Cairo in a different light. Strolling through Downtown Cairo at this time gives you the perfect opportunity to soak up some of the neighbourhood's stunning architecture. While there are some landmarks like the Davis Bryan building, the Cosmopolitan Hotel, the Immobilia building, Metro Cinema, and the Trieste building, why not have a look for yourself and see what you can find.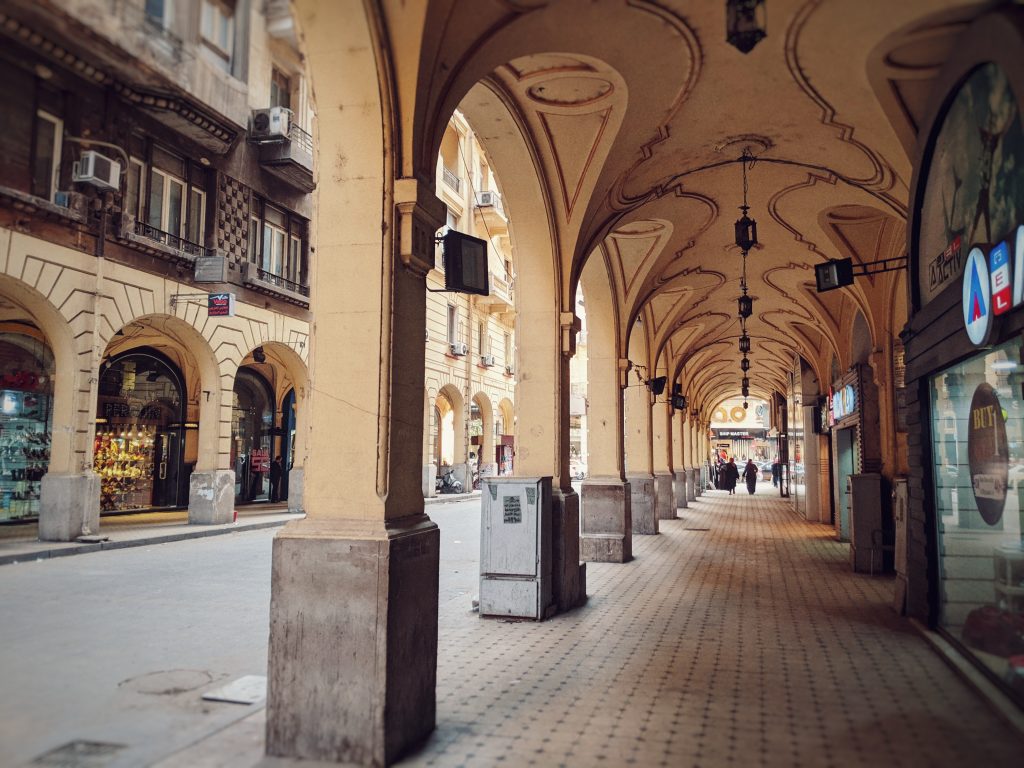 Fuel Up With Some Foul
Downtown Cairo is known for its hearty foul-filled breakfasts, with some particular foul carts standing out more than others, like Awlad Yaseen, Foul Abdul Nasser, and Al Falki. There's something about foul from a cart that just hits the spot more than any other place and its's the perfect way to fuel up (excuse the pun) for the rest of the day.
Find the Last Remaining Graffiti from 2011
Once notorious and known across the world for its revolutionary graffiti from the 2011 revolution, Downtown Cairo's walls no longer host graffiti as they did before. However, a small strip of wall and its graffiti along the American University of Cairo's Tahrir campus has been preserved and remains to this day as a rare reminder of the iconic graffiti of the revolution. As with the iconic image of the young boy eating a tameya sandwich, some of the images may be familiar, and they're worth the search to find them.
Lay Back with a Tea of Coffee at an Ahwa
The cafes, known colloquially as the ahwas, of Downtown Cairo are a legendary institution. Many ahwas are housed in iconic buildings and often don't seem to have changed in decades, with the owners and regulars very proud of this fact. With Turkish coffee treated like an art at most of these places, the coffee is second to none. Some of the cafes are well-known and worth the trip to find, but there's nothing better than finding your own favourite cafe to drop by for a coffee or tea.
Go Art Gallery Hopping
Spread throughout Downtown, there are several galleries with regular exhibitions and performances alongside a few annual art festivals that open up other spaces to more creative pursuits. Access Art Space stands out from the rest with the most interesting exhibitions and an incredibly good print room with art for relatively affordable prices. Karim Francis Gallery and Mashrabia Gallery also stand out as great galleries to pop by for a visit.
Take a Step Back in Time at Stephenson's Pharmacy
The iconic Davis Bryan Building has on its ground floor facing the street a beautiful pharmacy that doesn't seem to have changed in nearly a hundred years. With an owner who has taken pride in preserving this piece of history, the cabinets are full jars of eighty year-old remedies and medical instruments alongside beautifully hand-painted adverts on the walls. However, remember that it is a working pharmacy, so if you do go to take pictures be sure to buy a few things to support the pharmacy.
Make Friends with Downtown's Feline Residents
Lounging in the sun, belly-up, on the roofs of cars or strutting through a street cafe, Downtown Cairo is just as much a place for stray cats as it is for humans like us. To enjoy some of the more simple pleasures in life, playing with some of the street cats can be a great way to pass away the time.
Pop by a Few Museums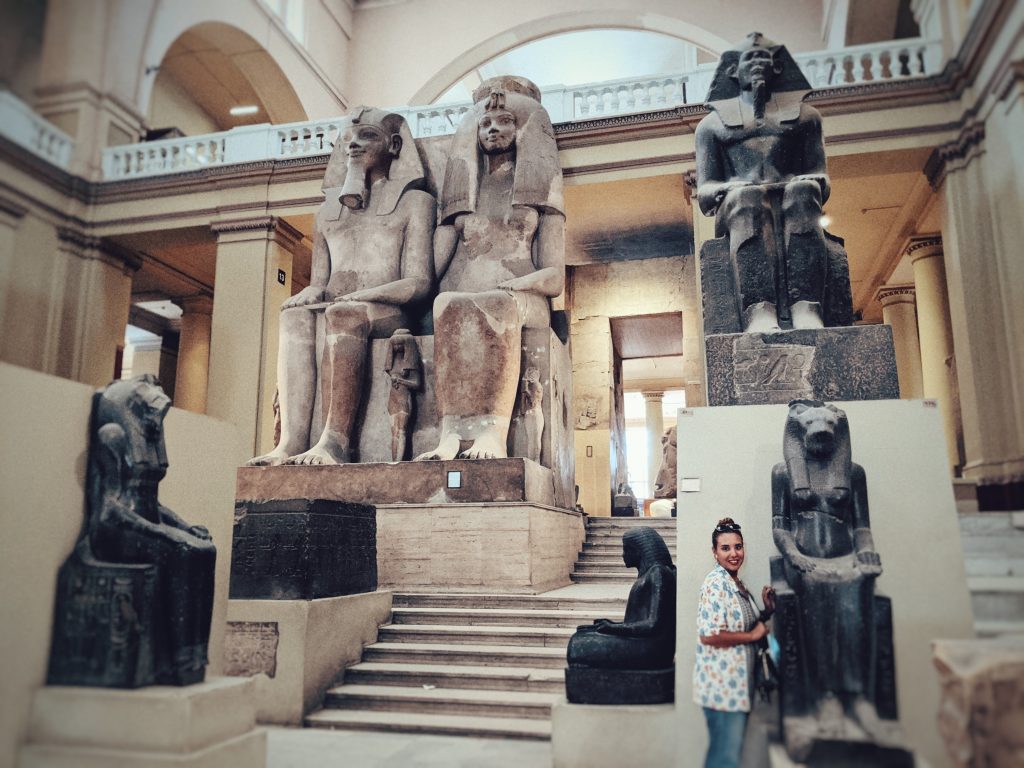 Of course there's the Egyptian Museum, but there's also the Abdeen Presidential Palace Museum, Railway Museum, Arab Music Institute, Geographical Association of Egypt, and many others. With affordable entrance fees, the museums in Downtown Cairo have plenty to explore, often housed in the most incredible buildings, which almost deserve a museum themselves.
Go on the Look Out for Downtown's Most Retro Shops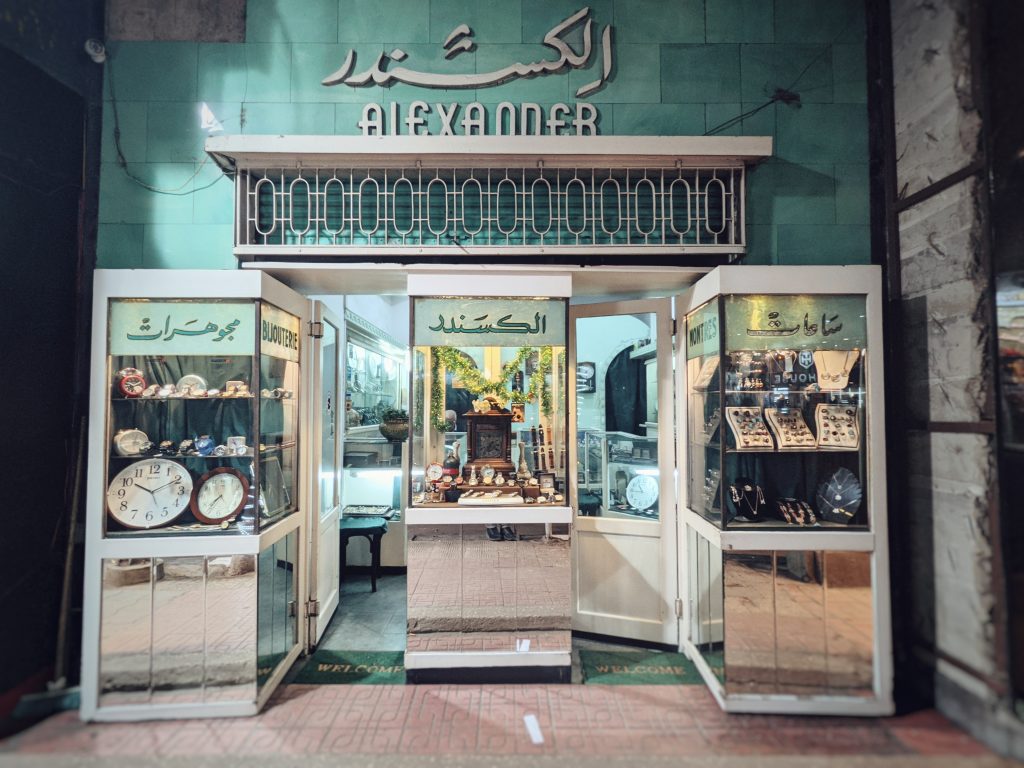 The streets of Downtown Cairo house some of the most retro shops with the most beautiful signs. From the legendary Bajochi jewellery shop to a mostly unknown shoe shop with signage and display straight out of the fifties, there's plenty to find on a leisurely stroll through Downtown. With shops like Babel offering hand-made leather shoes and the cluster of famous coffee roasters around Bustan Street, there's also plenty to pick up on your gander around the neighbourhood.
Relive Moments from your Favourite Novels and Movies
Downtown Cairo has been immortalised on the screen and in books. From the golden age of Egyptian cinema that featured Downtown in so many of iconic films to the more recent past, along with novels that have made parts of the neighbourhood famous worldwide, the area has a rich literary and cinematic history. For book lovers and cinema buffs, you can spend quite a while looking out for the real life locations, whether it's the Yacoubian Building, the Automobile Club, or if you want to order kebab to the Mugamma, in honour of Adel Imam's legendary performance.
Go Antiquing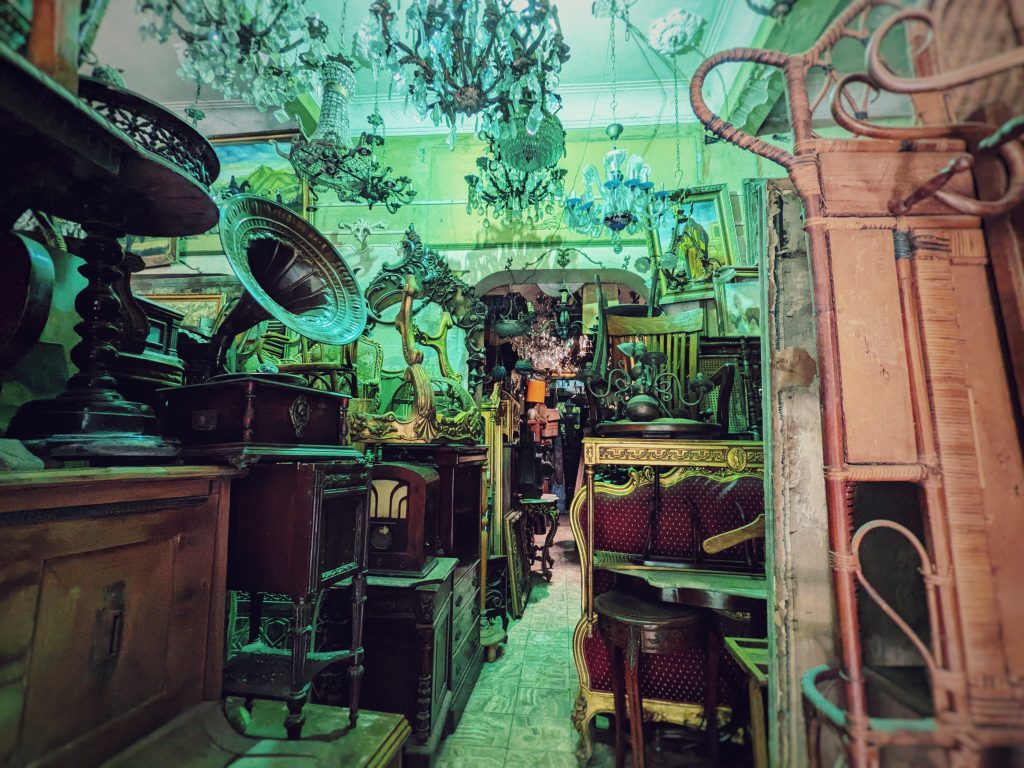 With around 15 shops clustered around Hoda Sharaway Street and some others further afield like Salle Des Ventes Catsaros also worth a look, Downtown Cairo is a haven for antique hunters. With a mix of European and Arab items, the antique shops have quite an eclectic mix of items and plenty to search through.
Look out for Downtown's Retro Hand-Painted Billboards
Hidden away up high on walls and often barely visible after being punished by the sun for more than eighty years, Downtown Cairo is home to an incredible array of hand-painted adverts. From classic soft drinks that your parents may remember like Krush and Sport Cola seen in adverts from the 1960s and for champagnes and wines in adverts from the twenties and thirties, these adverts for products no longer sold really feel like a step back in time. While not always easy to find, it's worth keeping an eye out to see what you can notice.
Recharge with some Fresh Juice
With all this walking around Downtown, you're going need something to keep you going. Thankfully, Downtown has some great juice shops that pride themselves on the freshness of their produce. Straight from the orange into the cup, you can't get better juice than this. For something a little different, try either orange and carrot or sugarcane and lemon. You won't be disappointed, believe me.
Get Yourself a Pair of Retro Glasses
As if Downtown Cairo wasn't retro enough, a shop called Soreya Mustafa sells vintage sunglasses and glasses that you can get fitted with your own prescription or preferred tint of lenses. From the classic Oum Kalthoum specs to others straight out of a movie, Soreya Mustafa is a great place to get a pair of glasses you can be confident no one else has. Soreya Mustafa, which is just opposite the Al Horreya Cafe, can normally get your glasses fitted with a new pair of lenses and be ready to go in less than two hours.
Finish the Day Nile-Side on a Feluka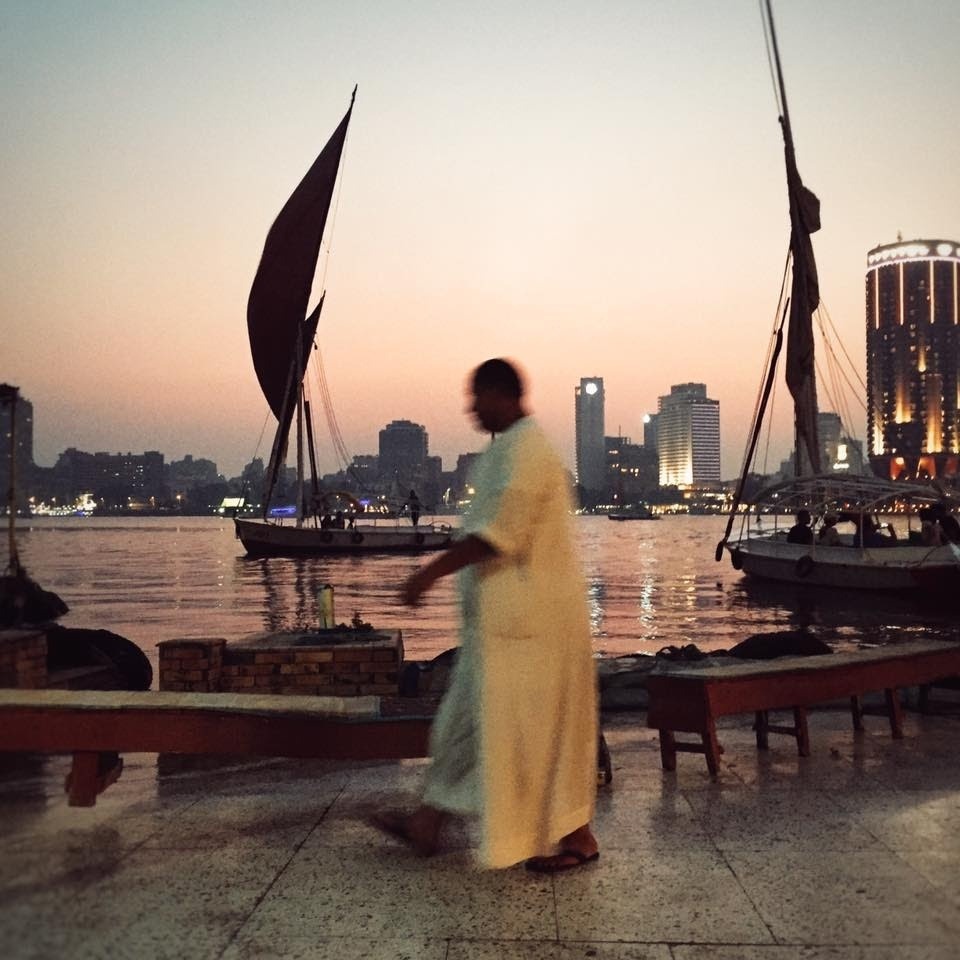 After a long day of exploring Downtown Cairo, there's no better way to finish it then strolling quickly south along the corniche from Tahrir to pick up a felukah for an evening sail. For the ultimate relaxation you can get a felukah sailboat, but if you want to save even more money and still have the energy for something a bit more exciting, you can get on one of the motorised party boats for a fraction of the price.
Busily commuting to and from work and meeting your friends on the weekend at the same place every week, it's easy to forget the incredible amount that Cairo has to offer. With dozens of historic and fascinating neighbourhoods to explore, thousands upon thousands of beautiful buildings to marvel at, museums to search through, fantastic restaurants to eat at, and quirky cafes to relax at, one could spend a lifetime exploring this city and still be surprised at what you find. The Maldives and a luxury Nile cruise can wait, but in the meantime, why not be a tourist in your own city?