Just this Sunday, a 24-year-old Egyptian woman named Alyaa Amer committed suicide by jumping from the third-floor balcony of her apartment. Prior to her jump, Amer shared a post on Facebook stating that her cousin sexually harassed her at a young age and that when she told her father he did not believe her.
The incident took place at Itay Al Barud, a small city in the Behira Governate after which Amer was transferred to Itay Al Barud's general hospital and officially declared dead. Egypt's official public prosecution got word of the incident and immediately headed to Amer's apartment to undergo a lengthy investigation and uncover if Amer's case was one of suicide or attempted murder.
The investigation included checking camera surveillance and footage of Amer's jump from the balcony as well as speaking to the victim's father and family members. Beyond that, an autopsy was conducted to investigate her charges of harassment, and based on the doctor's findings, there was no evidence of physical penetration or bodily injury. From there, the prosecution came to the conclusion that Amer may have had a rocky relationship with her father and that there was no evidence of criminal activity during her death.
What People Are Saying?
General Public
Amer's story has been circulating all over multiple social media platforms with many people expressing outrage toward her fate. One social media user placed a lens on how child sexual abuse is an easily concealed crime especially if the child knows the perpetrator. To them, Amer kept such a painful incident under wraps which in itself can have dire psychological consequences.
Another took to Twitter to state that in all cases, Amer suffered during her life whether it was from harassment, lies, or threats which resulted in her death.
Celebrities & The Media
Publications, media entities, and celebrities also took to social media to express their shock and sadness towards this incident. One popular publication stated that there is an ongoing debate as to whether Amer's case was one of suicide or murder, yet they also said that what everyone did agree on is that she was let down by her parents.
The conversation around Amer's case continued during a live coverage of the program The Last Word when Egyptian TV presenter Lamis Elhadidy advised parents on how to respond to their children when they speak up about any issue they faced in their past. She stressed that parents should listen attentively to their children and not dismiss them nor reprimand them especially because it takes a lot of bravery for the child to speak up in the first place:
Friends & Loved Ones
Several of Amer's friends took to social media to showcase a side of her story that was not tapped into by the prosecution or the media. One of her closest friends, Ginnian, shared a lengthy Instagram post revealing how behind closed doors, Amer's life was tainted with constant fear due to being exposed to daily bouts of familial violence and conflict.
Ginnian was shocked to discover that Amer died from suicide as Amer was someone who feared death, enjoyed the company of her friends, and merely wished to live a simple life devoid of violence and anger. Her friend even went on to say that she does not believe the death was the result of suicide.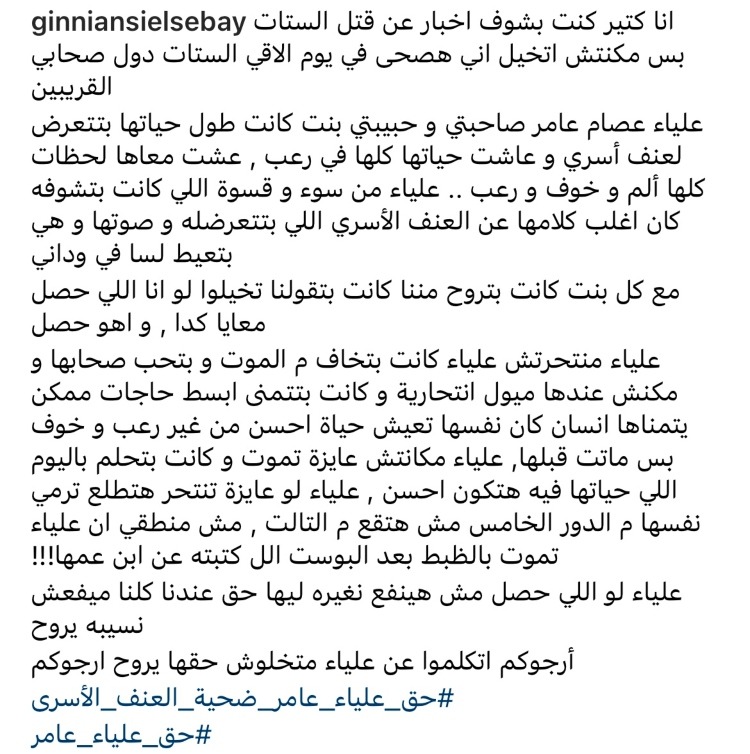 Another of her friends, Luna, shared a similar take on Amer's life mentioning how the victim's father was a violent presence in her life and how she would constantly cry and complain about what he used to do to her. Just like Ginnian, Luna also does not believe that Amer died from suicide but instead believes it to be a case of murder.
What's Happening Now?
The debate of Amer's cause of death is still ongoing on social media but again, when it comes to the Egyptian prosecution, there is still no evidence of criminal activity. Investigations will continue to shed more light on the case, her father's abuse as well as the sexual harassment she suffered during her childhood.
WE SAID THIS: Don't Miss… The Reality Of Sexual Harassment: How Bad Do Women Really Have It?