Single On Valentine's Day? Behold This Wacky Hilarious Guide Packed With Fun Ways To Spend The Day
Whether we like it or not, the day is finally coming, dubbed Valentine's Day, it's the one day in the entire year when shops are bombarded with red hearts and teddy bears while bakeries will churn out heart shaped cookies and red velvet cupcakes. Every year it arrives and acts as the ultimate day of romance for every couple out there. Having said this, being single on Valentine's Day, just as one is single on any other day of the year, is really not a big deal.
The question will still pop up of how you are supposed to spend a day as someone who is single during a holiday that is all about being coupled up. That is where we come in, giving you something different and not just the overly used idea of making it a day about self-love and self-care. We took a completely different route and really tapped into our creative juices to come up with some wacky, hilarious and fun ways to spend the day.
A Single's Only Dance Party
Dancing it out is the kind of activity that won't just put you on a satisfying serotonin high, it will give you a chance to be as wacky and carefree as you like. There are some rules when it comes to this particular dance party, the first being to avoid sappy and saccharine songs, you know the ones you listen to when it's raining and you have your head rested on the glass pane as you contemplate the meaning of life. Definitely avoid at all costs songs like Ibrahim El Hakami's "Mahma Tebaed" or Tamer Ashour's "Mahzouz".
That's where the second rule comes in, it's time to shake things up and listen to those type of songs that make you feel like you are having the time of your life so go for songs like Ramy Gamal's "Sa'af". With the songs picked out, its time for the third rule, one that will really up the ante, adding in costumes and props. You can go many ways with this either rummage through your dad's closet, take out a suit jacket, a pair of his sunglasses and some socks, find the smoothest surface and slide across the room or get your hands on a belly dancing skirt and shake it out like Hind Rostom.
A Couple's Massage & Facial
Yes, we are aware that a couple's massage implies that a couple is part of the equation but that doesn't have to be the case at all. Get your best friend and get ready for the ultimate pampering session at your favorite spa. Imagine this, you're laying on your stomach, getting a much needed back massage while at the same time, you're laughing your socks off while you gossip and chit chat with both your best friend and the masseuse.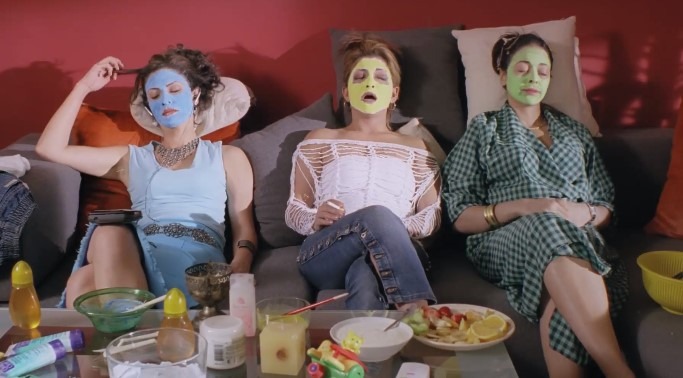 The night doesn't have to end with the massage as you both can even opt for a facial and even a madi-padi at a nearby nail salon. Before starting your session, you and your friend can have a sit down with the nail artist and brainstorm different designs you can go for, getting as creative as you like.
A Themed Movie Night
This idea may be a little far-fetched but it will definitely make for a hilarious night filled with food and laughter. This is not going to be your typical movie night as there is going to be one added detail that will make it quite the night. It's simple, we recommend pairing a specific dish with your movie and the way to do so is by picking a film that features a scene were characters enjoy a specific meal. The options are endless so if it's koshary you are craving, the perfect movie pairing would be the 2004 flick "The Best Of Times" where Hind Sabry, Hanan Turk and Menna Shalabi indulge in our favorite saucy carb-fueled dish.
If instead its some shakshouka you are after, you can go for the hilarious recent release "Fadl & Neama" but definitely avoid Hind Sabry's accidental cocaine-salt swap that cost her the final prize of the cooking competition. If its a full-fledged feast you are after then look no further than Adel Imam's heist movie "Bakhit and Adeela" were he goes for a huge spread of everything from salads to kofta. This type of movie night is the ultimate way to be milk being single on Valentine's day.
A Trip That Involves A Balloon…
If you are the kind of person who hates Valentine's Day as a concept and want to give it your own twist, we have an idea but it will involve some commuting. You'll need to get your hands on a collection of balloons and a marker and maybe call up a friend whose free and single on Valentine's Day to help you out as well. On these balloons, you will write hilarious quotes from popular films and television shows that totally obliterate the concept of Valentine's Day. A great example is the infamous scene from "Hob El Banat" when Laila Elwi graces us with her wise one-liner, stating that the person we love doesn't have to be a lover but instead can be a father, mother, sister or friend.
Now once you've scribbled on the balloons, hop in a car and hit up the most popular spots across Cairo. There's the Nile corniche, any of Maadi's Squares, Tahrir Square and any other landmark you can think of and at each location, tie up your balloon to a railing or lamp post for the entire world to see.
A Gamified Night
Time to get all your single friends together for a gamified Valentine's day, one where you can all tap into your competitive side through a unique and hilarious collection of games that can be played at home. TikTik can be a great source of inspiration when it comes to ideas with a huge library of videos dedicated to the hashtag #gamesathome. These hilarious at-home party games will be sure to leave you in a fit of giggles.
One game you should try out involves you knocking out four water bottles off the floor by flailing a pair of pantyhose that has a tennis ball…using your head. Dubbed "Pantyhose bowling" it's the kind of game that will have everyone laughing their socks off especially because of how ridiculous each person will look donning a pair of stockings on their forehead.
So with that, we have a feeling that once you've tried out any of these ideas, you may actually end up loving Valentine's Day and end up looking forward to it for the upcoming few years. At the end of the day, Valentine's Day is symbolic at best and can easily be taken lightly and treated like any regular day but with this article, we just thought of adding a fun twist to how the day can be spent while you are single so that it can be as memorable as it will be to any couple out there.