In the world of electronic music, the name Timo Maas rings loud. With over 20 years in the industry as a producer and remixer, the famous German DJ has paved the way for progressive house and trance through his best-selling albums and sold out shows.
Starting at the mere age of 13, Timo began DJing in his native country of Germany. He has since worked with the likes of Paul Oakenfold, Madonna, Kelis, Fatboy Slim and more.
This past weekend at the Abu Dhabi Grand Prix Formula 1 weekend, Timo played at the People by the Sea beach party, hosted by the Crystal group at Yas Beach. We got to sit down with the internationally renowned DJ before his set for a quick chat.
Is this your first time in the UAE?
It's my first time in Abu Dhabi, but I've been to Dubai many times over the past 10 years.
Having started over 20 years ago, you've seen the music industry change from year to year. What was your favorite time period?
The scene is constantly changing, from year to year, even month to month. It's a very personal point of view, but music doesn't last that much anymore. There is so much out there, which is also a challenge for me. I want to make music that is timeless, which is what I've been trying to achieve since I started. When I have the perfect environment, I want to experience how far can I go, how far can I take people out of their usual expectations and give them an incredible time that they've never had before.
My favorite time was when electronic music and techno music was not just a music style, but a lifestyle statement. Starting around the late 80s to the early-mid 90s, when listening to electronic music was so much more than just listening to music. You separated yourself, you loved it, you celebrated it, you produced it and were a part of it. That was my favorite time. I really loved it then. Of course I still love it now, I mean I wouldn't still be here and doing it if I didn't still love it.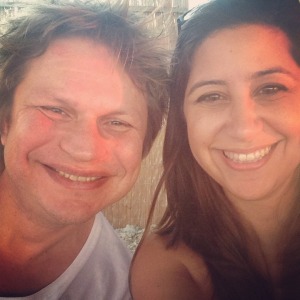 Where do you get your inspiration?
Traveling, meeting people, listening to loads of music, making music, life with all it's high and lows, ups and downs.
What's your favorite city that you've performed in?
Tokyo. Tokyo is the craziest city in the world, I love it. I really love food too, and Japanese food is incredible. Ibiza is also one of my favorites.
Is there a song that you've produced that is close to your heart?
Since it's been over 20 years, there is quite a lot. I wouldn't say there is one particular one. Everything has a particular meaning for me; whatever the moment was when it came out. Music is ideally is the transformation of emotions into sounds. It's a reflection of your emotions.
What can we expect to see from you in the next year?
I'm constantly touring, but I'm working with a whole bunch of different collaborators, I can't tell you what the result is going to be, if it's going to be a new album or what, though. I like to work on projects. I have a few things that are interesting and promising at the moment, I'm working with a lot of different people in parallel and they all sound totally different. I am making sure that there is material out, but whoever is interested in what I'm doing should be excited because I'm trying out some new things.
Have you ever performed in Egypt?
No, I would love to. A few of my colleagues have been, but I haven't' been yet. I want to see the Pyramids.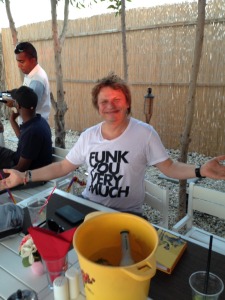 (I told him it was safe now)
I'm not scared, I am sensitive but I'm not scared. I've been to 94 countries worldwide, and I'm up for 95,96, 97, 98… I have to close 100 for sure. Will I ever stop? I don't know. I live my dream. I love music, and I live my dream. It's a pain in the ass sometimes because relationships don't always work out because of this extreme life that I'm having. I'm always traveling, always on the road.
One day you're here, one day you're there then you go home, shake it off for a few days. I'm a father so I take care of my daughter. When I'm with her, I wake up at 6 am and take her to school and do the father thing no matter if I just came back from Columbia the night before. That gives me stability, which is hard some times.
Who was your favorite artist to work with?
I've worked with many people. My producer, Martin Buttrich, is the perfect partner. Musically, with him, I can just express everything. He's such an amazing producer and so much fun. He's just a really awesome guy to produce with, hang out with and have fun. And for me, music has to be fun.
We couldn't agree more, Timo.
WE SAID THIS: Check out #ScooptakesF1 on Instagram for more VIP coverage of the F1 weekend festivities!