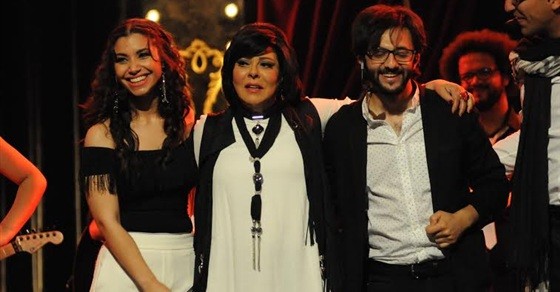 Sahbet El Saada has proved time after time that it is one of the most entertaining shows in Egypt right now. Host Isaad Younis has made it her weekly thing to bring us the most nostalgic musicians, actors, models and TV show hosts who we all grew up loving. You always wonder where they disappeared after all these years and when they come on the show, you end up with the biggest smile on your face and this week was no different.
In an unprecedented move, the Sahbet El Saada team decided to take us down Western music memory lane by asking Nesma Mahgoub, Star Academy Arab World season eight winner and, according to Isaad Younis, the show's darling, to prepare a mashup of every song that touched us in the last few decades. The end result was nothing but pure entertainment.
Nesma Mahgoub along with Hany Moustafa, Moustafa Rashad and Hesham Blues performed bits and pieces of maybe a 100 songs, covering literally everything, from Frank Sinatra, Elvis Presley, Michael Jackson, Queen and Celine Dion all the way to the Backstreet Boys, Shakira and PSY, and, of course, a little bit of Lambada and Beyonce choreography was added to the mix.
If you miss the old days when you used to listen to That's What I Call Music cassette tapes and dancing the Macarena at birthday parties, check out this energetic and highly nostalgic performance.
WE SAID THIS:
WE SAID THIS: Don't miss Why Donia and Amy Samir Ghanem Are an Inspiration to Arab Women.