Now, I will try to put my feelings about Uruguay aside in order to provide an objective overview of last night's game, but I can't make any promises.
Rodriguez James. That is pretty much all there is to say about last night's showdown at the Estadio do Maracana in Rio De Janeiro.
James' two goals were enough to keep his side ahead of Uruguay into full time, and have booked Colombia a historical spot in the Quarter Finals (Colombia has never made it to the World Cup Quarter Finals).
The first half of the game was controlled in part by Colombia, as they constantly sought to puncture the Uruguayan defense. They were somewhat stifled until the 28th minute, when James sent the ball soaring for the net, scraping by Muslera's fingertips. As the half time whistle sounded, Los Cafeteros were in the lead.
Five minutes in to the second half, Colombia's artful team effort sent the ball to James, who once again found the back of the Uruguayan goal. James' second goal did little to deter La Celeste, who are known for their determination. Giving up is not in the squad's DNA (as seen by their efforts to get past the Group Stage).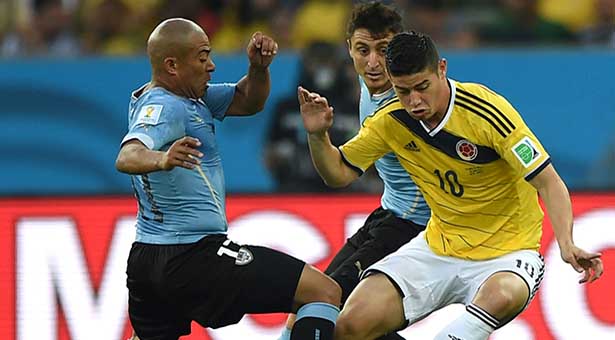 Uruguay rebounded with offensive attacks by Rodriguez, Gimenez and Pereira, but Ospina blocked and palmed them all. As the referee blew the final whistle, Colombian fans erupted in cheers and applause for their squads incredible performance.
As Uruguay graciously accepted defeat, James and the rest of his teammates relished their historical night in Rio. Colombia will face host nation Brazil in the Quarter Finals.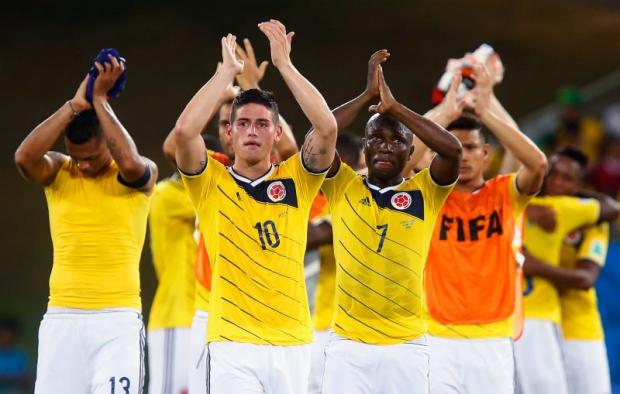 * Noticeably absent from last night's game was Uruguayan a-hole Luis Suarez, who has received a four month ban from play. Perhaps Uruguay would have been able to progress further in this tournament if they had their secret weapon on board, he may have been able to chomp his way through the Colombian defense.
WE SAID THIS: Check out the lowdown on the Brazil vs. Chile match here.