It's becoming more and more frequent that we're hit by the tragic news of a lovely, young person who was filled with energy and potential. We used to hear news of random people we don't know and get affected, but in our heads it was something so far away. And it just keeps getting closer, people we've heard of, people our friends know, people we know.
But what's really sad is when we lose people because of incompetence or lack of medical care or equipment. When you know all someone needed was to get medical care, but they didn't because it wasn't available.
Last weekend, we lost a young, talented fashion designer, Aya Afify, who everyone is mourning because of what a great person she was. And it is heartbreaking to hear from Dr. Adham Ghandour what actually happened, knowing that she could've been saved, but that Sahel was not prepared for any medical emergencies and due to that, this bright, young girl lost her life.
How is it that a place where thousands of people head to all summer is not equipped to handle medical emergencies? And how many lives have been lost due to this incompetence or the lack of safety measures and precautions? If it is not being provided for us, isn't it something worth spending on from our own pockets in the hope that we never lose any of our loved ones due to lack of medical care?
Below, Dr. Adham Ghandour explains what happened to the late Aya Afify and how the lack of medical equipment cost us her life.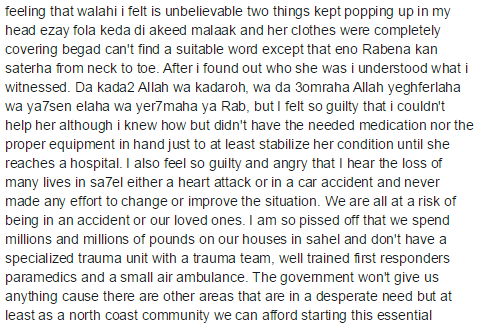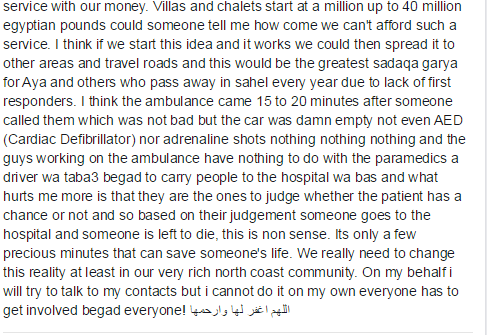 It was later announced that a helicopter ambulance was running in Sahel for medical emergencies. Did it really have to take a tragic death that left a hole in our hearts to get a helicopter ambulance running in Sahel for medical emergencies? And will it be enough to cater for all the emergencies that happen?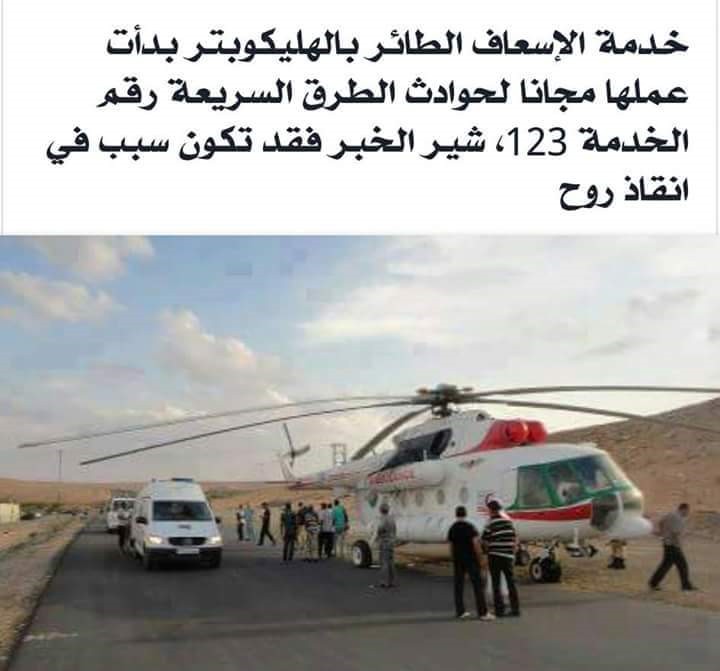 Our hearts go out to Aya Afify's family and friends. We never knew her, but from the amount of love everyone has for her, we're saddened to know that the world has lost such a beautiful person. May her soul rest in peace.
WE SAID THIS: Don't miss Nightmare at the Nile Badrawi Hospital.