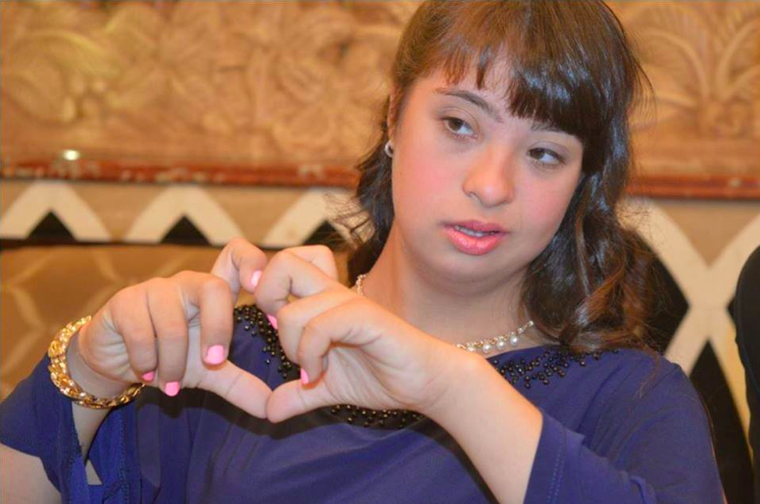 Some people are simply born to shine. Rahma Khaled is an 18-year-old Egyptian high school student with Down syndrome. With the help of her mother, Amal El-Otaif, and years of hard work, she defied all the challenges life threw her way and became a swimming gold medalist in the Special Olympics.
Rahma has appeared on a number of TV shows since and has been known for her smart statements, courage, wits and, most of all, a heart-melting smile.
In one of her most inspirational interviews, she explained, "We deserve a good education. We deserve to play sports. The disabled ones are those without goals."
Now how incredibly smart and true is that? In another interview she was asked if it hurts when people doubt her abilities. Her reply was precise and confident: "I am a champion," she proudly said.
This month, a YouTube video caught the attention of the MBC Masr producers. In it, Rahma was asked which star she would like to act with. She immediately replied, "Ramez Galal is my idol. His pranks are funny and he is a good actor."
This week, she made an appearance on MBC Masr's show Yahdoth fi Masr and host Sherif Amer had quite the surprise for her. Galal showed up with flowers and swept Rahma off her feet and they even filmed a scene together.
Thankfully, Ramez was a sweetheart and a gentleman, unlike his usual self, and leashed his inner prankster.
The thing about Rahma that shines brighter than a gold medal is her spirit. Ladies, this is what happens when you ooze love, strength, confidence and courage. Everyone around you just falls in love.
Her honesty is truly refreshing in a world where nothing is what it seems. This girl is someone women of all ages should look up to.
WE SAID THIS: Don't miss 20 Under 20: Phenomenal Young Arabs Who Make Us Proud.