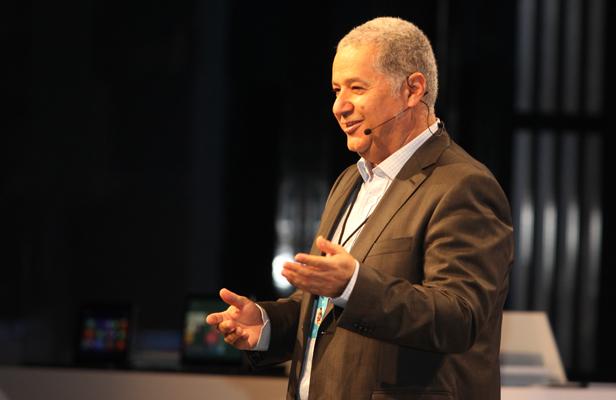 Four weeks ago, Microsoft's Corporate Vice President Ali Faramawy was contacted by Sawari Ventures' Ahmed El-Alfy telling him about his plan to turn the AUC Greek Campus into a hub for technology startups, and that the launch would be on the birthday (Nov. 25th) of Talaat Harb, the godfather of Egyptian entrepreneurs – an offer Faramawy couldn't refuse. Faramawy, being the globetrotter that his position necessitates of him, flew in especially to Cairo to be one of the amazing list of speakers at the RiseUp Summit.
Faramawy starts by telling his own story of entrepreneurship, when in 1986, fresh out of the Faculty of Engineering, Alexandria University, he and two of his friends, decided to start Datasoft. The company was located in the ground floor of his partner's home. The three of them had other jobs while working on Datasoft.
Although it was promising, and profitable, it fell apart. Faramawy was offered a job in the Gulf, his partner went off to further his studies in the U.S., so Datasoft ceased to exist. Faramawy explains how they might have been impatient and too eager at wanting to succeed financially.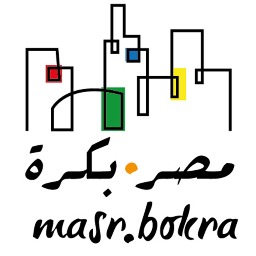 Twenty-six years later Faramawy picks up his incomplete entrepreneurial dream, with the experience and foresight of years, and launches MasrDotBokra. This second attempt is all about finding a way to give back to Egypt. It's a hub for mentorship and role models to help striving Egyptians in similar fields. MasrDotBokra works as a support system by bridging the experience and exposure gap.
Although MasrDotBokra focuses on social entrepreneurship, Faramawy explains how it is actually very hard to run your own business, and that so much is taken for granted when you work within the multinational framework. Faramawy believes there are so many positive things we can learn from the Jan. 25 revolution, one of them being that together, we are so much stronger. We must capitalize on this synergy. This is the vision of MasrDotBokra, and they have a plan to relaunch this January, using new media to steamroll the dream ahead.
Faramawy's world is surrounded by entrepreneurs, and he works closely with the most successful entrepreneur of our time, Bill Gates. By working, supporting and learning from all these entrepreneurs, he knows exactly the keys to success. It's not just about having a new idea, or providing a new service, it also lies in providing the service/or idea at international standards.
When Faramawy talks about successful Egyptian entrepreneurs, the first names that come to his mind are otlob.com, link.net, and gbrands.com. He believes the greatest challenge lies in whether an Egyptian company can work at international standards, which is what these companies have managed to achieve.
Faramawy explains how that in the same way that employees take for granted the embedded structures of multinationals, Western countries take for granted many of the standard services provided by their respective countries. Just like Muhammad Yunus changed the world of microfinance with Grameen Bank, Kenya's M-Pesa is now the most developed mobile system payment in the world. Therefore, regionally in many emerging countries, people have had to dig deep to solve problems that their governments haven't been able to.
Another example of success is Just Falafel, which was just ranked number one in the Dubai SME rankings because they created a business model based on franchising and quick growth and created job opportunities very quickly. The company now has more than 500 franchises worldwide, from the U.S. to Australia. In Egypt, Mo'men and Koshari El-Tahrir have similar experiences locally, but have still not ventured into the world market. Faramawy points out that Just Falafel created a successful business model that can be replicated.
On an individual level, Faramawy clarifies that to be successful you must not just dream and be determined. You must be stubborn and tenacious in the pursuit of this success. Where others see a mess you must see an opportunity. You must be action oriented. "You've got to eat while you dream," like Jack Welch, CEO of GE, said. The examples worldwide are endless and in every field.
For example, Ronaldo's goals last week, which are taking Portugal to the World Cup, wasn't just a result of his God-given talent, they are also a product of fierce determination and hard work. "He had to run over 70 yards in each of the three goals, so he had to be stronger and faster than the Big Scandinavian defenders". Another non-Microsoft example, to show his impartiality, is Steve Jobs: "how immersed, obsessed he was with his own dream of creating a product with the quality and usability he imagined."
Usually, a younger person has these qualities, yet regardless of age, it's the desire to succeed that will fuel more ventures. Faramawy's advice is that you should surround yourself with others who are equally motivated, learn from your mistakes and incorporate your interest and hobbies – "creating something that is politically and time agnostic, that will remain for future generations".
"You cannot let the fear of failure prevent you, and you have to balance what it means to be successful. Never let your negative feelings become stronger than your positive ones". Many entrepreneurs envy the employees that have successfully made careers in the multinational corporations, and vice versa. The grass always seems to be greener on the other side of the fence.
Coming up with an idea, then making it work is hard yet rewarding. However, going into entrepreneurship because the job market is not asking for new hires is a recipe for disaster, especially if you never had the desire or the skills required. Egypt has a diverse and young population, and we must make the best out of it.
As Egyptians today we have no choice but to surge forward. Egypt for startups is even more challenging because of the lack of basic ingredients like security and the rule of law. Yet these hurdles cannot be our surrender, they must be our impetus to be stronger, to be tougher, to not accept defeat and to overcome these deterrents.
Through this kind of movement, this energy like RiseUp Summit, we can take Egypt to a drastically different place and move to a more positive future, and leave our children with more examples of being able to change their life and their future. Faramawy exclaims "Be Loud, Be True and Pay it Forward".
So yalla, Rise Up, Egyptians. Jump up, move forward, attack the challenges, dream, work and change.
WE SAID THIS: Follow us on Twitter and Instagram @ScoopEmpire for live updates of the RiseUp Egypt Summit, Nov. 24-25.