By Heba Tallah Mohamed
While growing up, I knew nothing about the vitiligo skin disorder which meant I was no different from anyone with little to no awareness of people who suffer from this disorder. Vitiligo is a skin disease where pale white patches start forming on the skin due to a lack of melanin. This disease is rare and is often met with misconceptions in our society. 
People with this disease usually aren't accepted due to how different it makes them look and our lack of awareness on the disorder itself. However, in recent years, there have been models who have vitiligo taking the industry by storm bringing the disease to the attention of more people and helping those with the condition accept themselves the way they are. Spreading self-love is their mission!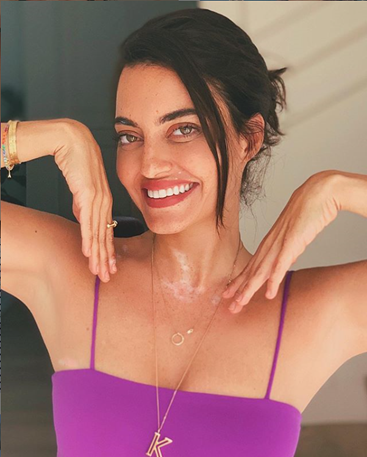 The Dubai-based Lebanese blogger Karen Wazen is celebrating the day by posting on her Instagram an encouraging message for all the world about how people with this skin pigmentation suffer from unacceptance. She told her story of getting the disease and how she suffered at the beginning of her journey of accepting herself with it. "Vitiligo to me is light beauty that is a part of me", she said.
She's not the only figure in the beauty industry who influences people with vitiligo to accept themselves.
Logina Salah is a makeup artist that doesn't use makeup to hide her flaws. She constantly tries to empower other women to love themselves through sharing her photos on her Instagram showing her uneven skin tone because of the vitiligo. She was never afraid to show off her imperfections even though she is a makeup artist.
There is also the very famous model Shahad Salman who is known as "the Saudi Winnie Harlow". She appeared on the cover of Vogue Arabia and is an advocate of humans' empowerment and self-acceptance. Shahad Salman is an inspirational example of a model embracing her imperfections. She actively stands against conventional beauty standards.
The beauty industry is being blessed every day with a diversity of looks calling for more self-acceptance in society. People with vitiligo should never be treated differently than anyone else. Awareness should be made for people to understand this disease that has no causes nor treatment.
WE SAID THIS: People that have vitiligo are people with admirable beauty!