Photos that circulated of a monkey in a Dubai nightclub has sparked online outrage. One of the snapshots shows partygoers seemingly plying the creature with booze.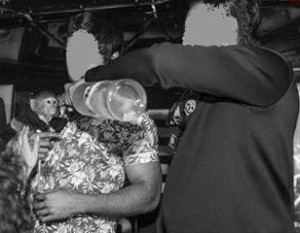 The incident took place last Tuesday at Vanity during their Blackout DXB night. After pictures of the monkey went viral, Dubai residents took to social media to air their disgust.
"Just seen a pic of a monkey being fed vodka in a nightclub in dubai. Shameful, open animal abuse," wrote one.
Vanity's management was quick to respond with a statement on their Facebook page:
"We would like to state that Vanity Nightclub Dubai has never 'knowingly' allowed nor will allow any animals into our premises. Concerning the incident that occurred last Tuesday, the 27th January 2013, the owner along with his animal, were immediately removed from the premises once staff were alerted. The owner and his party that attended on the night have been banned from ever entering the venue again," it read.
"We thank you all for expressing you're concerns and please be certain that we share the same view as everyone when it comes to the treatment of animals."
WE SAID THIS: In case you missed it, don't miss what we wrote about a similar monkey-in-a-club incident in Cairo last year.