Mohamed Henedy Just Proved He's the King of Twitter with the Most Relatable Tweet Ever
Via Filfan
We all know the legend that is Mohamed Henedy. The part-time Egyptian actor, full-time Twitter king is known for being a slayer on social media. Remember when he destroyed the "Rakebni El Morgiha" singer? What about his dig at actor Ahmed Fahmy?
Henedy is just a force that cannot be stopped, and he is back at it again with the most relatable tweet you will ever read.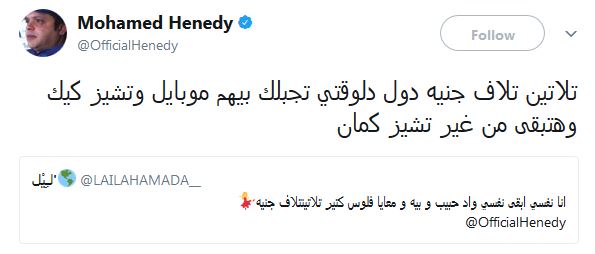 The actor took to his Twitter account to rant about how stupidly expensive everything is in Egypt — something every Egyptian has been vocal about. Henedy retweeted a tweet from one of his followers with a reply that should honestly be eternalized forever. "All I want is 30,000 LE," the original tweet from his follower said. The comedic God wasn't there for it, which is why he replied with: "The only thing you can get with 30,000 LE right now is a smartphone, and a cheesecake, without the cheese."
WE SAID THIS: Bow down!