Since the day he arrived in England, Mohamed Salah, or Mo Salah as he is known among his many fans, has been breaking records. Salah is without a doubt one of the best Egyptian players in history, and he serves as an example to many younger generations that look up to his journey and aspire to achieve what he has since his debut at Liverpool in particular. His long list of accomplishments is undeniably impressive, ranging from the Professional Footballers' Association's (PFA) fan-voted "Player of the Year" award in 2021 to the "Laureus Sporting Inspiration" award for his use of his platform to make a positive contribution to society, as well as numerous other honors. In light of this, Mohamed Salah has also set a new record by scoring 23 league goals and finishing as the joint top goal scorer with Tottenham's Son Heung-min. Additionally, he had 13 assists in the league and helped Egypt reach the Africa Cup of Nations final back in February.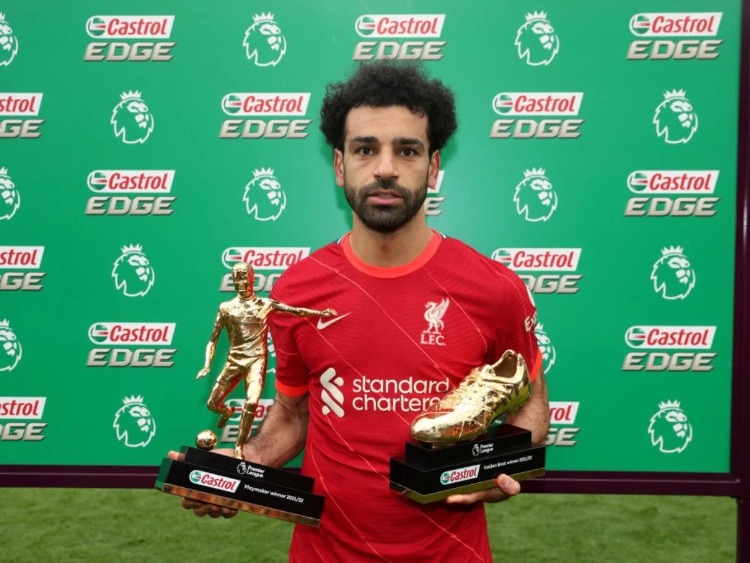 Salah added to his list of accomplishments by defeating Manchester City's Kevin De Bruyne to win his second PFA Player of the Year award, becoming the ninth player to do so. To win the award, the Egyptian international player overcame great players such as Cristiano Ronaldo, Harry Kane, Virgil van Dijk, and Sadio Mane.
Salah told The Athletic after winning the title for the second time, "It's a huge pleasure to win a trophy, individual or collective, and this one is significant, so, really glad and proud of that." This is a great one to win, especially because it's voted on by the players. It demonstrates that you've put in a lot of effort and that you've gotten what you've worked for." I had trophies in a cabinet in my room, and I made sure there was a place for one more."
Salah's mentality sets him apart from any other player we've seen, and the fact that huge tournaments and trophies don't hold him back; on the contrary, they fuel his desire to win more and more titles. His mentality has propelled him to this level, as he has evolved into more than a player. For all Egyptians around the world, Salah is a symbol of hope.