Thank God for Italians! They are the originators of every good thing on earth. From gelato and pizza to fashion, Italians never disappoint. Since Milan Fashion Week just wrapped, and since it was hands down the fashion week with the most big names by far, I decided to choose the biggest designer for each day and recap it for all you fashionistas out there.
Day 1: Gucci
What a way to kick off a great fashion week! Gucci was the first big name to come down the runway. Spring/Summer 2014 in Gucci is very soft, with dark subtle colors – a great take on to the feminine maturity of the 90's. The main hues were black, burgundy, purple and green. Fabrics were soft and feminine – sheer chiffon, satins and silk. And there were a lot of great wearable pieces – no hem lines went above the knees. Sheer pieces were accompanied with balcony bras and shorts underneath, evoking the sexy mysterious 90's. Gucci also recreated the bold-colored swirls of the 70's on sequined dresses and rompers. And the kimono is officially back next spring – your sheer robe will be a variable item in your closet, according to Gucci.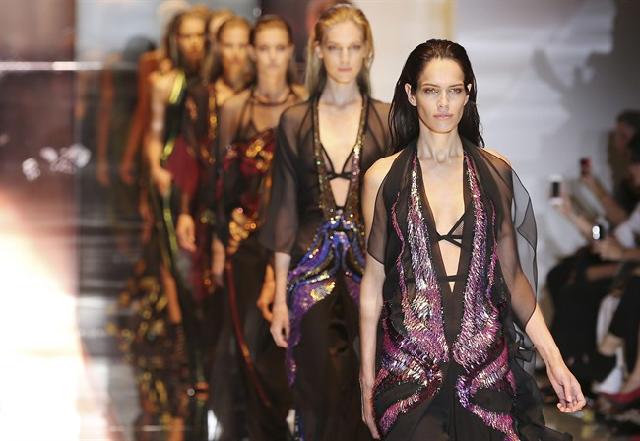 Day 2: Prada
Miuccia Prada: I am obsessed with this woman. With collaborations with artists Gabriel Specter and Jeanne Detallante, Prada showcased sporty pieces featuring paintings of women, from Italian goddesses to stylized 80's minimalistic silhouettes to modern realistic female faces. Nothing was left untouched – straight line dresses, coats and skirts in different materials all featured women's faces. Sequined built-in bustiers on dresses were sexy but not trashy. Instead of pastels, unlike most of the other runways, Prada went with darker colors on most of the pieces, with pops of red and royal blue. And all the models walked the runway wearing leg warmers with colorful sandals, a combination that is hardly wearable in real life.
Day 3: Versace
If you want to put the Spring/Summer 2014 Versace collection in a box, good luck. Donatella literally made something for every person. The pieces of the collection range from edgy rock and roll outfits to fairy-like pastel dresses and everything in between. Pretty maxi dresses inspired by spring leaves in pastel yellow and blue. Grungy printed tops with leather pants and biker jackets – all black. Lots and lots of embellishments. I guess wearing Versace next spring and summer will just mean being yourself and choosing from the range of options that Donatella has laid out for you, darling.
Day 4: Moschino
While the beginning of the show seemed like Halloween gone crazy, the collection actually has wearable pieces. To be honest, I wasn't dazzled and it didn't meet my Moschino expectations. To start the show with a witch dress that has an actual cow painted on it, then to make a model walk the runway with a wig made of little teddy bears and a matching necklace is just creepy. With lots of monochrome and short hemlines, some of the outfits felt too "French maid". I'm not sure if the styling totally ruined what could have been a perfectly good show. The best pieces included a tux-inspired monochrome blazer and tulle A-line skirts in pastel pink hues.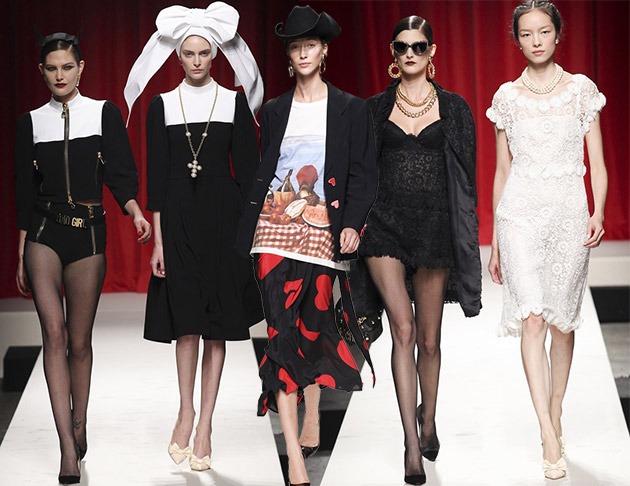 Day 5: Dolce & Gabbana
Domenico Dolce and Stefano Gabbana have had recent tax trouble, but instead of letting it ruin their work they used it as inspiration, using lavish gold in many pieces and adding golden coins to their collection like they had a ton of it. All models went to the runway with pale makeup and royal Grecian flower tiaras, looking like chic angels. Red, black and white polka dots made a couple of appearances and lots of graphic florals in gold and white were featured in the collection. It looked like 50's spring meets Helen of Troy. The sheer, airy fabrics were a big hit on the runway.
Day 6: Giorgio Armani
Armani took to the runway as the last big name in Milan Fashion Week. If you're trying your luck in the business world and you have some blonde (or brunette) ambition, then Armani Spring/Summer 2014 is the way to go. The collection was executive chic, starting with plaids and tweeds, then hints of neon, and finally pastels and bohemian patterns. The first phase featured wearable suits in beige, then the runway transitioned to colorful lapel-less blazers with pale colored skirts. Blue swirls and paintings then transitioned quickly to pink florals, while the straight line dresses, skirt suits and pant suits remained constant. Sheer made a couple of appearances for evening gowns for what felt like a recreation of rare 80's simple gowns.