Ramadan 2021 has offered nothing short of an exhilarating assortment of experiences. However, nothing comes close to taking a stroll through El Fustat's National Museum of Egyptian Civilization, embarking on a historical adventure, and then finishing off the night with a mouth-watering sehour offered by Mawlay. If there's one thing you'll miss out on throughout the holy month, this is it! From the sweet aroma of classic Turkish coffee to indulging in the oriental traditional food offered near the museum's lake, look no further for an authentic Ramadan night. As you witness the greatness of the Pharaohs with all their glory, and gradually transition from the past into the modern world, dining in oriental elegance, make sure to book a spot at Mawlay before Ramadan 2021 comes to an end!
The National Museum of Egyptian Civilization
As you enter the museum, not sure yet which direction to head into, monuments and artifacts lay bare before your eyes, glittering with golden rays and colors out of the spectrum. Different eras of Egyptian stages are presented, starting from Ancient Egyptians, Coptic Christian history, to the presence of the Greeks and the influence of the Romans, to a timeline of historical galore that stretches up to Egypt under the Ottoman Empire. Home to 22 preserved mummies, an entire underground floor is dedicated solely to the lives of prestigious pharaohs and queens, with a brief summary about each of their lives. The moment you begin the path downwards towards the mummy rooms, the calm and distinctive silence that encompasses you is almost impossible not to feel. As the black walls close in, with a dim light illuminating the corridors, the journey has hardly begun, and yet, as you silently observe each of the mummies, you ponder and marvel at their maintained physical state for thousands of years. Upon finishing all the twists and turns within the maze-like web of the mummy rooms and depart from the time warp, you make your way upstairs once again, only this time for an oriental adventure.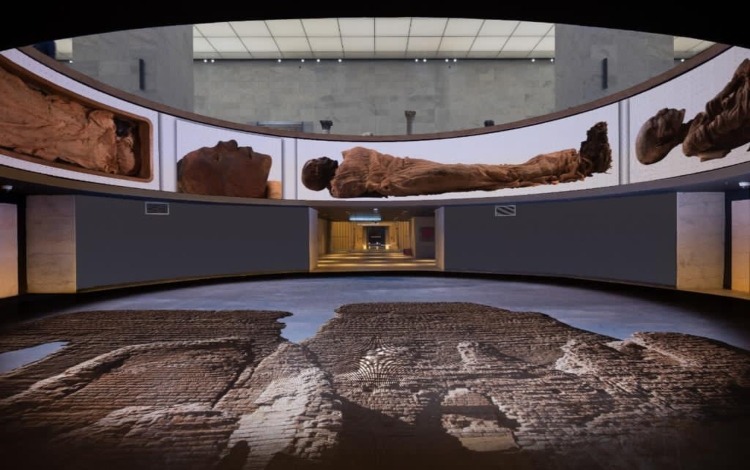 Mawlay
Mawlay, an outdoor and elegant restaurant situated by the lake of the museum, is adorned with Middle Eastern decorations, with Ramadan vibes going full force all night. Before you visit though, book your table online first, as they offer tables with cozy couches that host groups of four, and all the way up to 22 people. Mawlay's website describes the whole experience perfectly, "Dine with Kings & Queens."
For iftar, there are two menu sets available for you to choose from. Each menu consists of the starters, a main course, dessert, and a vast selection of traditional foods. No matter what your food preferences are, picky eater or not, there are tastes suitable for everyone on Mawlay's table, offering an all-inclusive vibe that leaves no one behind. From grilled meals right off the smoldering coal, to Middle Eastern and international dishes, Mawlay ceases to amaze us throughout Ramadan 2021!
For sehour, the menu is set with all kinds of tastes we don't get enough of! The vast selection of foods dropped on our table consisted of fresh balady bread baskets with a light dash of chickpeas, stuffed eggplant, mini meat hawawshi sandwiches, large bowls of lightly oiled fuul, and golden falafel cooked to perfection. No one's leaving anytime soon by this point. Afterwards, as the bread baskets kept flowing, and the cheese feteer kept on coming, yoghurt and oriental desserts eventually made their way from the Mawlay kitchen all the way into our bellies, offering a dainty experience. Unlike the feelings we get elsewhere, still we felt light, as the food offers all the tastes it should, and manages to exclude the food coma experience afterwards. Gathering for sehour for a savory and sweet meal has yet to be matched by anyone else. Kudos to Mawlay, may they forever let us dine with the Kings and Queens that they are!