The long wait has finally taken a hopeful turn. Both vaccines, the 'Sinopharm' and 'AstraZeneca,' are finally arriving to all Middle Eastern countries in an effort to combat this pandemic. COVID-19 has increased the death rates in most countries affected, forcing several countries to lockdown in order curb the spread. Kuwait is amongst the countries who have been using the vaccine for a while now, and aim to vaccinate 300,000 citizens per month. Should countries be concerned though in diminishing their vaccine supply?
Almost nine months ago, the total confirmed number of coronavirus cases in Kuwait stood at 743. Thanks to restrictions from both medical professionals and the country as a whole, cases and death rates started to decrease, leaving the total number of recoveries at 6,621.
The Kuwait Ministry of Health authorized the emergency use of Pfizer/BioNTech's Covid-19 vaccine, and launched a website for people to sign up for vaccinations. Kuwait's Health Ministry ordered about 1 million doses of the Pfizer/BioNTech vaccine last November. Over 150,000 doses have been reserved not only for healthcare workers, but also for the elderly and those with chronic health conditions.
Kuwait's COVID-19 vaccination drive will be almost complete by September 2021, with 850,000 citizens to have received their doses within the next three months if enough vaccines are available. According to the state news agency KUNA report, Kuwaiti Health Minister Bassel Al-Sabah, made the statement based on the country's plan to vaccinate 300,000 citizens monthly. Kuwait seeks to expand its vaccination capacity with the opening of two new COVID-19 centers in Al-Naseem and Al-Masayel.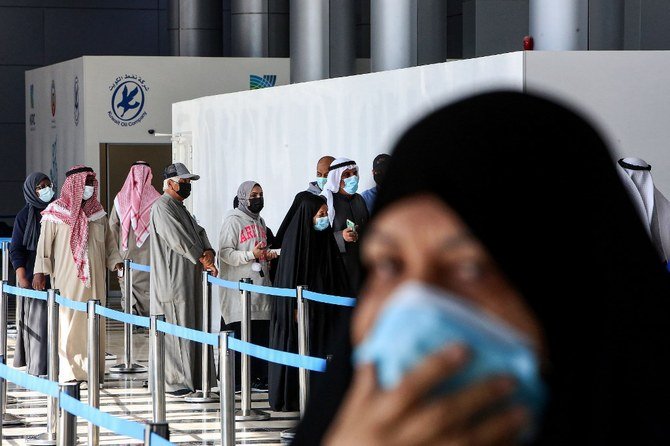 Al-Sabah stated that in considering the global vaccine supply situation, an increase of such facilities for Kuwait's vaccination capacity might reach 20,000 daily. However, this all depends on the availability and supply of the vaccines. Kuwait is deploying two vaccines: the first one, developed by Pfizer-BioNTech, will be supplied weekly until the arrival of the Oxford-AstraZeneca vaccine, which will be supplied in larger quantities and delivered on a staggered basis. On Sunday, Kuwait reported 962 new coronavirus cases overnight, totaling the country's cases to 170,998.