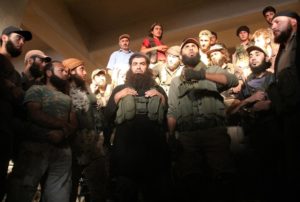 You don't see that everyday on the news; Jabhat Fateh al-Sham (JFS), rescued the German journalist, Janina Findeisen and her baby from the grip of a Syrian militia who held them captive for almost a year.
It has been reported that Findeisen was seven months pregnant when she got abducted last October by a group saying it was the JFS. However they JFS announced a number of times on Twitter saying that these armed men were lying.
"Janina Findeisen was kidnapped almost a year ago in Syria by a group of armed men. The armed group used JFS's name to demand a ransom," the group said in a series of statements on Twitter. We issued a statement on 1/12/2015 denying our involvement. A month ago we started an investigation after we received new information," they said in a statement.
Findeisen has now arrived to Turkey with her baby in her arms, safe and sound. The German foreign ministry on Thursday confirmed that a German national had escaped with her baby to Turkey, adding she was "in good condition considering the circumstances," but it didn't name the woman.
WE SAID THIS: We're just glad Janina and her baby are safe on peaceful grounds.