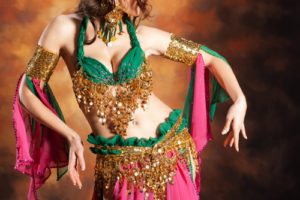 Dancing is an interpretive art from. It captivates the soul and mind; dancers inhale music, and exhale this very music as elegantly graceful and well-crafted moves.  This is why dancing is an internationally loved language.
Arabs are no exception to this international love for dance. One particular dance form that Arabs have always been particularly fond is belly dancing. Belly dancers are the heart and soul of any Arabic themed night. This is because belly dancers can take the audience on a magical journey. They always know how to keep the crowd on their feet and their hearts on the edge.
Some belly dancers have come to be so iconic nowadays, to the extent that they could easily pass off as being genuine celebrities. Here is a list containing some of these amazingly beautiful and incredibly talented women.
Amie Sultan
This Egyptian beauty is not only a professional belly dancer, she is also a bachelor degree holder in Interior Design from Rhodec Institute England.
Amar Gamal
When elegance and class meet belly dancing, Amar Gamal is the first name that should pop in your head. This Cuban belly dancer raised the bar with her mix of different and unique belly dancing routines.
Amelia Zidan
Initially studying in Algeria to become a child psychologist, Amelia Zidan found her grove in belly dancing. Accordingly, she dropped out of college, and decided to pursue her true calling.
ٍShams
After starring in a lot of Egyptian movies, this Egyptian Jordanian hottie became a big hit in the oriental belly dancing scene.
Hakima
Starting her career as a dance in Morocco, Hakima professionally performed her first stage act at the age of 6 years old!
Didem Kinali
The Turkish dance machine Didem Kinali is a worldwide sensation. She has earned herself a spot on Wikipedia's 'Famous Belly Dancer Practitioners' list.
Nesma
With two personas, Nesma might be one of our favourites indeed. Nesma is famous for her perfect rhythmic and swift moves, when it comes to belly dancing. However, her alter ego -Doaa Saif, the actress- is famous for her role in the Egyptian T.V. series Grand Hotel.
Sadie Marquardt
Known as the queen of the drum solo, Sadie Marquardt is the most watched belly dancer on YouTube.
Loretta
Loretta is a Dutch belly dancer with some moves that are extremely over the edge. She appeared in many international dance festivals and shows.
Maya Maghraby
Maya Maghraby is a belly dancer that, for the past couple of years, has had a pretty solid critic acclaim. Known for her electrifying performances, She knows how to get the party up and running.
Amira Abdi
The Ukranian Belly dancer just did it all, with Stage acts, teaching, judging, and hosting her own shows to her list Amira is just a 100% artist.
Elissar
Believing that dancing is a message of love transmitted through body language, the Lebanese dancer graduated as a nurse, and then followed her dream of becoming a professional belly dancer.
Sofinar Gourian
Also known as 'Sofinaaar' to some, Sofinar Gourian is a Russian-Armenian belly dancer that took Egypt by storm. After inventing her own new belly dancing moves in 'Al 2ashash' (The Sweeper) movie, she became the most googled name in 2014.
Ignatenko Ekaterina
Russia is in the game now with their own fabulous belly dancer Ignatenko Ekaterina.
Brenda
Before taking third place in 'Al Raqesa' – televised belly dancing competition show – held  in Egypt, the Argentinian belly dancer was working her way up the belly dancing stairs, and starred in several movies.
Alla Kushnir
A finalist in Ukraine's Got Talent, this Ukrainian dancer was actually a law student. She decided to abandon her studies, however, after seeing an belly dancing show.
WE SAID THIS: Let us know which of these queens reigns supreme in your opinion.