North Coast's Ras Al Hekma has become the go-to place for an unforgettable summer vacation and M squared has made its mark on this remarkable destination. From chalets to cabanas, Masyaf Ras Al Hekma is changing the Sahel scene with its unique "Marmarica Boutique Cabanas" by M squared Hospitality.
Stunning architecture, luxuriousness, serenity, world-class hospitality, and more, here are the top five reasons why Marmarica's state-of-the-art "Boutique Cabanas" should be your next vacation spot.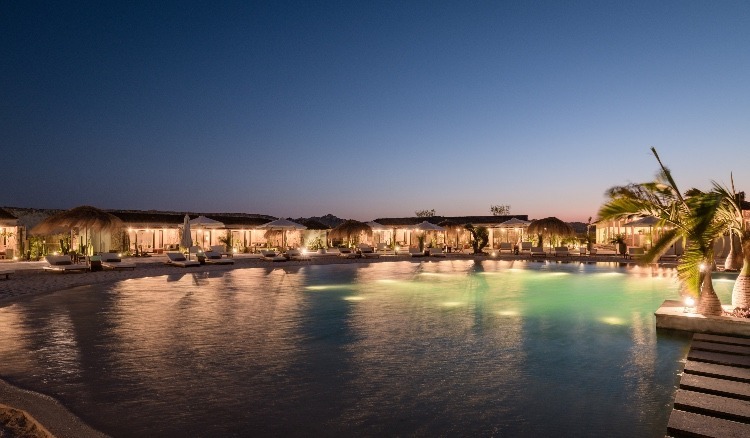 Get In Your Zen Zone
Sahel has long changed from the days it was a calm spot to unwind. Now, we can argue it is as loud and busy as our beloved Cairo.
Located just 75KM from Marsa Matrouh and 10KM from Fouka Road, in the heart of Masyaf Ras Al Hekma, Marmarica Boutique Cabanas is offering a Sahel for every person out there. Offering a chance to get away from the city's hustle and bustle to get in your zen zone thanks to its secluded location that oozes tranquility and disconnection right on the glimmering coast of Ras Al Hekma.
The 16 contemporary-chic cabanas are built out over a blue infinity pool that ends right where the Mediterranean begins. The name says it all; "Marmarica" is reconnecting Sahel with its roots and the rich history that runs down Egypt and the Middle East with its untouched sandy haven designed for you to relax amidst nature while enjoying an atmosphere of refined hospitality.
Aesthetically Pleasing Sensual Architecture
Where luxury and aesthetics meet. Marmarica's architectural concept embodies "down-to-earth luxury" and expresses authenticity in rough luxurious textures and soothing colors. If you appreciate the beauty and voluptuous magnificence, this is the place for you. The beautifully architectured, aesthetically pleasing design takes you into a user-friendly breathable experience of the front open sea. Rustic Luxe environment; uses natural materials in simple forms without ornamentation, where simplicity enables the integrity of raw materials to show.
First Of Its Kind Luxurious Cabanas
Marmarica offers three categories of luxury cabanas to cater to the individual preferences and needs of our guests. It features 16 cabanas, categorized into Sunset cabanas, Sunrise cabanas and Sea View cabanas. The cabanas are carefully planted around the Infinity Mediterranean Pool, whose views continue through to the sea horizon. Furnished with rustic-luxe styles, every corner of the cabanas exudes a raw nature-inspired style, mixed with a modern and luxurious touch.
The cabanas are harmoniously designed using organic compositions, set up to absorb enough natural light into the room; with a gracious outdoor terrace that connects directly to the Mediterranean infinity pool, guests' full movement feels continuous as they move towards the pool, chasing the endless sea views.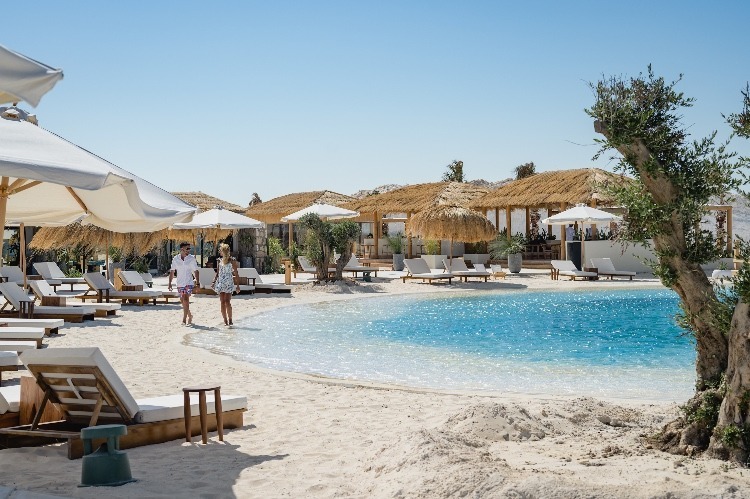 Access To Masyaf Ras Al Hekma
Located inside Masyaf residence, you will enjoy a world-class coastal experience boasting a 700M sandy beachfront, an exclusive community. A multitude of high-end amenities, and top nightlife exclusivities. From fine dining to art and fashion, to sports, and everything in between, Masyaf Ras Al Hekma brings an upscale world of offerings in one place. This includes the hottest spot in Sahel: Barbarossa Beach Club, coming all the way from Greek; Barbarossa Restaurant, the Ibiza-inspired new concept store; Lemonade Fashion Store, as well as F45 Training, Elle Beauty Salon, and Sukun Wellness.
Marmarica also provides a variety of cuisines for every mood. Food and drinks for romance, relaxation, for the sheer pleasure of company, including Olive Tree Restaurant, Pool Bar, Beach Bar, and in-room dining.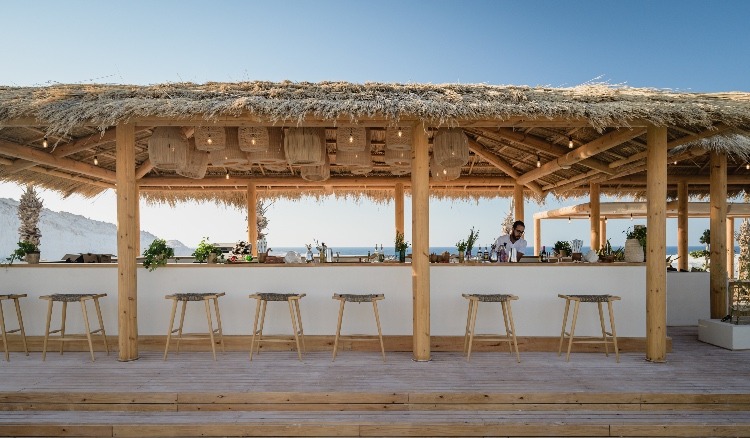 A Personalized Guest Experience
Giving each and every guest so much attention, Masyaf Ras Al Hekma's Marmarica is committed to offering the utmost personalized experience for every guest, catering to their personal preferences, and their most detailed likings. Guests can choose from a wide array of exotic room scents, preferred sleeping atmosphere, and much more; so that their stay at Marmarica is picture-perfect.