Every city has famous food hotspots whether it's Cairo's Sobhy Kaber or Jeddah's Albaik, they are the places everyone hits up when they give the city a visit. That's why you will usually find them packed with people. Yet, despite this, at times, the true gems of any city are its hidden spots, only known by its locals.
Alexandria, a city overlooking the sharp blue waters of the Mediterranean has a few of those local gems hidden within its narrow roads and behind its old Moresque-style green shuttered houses. These spots, not only house delicious local delicacies, they are places that have stood the test of time; opening way back during the 40s up till the 90s. With a big appetite, the Scoop team headed out and visited several of these underrated spots to see if they are worth a visit.
Kebdet Samy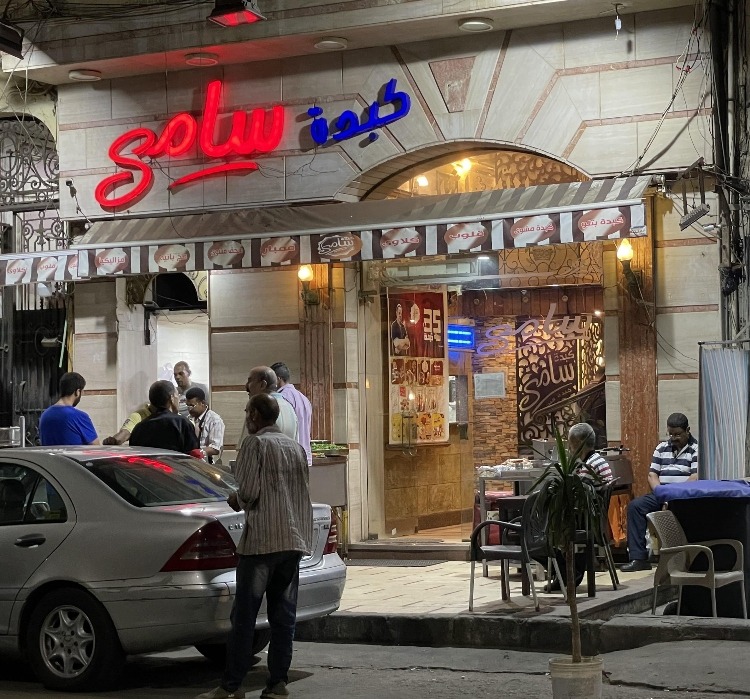 Nestled within El Sayed Mohammed Karim street which houses one of the most famous mosques in all of Alexandria, the Sidi Morsi Abu al-Abbas Mosque, you'll find Kebdet Samy. It's a dine-in old restaurant that takes up two stories of an old building. Yet, outside the building, on the pavement overlooking the street is where all the magic happens. Atop a flat top grill, pieces of thin liver, sausages and beef sizzle and sputter as a man with a tong shift them around until they become greyish brown. Next to him are two men on a different kind of cooking station, swirling liver and green peppers within a rich brown stew inside a round open-faced metal tin pot.
On entering the restaurant, we took a seat among one of its many tables. Hung on the walls surrounding the tables are black and white photos of Alexandria, possibly from the 1920s. To start off, you get a standard set of appetizers like tahini, garlic paste, and roasted beets accompanied with shami bread. They were served in all the restaurants we visited today. For the main course, we ordered five types of sandwiches: kofta, liver, buttered brain, beef and sausages which were all served inside a thin fino bread (a bread roll made from wheat flour).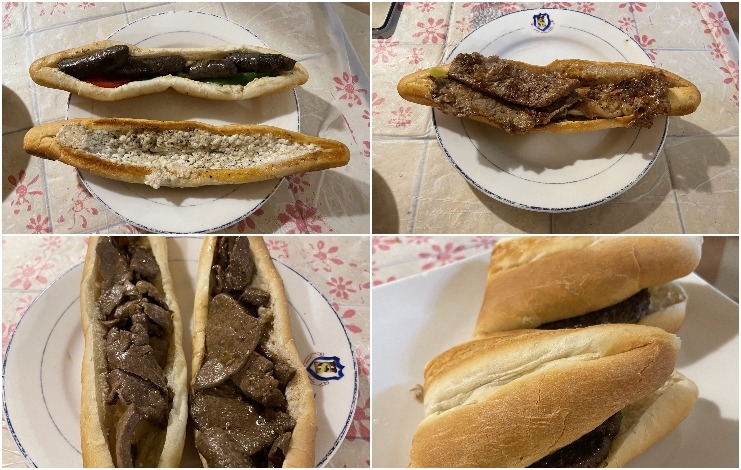 The sandwiches were pretty decent but not very flavorful. The bread itself was crunchy because of getting toasted on the grill. The kebda (liver) sandwich needed more flavor so we had to squeeze some lemon on top and take a few bites of pickled chili to give the sandwich the needed peppery kick that a liver sandwich is known for. The brain butter sandwich was quite plain and needed salt. Yet, despite this, the kofta sandwich made up for it. It was shaped into a round patty rather than its infamous log shape. The meat was fatty, juicy and very well seasoned and coupled well with the tahini. The sandwiches were slightly pricy with the Alexandrian liver sandwich costing 20 EGP which is quite expensive compared to the usual price of 10 to 15 EGPs.
Other than the actual food experience, we wanted to also learn more about the restaurant itself so we spoke with its owner, Am Samy. Dressed in a light blue buttoned shirt with his leg propped up atop a chair, he seemed to have a leg brace on, he was more than happy to talk to us. He told us how he began his journey by first opening a small cart on the same street, way back in 1987.
Over time, his business grew and today, he owns a two-story restaurant that is planned to be expanded to the neighboring building. As an old timer of Alexandria, Am Samy holds onto how life was like in the past, believing that today, with social media and influencers, the way information gets circulated is no longer genuine. He reminisces about a more genuine time in the past when people learned about restaurants or new food spots through word of mouth. It was great hearing his wisdom and learning about his story.
Kebdet El Araby
Within the same street as Kebdet Samy is another old local food spot known as Kebdet El Araby. Similar to Am Samy's restaurant, this establishment is also housed within a building, except it's only on one floor and also has outdoor seating on the pavement with tables covered in plastic patterned table cloths surrounded by red plastic chairs. It's a very well-lit area with the name of the store "Kebdet El Araby" illuminating above the restaurant's opening. On that same pavement, to the right, are two-wheeled cooking stations each with three big round open tin pots to cook the liver, sausages, and beef.
We sat outside and ordered three types of sandwiches (kofta, sausage and liver) as they didn't serve brain sandwiches that day. The kofta sandwich was not that flavorful, it was slightly plain and barely had any tahini on it but it did have a peppery kick to it. The sausage sandwich was more flavorful than that of Kebdit Samy. The liver sandwich, on the other hand, was very well seasoned with a strong cumin and pepper flavor and its bread was soft and fresh. The prices were more reasonable with the liver sandwich costing 17 EGP and the sausage sandwich costing 22 EGP.
To learn the story behind Kebdet Araby, we spoke to its owner, Hag Araby. He was a broad-shouldered man with a grey mustache and was spreading out the fresh cuts of meat he just bought from the butcher's shop. Asking him about the restaurant, he told us how it's been open for more than 40 years, starting off as a cart that only sold kebda sandwiches that transformed into Kebdet Araby of today with its eclectic menu. It's the original and only branch in all of Alexandria that saw the likes of several Egyptian celebrities including Hemada Helal and Mostafa Amer dropping it a visit.
We ended the conversation by asking him the long-debated question of many Egyptians: Does he wash the liver before cooking it? Turns out he does not, he merely peels the outer layer then cooks it immediately. Hopefully, that will tame the Egyptian communities' ongoing liver debate.
Al Mamouny Sandwiches
Taking a slight detour from liver and kofta restaurants, Al Mamouny sandwiches, a deli located at El Hadara, a district serves a diverse combination of fino sandwiches whether for breakfast, lunch or dinner. This tiny open-faced store can barely be seen from the crowd of men blocking its glass display case.
The case itself is a marvel. Its lower portion consists of huge stacks of fino bread, a few packets of chips and some oven-baked desserts packed in square foil tins. The two portions above it house several plates of filling options for the sandwiches. One plate has eggs with pastrami, another has hot dogs mixed with tomatoes, and so on. That way customers can be able to see the filling options before they pick up their sandwich.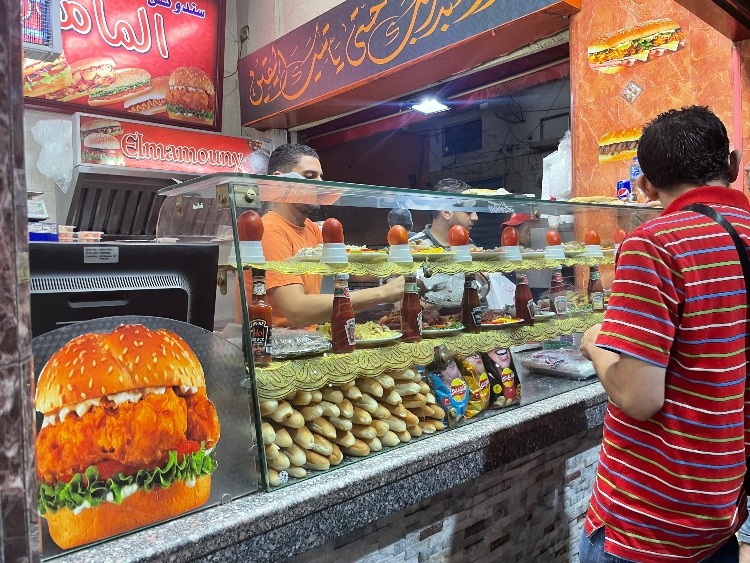 To give the deli a fair shot, we tried out a wide variety of its sandwiches: Eggs with pastrami, liver, brain, Viagra (a sweet sandwich that consists of molasses, halawa, tahina and cream), Sakalans (a sweet sandwich that consists of jam, halawa (sweet tahini dessert), cream and honey), sausages with vegetables and fried cheddar cheese. The best two were the liver and Sakalans sandwiches. The liver sandwich ironically outdid Am Samy and Hag Araby's kebda sandwiches as it was much more flavorful and peppery because of being packed with slices of green pepper.
The Sakalans sandwich was delicious as the combination of the honey, cream, jam and halwa worked really well. The warm soft bread helped to tame and balance the sweetness of the mighty quartet. The sausage sandwich, however, wasn't the best because it was slightly slimy and the added mayo and vegetables were an odd added combo. Their prices were the most reasonable with the liver sandwich costing only 7 EGP and their Sakalans sandwich costing 9 EGP.
The story behind the deli was my favorite so far. Opening up in 1948, Al Mamouny started serving its homey sandwiches to the masses. The business was family-run and was passed on from generation to generation until the 1990s; when its current owner, the grandson of its original owner, Mohamed Ibrahim took over. While adding jam to a piece of fino bread, he told us how the roast beef with butter and cheese is the crowd favorite as well as the Viagra and Sakalans sandwiches. We might pop by again to give their roast beef a try.
Hooda El Gondol
Probably the most unique food experience you'll have in Alexandria, Hooda El Gondollocated at El Azarita district is unlike any other seafood restaurant you'll encounter in the city. As with the other hidden spots, Hooda El Gondol has a long history, opening up its doors 30 years ago, in 1987.
To merely enter it, you'll have to walk through a bustling narrow alley surrounded by houses on both sides. As we walked along the alley, we found people seated, pulling up their sleeves to be able to eat shrimp and fish atop their plates. The volume got louder as we continued along the path especially when a counter with several men behind it appeared to our right. They were some of the sellers. Beyond that counter, we found an opening to our right to a building. That's where the restaurant is housed, on its second floor. Before we could go up the stairs, a young seller approached us with a peeled piece of shrimp to try out. From the get-go, we knew the food will be pretty tasty based on the very well-seasoned, juicy shrimp.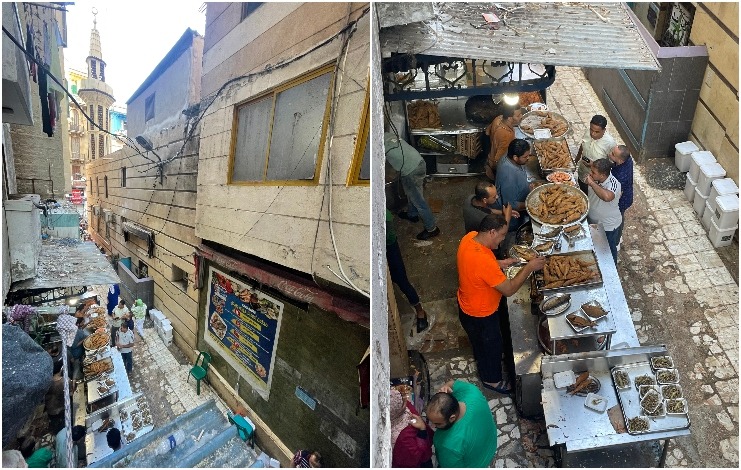 The seller was standing by three large tin serving trays, each holding a different kind of seafood. One filled with small fried Barboon, the other with large grilled fish, and a third filled with a hefty pile of fried fillet fish. He began explaining what they usually serve. The crowd favorite is a set plate of five types of seafood: several shrimps, one large grilled Bouri fish, a couple of slices of fried fillet fish, one small fried Barboon fish and two fingers of fish kofta. The offer also includes a cup of shrimp liquid soup, rice and tahini, all for a mere 150 EGP. At a shocking price as in most seafood restaurants, one plate with that variety of options will cost at least double that amount.
Hooda El Gondol is very different from a typical seafood restaurant. Not only because of its affordable price. The restaurant only serves the five types of seafood mentioned before. In other places, you would usually get to pick from a wide range of fish including Denis, Aroos and Mias as well as other types of seafood like squid and crab. Other than that, at Hooda, all the seafood is pre-cooked and ready while at other seafood restaurants, you'd pick your fish, and then it would get freshly cooked prior to being served to you. That is why Hooda is a great way to enjoy seafood without having to worry about spending too much money on your meal.
Once the order was made, we went up a set of pink stairs to reach the upstairs seating. The entire experience was that of an orchestrated feast. The server came with a silver pitcher cup and poured a hot liquid onto a tiny plastic cup. That was their signature shrimp soup which tasted like the juices that would come out of a shrimp while it gets cooked, a very salty and umami flavor. Later, the server brought the infamous seafood platter. Everything was extremely well seasoned. The fried fish was crispy on the outside and soft and tender on the inside. The Bouri fish had a delicious crispy salty outer layer that was balanced by the gentler taste of its white meat. The entire meal was worth it.
Visiting these four hidden spots uncovered new ways to dine out that are unlike the experience you'll get in a typical restaurant. The beauty of these localities lies in their rich history and in their owners who made these establishments what they are today.
WE SAID THIS: Don't Miss…. The Delicious 20s: Here Are 11 Historical Eateries In Alexandria That You Must Check Out
.