If you're looking for the ideal kids bedroom wallpaper, prepare to be amazed. We're going to introduce you to some of the most beautiful kids room wallpaper that you'll absolutely love. So, let your imagination run wild and find the perfect kids bedroom wall mural for your little ones below!
Children's rooms are the best place to think out dreams and desires. Choosing the right wallpaper for your children is really important because it will have an impact on the kid's growth and future development. Kid's rooms aren't just a place where they can rest, but a place where they can cultivate their personality, hobbies and imaginations. While selecting the wallpaper for them, 'comfortable' is not enough, you need to also pay attention to the image, the colours and the designs!
Ever Wallpaper, a new startup UK wallpaper & mural company, love designing children and baby nursery
wallpapers. They offer a variety of made-to-measure kids room wallpapers that are custom fit for all
your wall sizes and shapes. Here are some best-selling wallpaper selections from Ever Wallpaper that
your little ones will love.
Have you ever imagined that some cute little elves are roaming around your garden and starring at you continuously and telling you happy morning! Well if that's the case for you, then you are the luckiest person in the morning. This wallpaper is a perfect wall decal that will spice up your children's private space.
This oil painting forest wallpaper mural lends a calming and soothing effect to your senses and allows you and your kids to have a close-to-nature feel. Breathe life and vitality in your kids room with this versatile design as a wall covering and watch your space revamp itself instantly.
Oh my god! Just look at this dreamy colorful and cute unicorn wallpaper. While watching this, you'll get one of those happy feels of imagining a smile coming from the baby's face. We'll probably choose this for our children's bedroom wallpaper!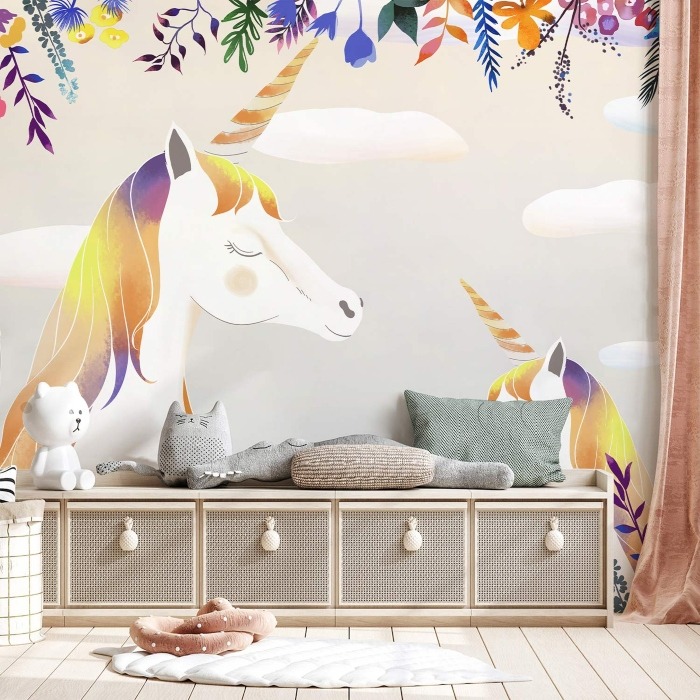 Ha! The definition of the word for cute is panda. How did God creat this adorable animal with this size and bunched up with cuteness? When kids see this wallpaper, they'll immediately fall in love with it and want it as their wall covering to decorate their rooms.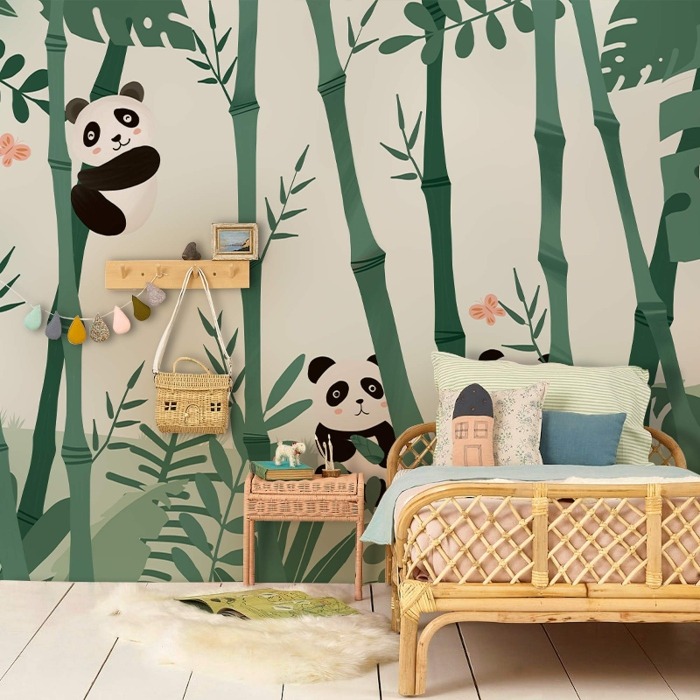 Animal Band in Mushroom Land
Yeah, it's time for a wonderful music concert! Our animal band squad is waiting for you to join this joyful occasion and we're here for you to get into the amazing experience of dancing with this cute band troop in your room.
Be quiet my dear, I'm sleeping right now! Your little ones can also have a good sleep while they're watching this cute little kitty in their bedroom. Isn't that wonderful!
Adorn your kid's room with this space-themed baby nursery wallpaper which includes cartoon astronauts, UFOs, rockets & planets. Easily motivates your kids' imagination of outer space and makes their dream of being a professional astronaut come alive with this fantastic wall covering.
Cartoon-themed wallpapers are not only popular among the youngsters but also for adults. Take a look at this classical cartoon forest animal wallpaper – full of cute wild animals like a fox, a raccoon, and a giraffe having a wonderful party in the forest – isn't it heart-melting? Install this on your kid's walls and be prepared to see the smiles on their faces!
"I can build a large warm swan bed on a sea for the koala to have a good night sleep" said the swan. Now, have this charming wallpaper in your kids room and help your little ones sleep well too!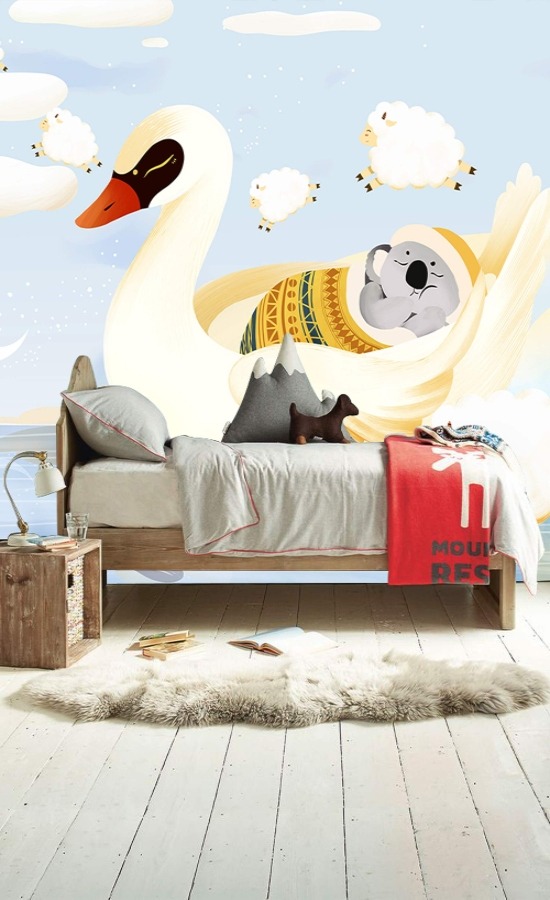 If your kids love exploring the world under the sea, then this wallpaper is a perfect choice! Create a colorful sea world in their bedroom or playroom and make them feel a sense of immersion as if they were living in it with these beautiful sea creatures.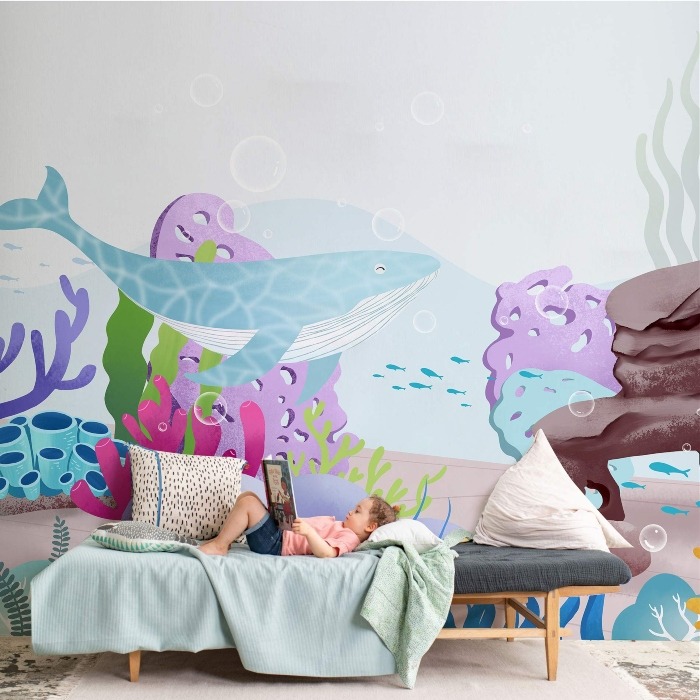 Create a pink fairy-tale theme in your kid's room, especially a baby girl's room. This wall mural will inspire their imaginations of being a princess living in a beautiful castle. Place it on to your walls to instantly revamp your space!
Show me one gentleman looking more stylish than him. This is such a cool and unique wallpaper that's definitely a treat for the kids and for dog lovers. The way he looks at you with this amazing outfit takes this kids room wallpaper to whole other level.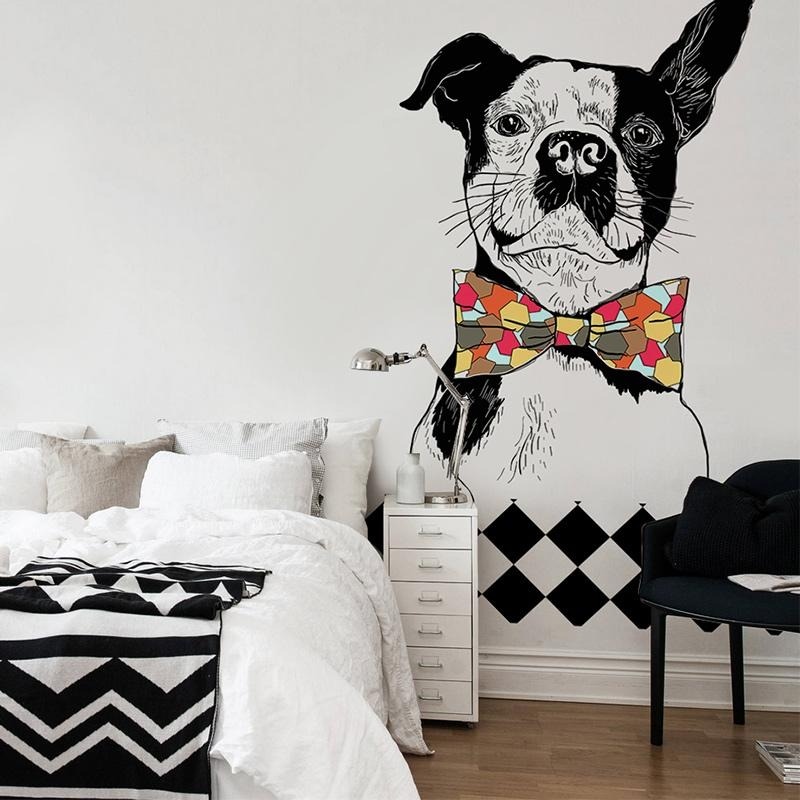 Who wants to take a drive with these adorable animals to the amusement park? I bet your children do! Plan a trip and adventure for your little ones with this wallpaper, and it'll surely be one of their most memorable days – a day filled with colors and happiness that will take away all the sorrows and only keep the good things that make you laugh.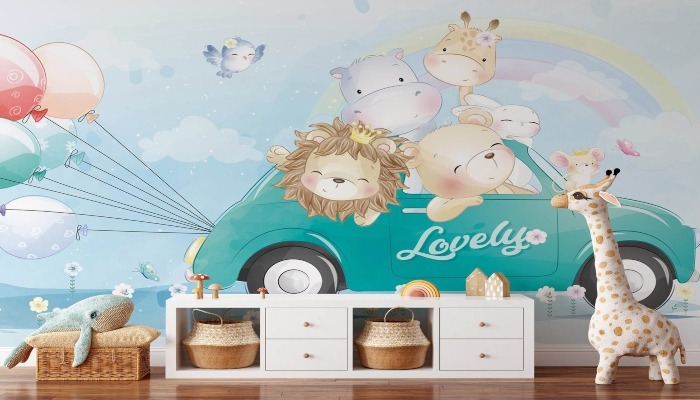 WE SAID THIS: Which wallpaper is your favorite?