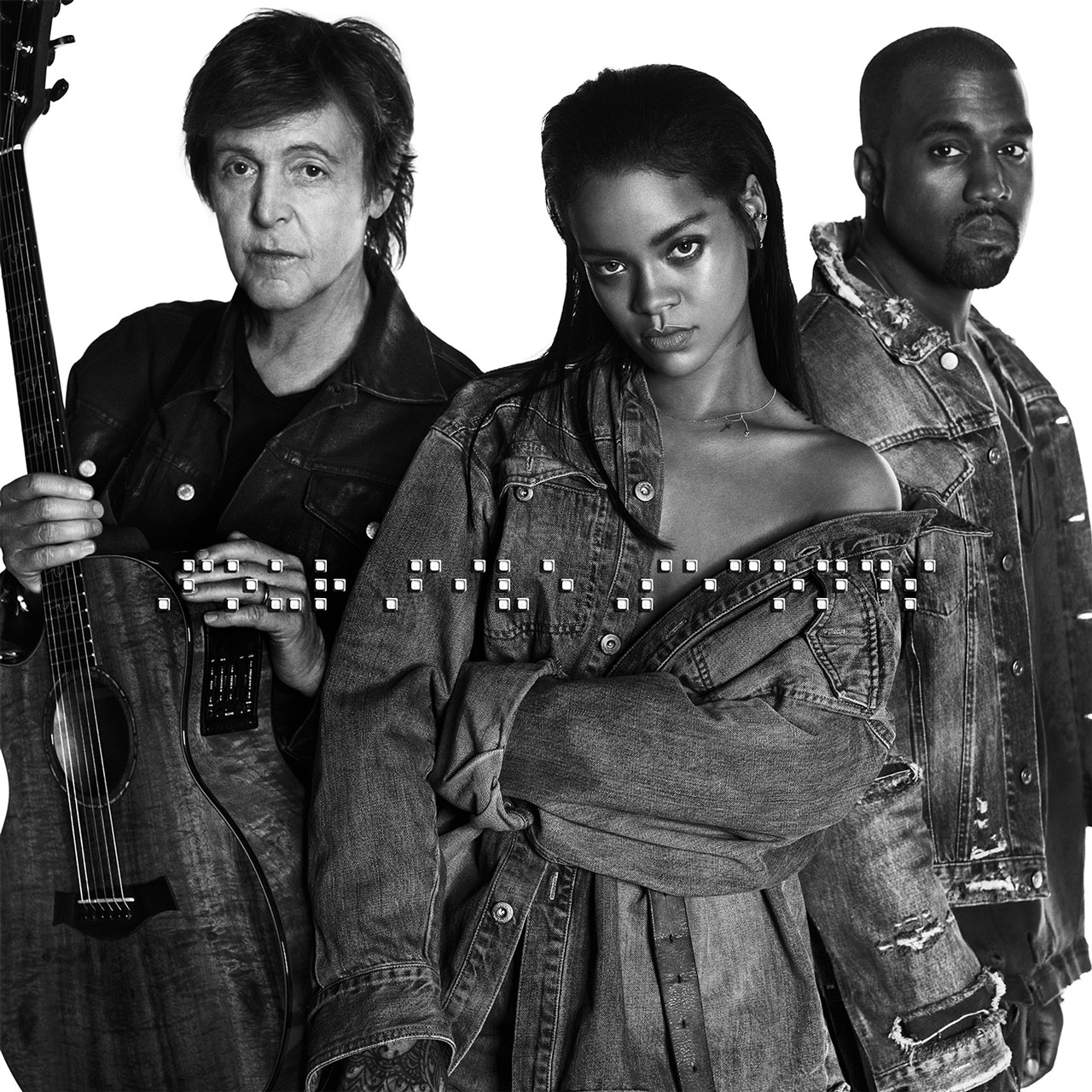 If you're a pop star looking to make a comeback after a two-year silence, your best move would probably be to team up with the most high-profile rapper out there and a Beatle… and let's face it, it's also a way of keeping the former in the headlines and the latter in the charts. The result is a stripped-down track titled "Four Five Seconds" with guitar and organ by Paul McCartney and vocals by Rihanna and Kanye, for whom the song presents a whole new direction. The music video is not yet available, but we do have the single's cover photo, which features all three in serious expressions and matching denim. You can download the song on iTunes or hear it on the radio approximately three times an hour.
The video that is available this week instead is Kanye's ode to his daughter with Kim Kardashian, North. "Only One" is his first collaboration with Paul McCartney and was written from the point of view of his late mother Donda West. The video was directed by Spike Jonze to look almost like a home video, and humanizes West in a way I didn't think was possible:
The first taste of Death Cab for Cutie's upcoming album Kintsugi is finally here, and it's everything I was hoping for. The guitars and synths are new, but Ben Gibbard's voice and deliberate pronunciation are completely familiar. All in all, it makes me feel kind of nostalgic. Fun fact: the album's name "Kintsugi" refers to the Japanese art of fixing broken pottery, usually with gold. Check out the "Black Sun" lyric video here:
Former Silverchair vocalist Daniel Johns is no stranger to new genres – Silverchair drifted from their early 90s grunge roots to experimental and orchestral with subsequent albums a decade later, and he continued with a more electro feel with his other band the Dissociatives. Now he's back, solo, and reinvented into a more R&B sound, with a track titled "Aerial Love". The song will be included on a four-track EP, due in March.
And speaking of genre-bending… Hozier has just covered Ariana Grande's "Problem" for BBC1 Radio 1's Live Lounge, and it's totally weird. And if that's not confusing enough, he also throws in a bit of Warren G's "Regulate" for good measure.
WE SAID THIS: Don't miss Backstreet's Back Alright!