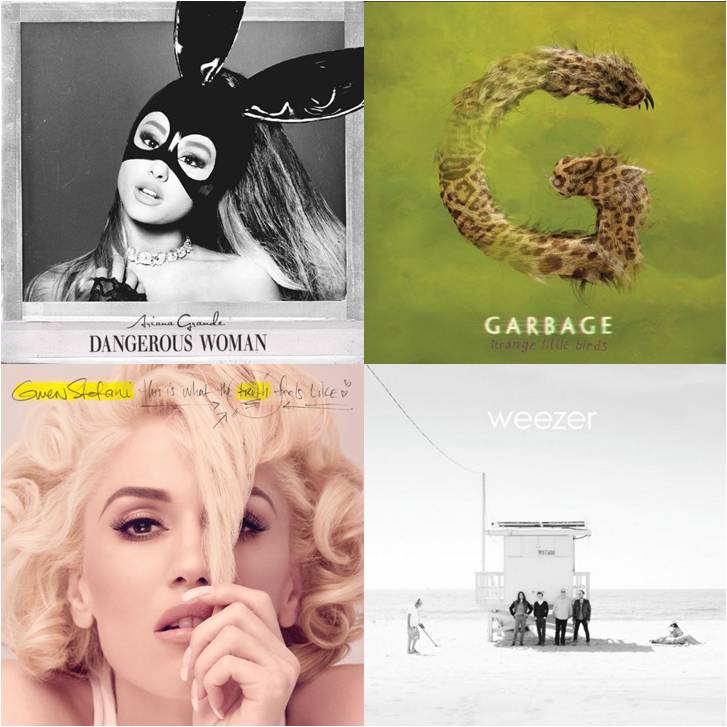 Ariana Grande has just released refreshing new track "Dangerous Woman", the newest single from her third album of the same name, which comes out in May. The album will also include a Lil Wayne collaboration titled "Let Me Love You" and may include previous single "Focus".
And Weezer will be releasing a self-titled album, also known as The White Album, on April Fool's Day. Rivers Cuomo has described the album as a beach album, which is apparent from the video for third and latest single "California Kids", which also includes appearances from Daniel and Josh of "Damn, Daniel" fame:
June brings us Garbage's sixth album Strange Little Birds, which frontwoman Shirley Manson has compared to their self-titled debut, so you know it's going to be good. No singles have been released yet, and all we have so far is a snippet of distorted guitar on the band's website.
It's been ten years since the last All Saints release, but fortunately there's a new one on the way: Red Flag comes out in April and I'm allowed to have high hopes because their first single "One Strike" is very good:
Bat For Lashes has also announced a new album titled The Bride, due July 1st, about "a woman whose fiancé has been killed in a crash on the way to the church for their wedding. The Bride flees the scene to take the honeymoon trip alone, resulting in a dark meditation on love, loss, grief, and celebration". Sounds like a bummer, but it makes for some nice tunes. Here is latest single "In God's House":
And in a few days Gwen Stefani's new one This is What the Truth Feels Like drops. The album features previously released singles "Used To Love You" and "Make Me Like You", as well as brand new track "Misery", which is minimal and forgettable:
WE SAID THIS: Don't miss last week's For the Record: 30 Years of Metallica's 'Master of Puppets'.