By Marina Makary
Entaleq Application (available on Android and iOS) is one of Helm Foundation's projects. With its slogan 'Breaking Barriers', Entaleq enables people with different kinds of disabilities to locate places with accessibility features that best fit their specific needs.
The online application includes 'Access Guides' where users can comment and review locations, as well as the 'Add a place' feature which allows users to add places that are accessible through 6 questions and a few photos. These places would later be visited and verified by Helm team.
Helm, translating to 'dream', was founded in 2014, and began consultancy services in 2016. Helm is a non-profit organization that aims to promote the inclusion of people with disabilities in society.
After conducting a needs assessment research, Helm team found out that accessibility is one of the main issues that people with disabilities face. Amena El-Saie, CEO and Co-founder of Helm and Co-founder and Managing Director of Entaleq came up with the idea of Entaleq application.
"We know that many places in Egypt are inaccessible for people with disabilities. So if someone makes an effort for that place to have some sort of accessibility; how would people know? This was how the idea behind Entaleq came in," said Ramez Maher, Co-founder of Entaleq and Founder and Managing Director of Helm.
Maher explained that one of the major challenges they faced was shifting people's mentality, that people with disabilities need to be cared for. They worked to change it according to the United Nations Social Model of Disability, which Egypt has adopted. The model states that "It is not the inability to walk that keeps a person from entering a building by themselves but the stairs that are inaccessible that keeps a wheelchair-user from entering that building".
"Our team is inclusive; almost 50% of our team are people with disabilities, ranging from volunteers, ambassadors and employees. They are part of the decision-making process and the brainstorming sessions that we have," highlighted Maher.
Doha Ali is a wheelchair user and an Ambassador for Helm. "I always had to ask myself several questions whenever I wished to go out; is the place accessible for wheelchair users, does it have a staircase, and so on. Having an application that tells me whether the place I'm visiting is accessible or not has helped me in so many ways," said Ali.
"I was part of the team who worked on the testing phase of the application and I noticed how it includes every minor detail about the places, for example, the size of the ramp, the distance between tables at a restaurant, information about the bathroom etc.," added Ali.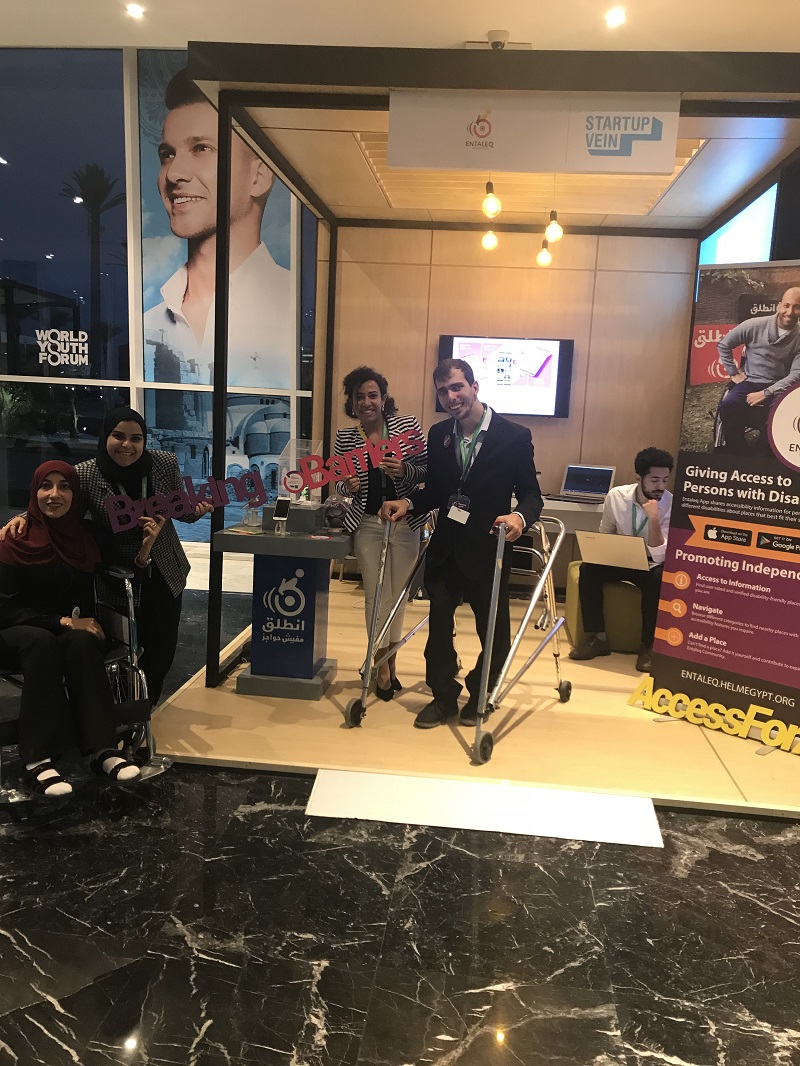 "When you design for persons with disabilities, you actually serve everyone. So whether you're a business or a service provider, you also benefit from the app," added Maher.
This year, Entaleq had a booth at the World Youth Forum 2018 where it showcased its services to the youth attending the forum. Booth visitors were given a badge with Entaleq's logo on it after downloading the app.
"The World Youth Forum was a great opportunity for Entaleq because it gave us the opportunity to reach people from many different nationalities. This was a huge success for us as it serves our ultimate goal of becoming global," said Youssra Zakaria, Senior Accessibility Auditor at Helm Foundation.
"We currently have 1,500 places including restaurants, companies, service centers, governmental institutes, in Cairo, Giza, Hurghada, as well as temples in Luxor, among others. We hope to expand all over Egypt, and even globally," said Maher.
Entaleq aims to reach the global market and make more people know the advantage that they would have when their places are accessible and inclusive.
Helm has installed over 100 ramps on curb cuts and consulted 200+ service providers to become physically accessible, through Entaleq. These include hotels, restaurants, and cafes in Cairo.
WE SAID THIS: What a great idea … Don't you think?