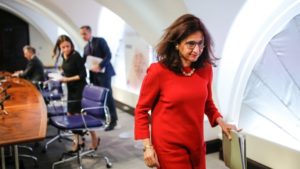 Former Bank of England (BOE) Deputy Governor, Nemat Shafik (also known as Minouche Shafik) has signed off her resignation from the BOE to become the first woman to head the London School of Economics (LSE), her alma mater and one of the leading universities in the UK.
Born in Egypt's Alexandria, 54-year-old Shafik has the US, British and Egyptian citizenships. She plans to leave at the end of February 2017 to become director of the LSE, the Central Bank said on Monday, taking up the new role in September 2017.
After attending one year at the American University in Cairo, she traveled to the US and completed her bachelor's degree in Politics and Economics at the University of Massachusetts-Amherst. She then flew to the UK and proceeded to study at the LSE to get her Master's degree in Economics, followed by a Doctor of Philosophy in Economics from St. Antony's College, University of Oxford.
WE SAID THIS: We can't quite begin to explain how proud we are.