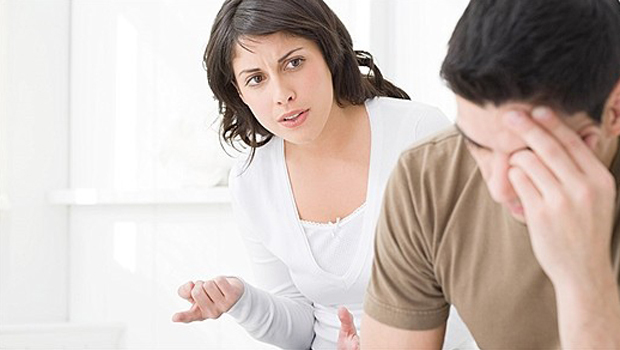 You really love him, you think he's the one for you? Yes, I understand that you can't wait to settle down with him and make him yours forever, but guess what? A relationship doesn't work this way, because he might not be as ready as you are. If your destiny led you to fall in love with a guy that has real commitment issues, then don't worry about it. It will take extra time and effort, but eventually it will work out. Here's how to not freak him out…
1. Be smart
Most men are creatures with a commitment phobia, and no it's not only your man. Learn how to deal with his insecurities and make the best out of it. In the very beginning of the relationship, he will tend to avoid intimate situations, might not introduce you to his friends and you won't be able to break in. Don't take it personal, it's not about you. Meanwhile, try not to mention the words "forever, marriage or in the future." He would only hear it "things are getting serious, run run run." Take things slowly.
2. Keep history in mind
Men with commitment issues weren't born this way, they probably went through something that led them to feel that way. Whether it's an ex-girlfriend or a parental-related problem, you should know how to deal with it. For example, if it was an ex-girlfriend then he probably went too far with her and she dumped him, or things didn't turn out well. Gently figure out the reason behind how he feels towards relationships and commitment. If his ex-cheated on him for instance, make sure to point out that he's truly irreplaceable, gain his trust and make sure to introduce him to your close friends.
3. Give him space
Always manage to give him the space and time he needs. A commitment phobic man has a constant fear of losing his sense of freedom, fear of being attached or being responsible for someone else other than himself. You will probably want to be around him more to make him more attached to you, but it doesn't work that way. Make him miss you and be moderate.
4. Communicate your feelings
The fear of being hurt all over again may be taking over his mind. Use your ways to make him open up to you, instead of getting upset about his commitment problems. He may not want to tell you the whole story at first, so don't get your hopes up. At first, a commitment phobic will flirt and rush into the relationship and when he finds himself slowly getting attached, he will back off somehow. Your job is to comfort him and make him comprehend that it is okay to be close to you. Tell him how much you understand his deep seated issues and you're enjoying what you have right now.
5. Lower your expectations
Your commitment phobic partner has his own exclusive view of the relationship, which could seem unreal to you. Meaning that, planning for the future or trying to impulse a certain deadline for things to take a serious turn will just add extra pressure on him. Your role is to take things slowly and never rush into the next stage of the relationship. Initiating a serious step like meeting the parents can make him literally run away.
Don't lose yourself in the process. Do all what you've got to do and if it didn't work out, then let it go. The world is full of chances and opportunities. Don't waste your time!
WE SAID THIS: Don't miss "The Art of Letting Go".