D-CAF Is Helping People With Disabilities Break Barriers by Dancing
Via Facebook.
The 8th edition of the Downtown Contemporary Arts Festival, Egypt's only international multi-disciplinary contemporary arts festival, is upon us. By tradition, the festival takes place over three weeks between March and April at multiple sites throughout Downtown Cairo.
One of their multitude of activities is helping differently-abled people to experience the beauty of dancing through classes held for them at Emadeddin Studio, a contemporary dancing and expression workshop in Downtown, Cairo.
The "Inside-Out" workshop is a way for people with disabilities to find their inner performer and just let all the creativity loose. The primary aim of the organizers is to help dancers meet and train with one another, improve their physical awareness, as well as self-affirmation, and explore dancing as a universal form of expression.
"I am very happy with the classes. The good spirit here, the degree of fitness you reach and the new ideas you learn are what I like the most. I have learned to take initiatives and to turn daily movements into new movements with my body," said Ahmed Magdi in an interview with Ahram Online. The 34-year-old is the first wheelchair user to participate in the dance workshop.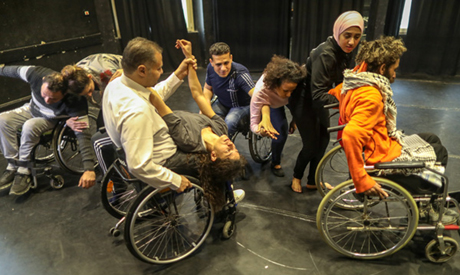 Ahmed Mukhtar, another differently-abled individual, has expressed how this new experience empowered him to better his understanding of human communication. Prior to the dance sessions, he used to watch people dance and not understand it, but now, he gets how one can express himself or herself through movement.
"For example, if someone smiles at you in the street, this could have a positive effect on your mood," he adds, commenting that it was this sort of non-verbal communication he had been able to appreciate more through dance," he stated.
Other participants, such as Artist Ahmed Farghali, found out about the contemporary dancing session through the D-CAF Facebook page. "I have been following all the events for wheelchair users, and when I saw this event, I decided to join in since I also work as a sculptor and that also involves dealing with mass and space. In dance, a person becomes like a mass surrounded by space. The classes also inspired me to come up with future projects. The lessons are more than great. We really need them. I like the spirit of collectiveness and tolerance very much, which has also helped me," said Farghali about his personal experience.
Choreographers such as French Florence Moutin-Cornille and Egyptian Shaimaa Shoukri help those with special needs further understand how to express themselves through their bodies, inviting people with different degrees of disabilities to paint their inner feelings with contemporary dancing.
It is also worth mentioning that this is not the first time D-CAF organizers do something as heartwarming as this. For some years now, they have been integrating several workshops, sessions, and displays to empower marginalized sectors of our society including those with special needs, refugees, and minorities.
WE SAID THIS: Kudos, D-CAF, for thinking of such an outstanding way to empower those with special needs.