These days, Cairo is inundated with cupcake confectioners seeking to satisfy our sweet tooths and ruin our diets. Really though, who doesn't love miniature cakes you can gobble up from the palm of your hand?
While it's hard to go wrong with these beloved desserts, there are standouts in the market and each of us has our own preference when it comes to taste, texture and style.
Do you like your cake fluffy or dense? Topping, light or saccharine? Flavors, imaginative or classic? Easy on the frosting or piled higher than the cake itself?
At Crumbs in Maadi and Zamalek, they've chosen to go pleasantly moderate on the spectrum of cupcake varieties. Not cloyingly sweet, not stickily messy and not outrageously over the top. Just how we like it.
Our favorites would have to be the delectable carrot and devilish Ferrero Rocher cupcakes.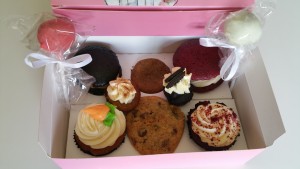 Plus, they've got a wide selection of exceptional treats for all you dessert lovers out there, from moist cake pops (phenomenal) and creamy whoopie pies (we love the red velvet) to adorable mini-cupcakes (careful, these are way too easy to pop in your mouth) and cookies that taste like they came right out of a grandmother's oven.
They've even got muffins (try the banana crumb) and full-size cakes to round out their scrumptious menu.
You can follow them on Facebook and Instagram for your daily dose of tantalizing food porn (don't say we didn't warn you).
WE SAID THIS: Don't miss 16 Desserts in Cairo that Will Sabotage Your Diet Plans.