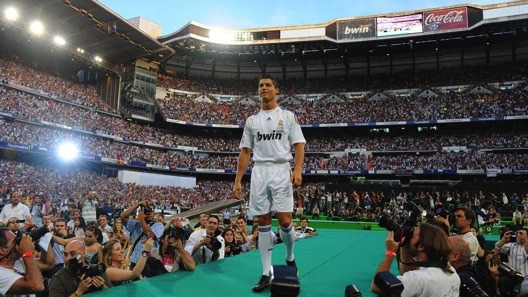 "You can be absolutely certain that Cristiano will retire at Real Madrid," the club's president said in July. Looks like he's a man of his word.
Ending any hopes Manchester United might have had of re-signing the Portugal star in the summer, Real Madrid officially announced the renewal of Cristiano Ronaldo's contract, which had been due to expire in 2015.
With his new deal, which is seen as a deliberate move aimed at soothing the Portuguese's bruised ego after he lost the mantle of the world's most expensive player, Ronaldo will earn €17m per season which is DOUBLE the salary of record signing Bale, and €1m more than his main rival Lionel Messi makes at Barcelona.
Ronaldo joined Real from Manchester United in 2009 for what was then a world record fee of £80m. He scored 203 goals in 203 official games for the Spanish giants, leading them to the La Liga title in 2011 and a King's Cup triumph.
If there is anything we have learned about Real Madrid presidentFlorentino Pérez, it's that he knows how to make money. Despite the crazy numbers we've heard over the years and breaking the football transfer record five times, Perez knows what he is doing. The club announced a year after Ronaldo's first deal that they had made £90m after selling more than a million "Ronaldo 9" jerseys and related merchandise.
It was even reported that Madrid will make up to £100m a year from Bale-related shirt and merchandise sales. In fact, the club was so eager to begin selling Bale shirts that they made them available to fans before the transfer had been completed.