Kojak Studio has managed to become the talk of the season. The Gouna Film Festival was just around the corner and Mohanad Kojak dressed every celebrity gloriously on the Red Carpet. Lest we forget, the phenomenal recycling moment where Rosaline El Bay was dressed in featheres made by 200 plastic bags.
Today, Kojak Studio shows us another side of his eccentric and creative mind and releases his newest F/W 20 ready-to-wear collection that is inspired by his late grandmother. The designer objectified his feelings towards her loss by designing garments that were stimulated by her flamboyance, ambiances, and milieus.
Reverence is a collection inspired by the surroundings of Kojak's grandmother. From turning blanket materials into embellishments, using blanket material to create jumpers, polished and original wide-leg pants, lavish skirts, and bustiers.
The materials used were constantly present in his upbringing; they symbolized warmth and comfort, which reflected Kojak's feelings towards his beloved lost one.
The techniques used by the designer were inspired by his Grandma's "Macintosh Quality Street" box that he states, "was always filled with buttons, needles, threads, ornamented appliques and never chocolate".
The avant-garde method was handmade on the branded garments, such as the two-piece vital blue jumper and the gored skirt. This jeweled technique was also embedded in the iconic Kojak Denim Jacket, which is launched with each collection.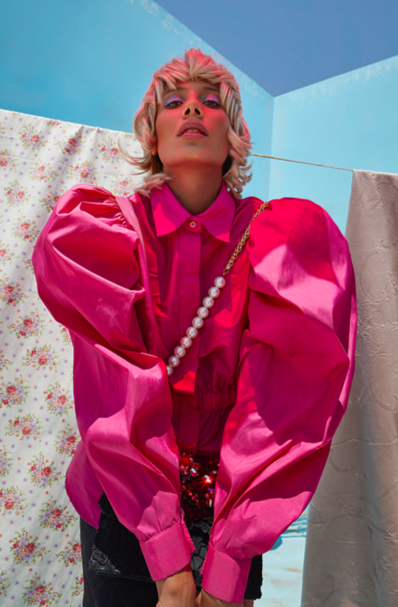 The diversity and colors of the boxes inspired Kojak to create art. The Macintosh Artwork inspired his embroidery technique and the sequins patches textile that was hand-made at the Studio.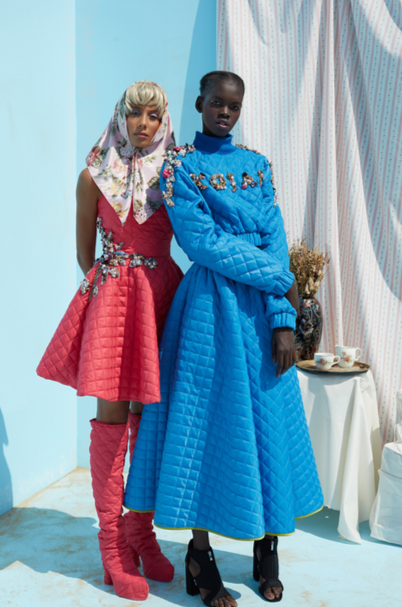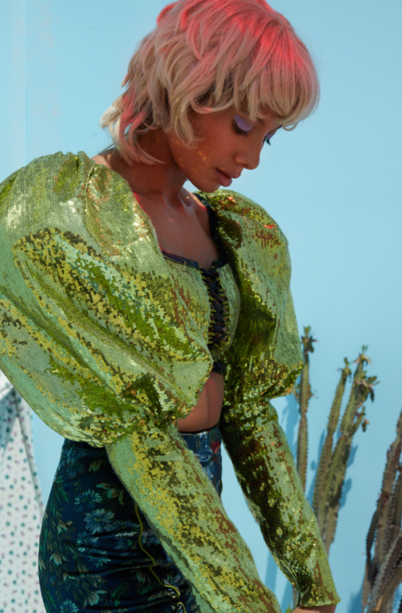 The collection has a blend of sporty-like garments vibe assorted with duchess traces, using solid colors such as fuchsia, blue and lime green. An elegant vibe was added to the sporty garments such as the cycling floral velvet shorts with neon inward piping giving it a sense of sophistication.
The collection includes the first Kojak Pochette shoulder bag that is designed with gold chain and vast white pearls. Floral patterns have been utilized to demonstrate where he foresees his grandma; in Heaven.