Cairo International Airport Introduces EGP 10 Rental Fee for Trolley and One Celebrity Isn't Happy
Tourism has been doing well this month in Egypt. Celebrities from all over the world have been snapping photos next to our historical monuments. Honestly, it gave us all a sense of pride and hope in a better future for our country. Yet, it seems that one celebrity had something else to say about our dear chaotic airport.
Bobby Chinn, an Egyptian-Chinese renowned television presenter, chef, restaurateur and cookbook author, was at Cairo's International Airport and posted on Facebook about a new inconvenience. Apparently, Chinn was travelling to Heathrow Airport from Cairo's Terminal 3 when he was met with a group of people that were waiting to pay a newly added rental fee for a trolley. It was unorganized, badly planned and it seems that you need exactly an EGP 10 note to get one.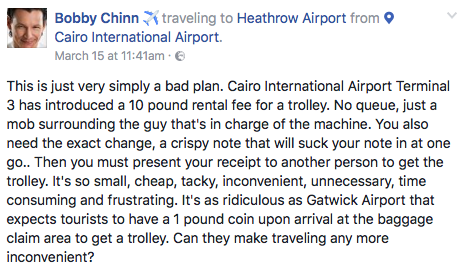 Egyptians came to our country's defense in the comments section, because let's face it, we can say whatever we want about Egypt but when an outsider does the same, we can't help but become defensive. Shortly, Chinn replied to a comment, explaining that there was a revolution for a reason while praising the great minds of Egypt.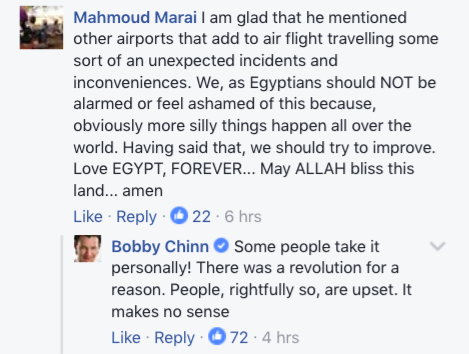 WE SAID THIS: Now regardless of what Chinn thinks, why on Earth do we have to pay that sum for a trolley that we will leave 10 meters later?