Maadi is Egypt's quiet Cairene suburb home to narrow streets strewn with multicolored leaves and picturesque villas all shaded under the cover of towering trees. In that same neighborhood is a world populated by food, the ultimate haven for every foodie out there whether it's their authentic Asian hotspots or bustling cafes. With winter fast approaching, we wanted to set our gaze on another gem within this coveted district, the bakeries.
By hitting up any of Maadi's bakeries, you'll be met with the smell of freshly baked bread and the sight of buttery croissants and glistening pastries decked behind crystal-clear display cases. As the neighborhood is packed with these bake shops, we wanted to start a little competition to see which one is truly worth the hype. Setting out on a mission, we ended up visiting four of Maadi's most popular bakeries, all in the span of one day. Take a look at what each bakery had to offer and by the end of the article, you'll also get to find out which one made it to the top.
Ratios Bakery
Sitting along Maadi's cozy road 11 is the ultimate hidden gem, Ratios bakery which opened its doors in early 2021. Today it's a popular hotspot that is becoming one of the few bakeries dearly loved by Maadi residents and bakery aficionados alike. With no sign outside, the bakery would be an easy one to miss but after asking around a few pointed to its door that stood on a raised deck under the shade of a thatched wooden gazebo decorated with Halloween ornaments.
Upon entering, there is an immediate feeling akin to entering your own home, one of warmth and ease as all around you are surrounded by homemade jarred products, handcrafted pastries, and freshly baked bread. On the other side of the room are the bakers, rolling lengths of dough on long wooden islands, staying true to the homey quality of the bakery.
At the counter, we were met with all kinds of baked goods from savory delights including their turkey and cheese croissant to their French classic sweets such as apple tarts and palmier. From this rich selection of options, we ended up ordering their dulce de leche-filled cruffins which are a hybrid between a croissant and a muffin as well as their pain Suisse. For the savory options, we went for their thick focaccia and spinach and mushroom quiche.
Continuing its homey approach, the waiter handed us our order served on two separate plates which we took to the outdoor seating area housed under an intertwined web of hanging leaved branches. Sitting on its thatched chairs, it felt like we were seated in our own private garden. We were even joined by a furry cat who hopped onto one of the unoccupied seats.
When it came to the baked goods, we started off with the quiche which had a flaky and buttery crust, the perfect compliment to the creamy flavor of its eggs. With the Foccacia, from the first bite, you get that immediate taste of the tomato as well as traces of butter housed within its bubbly and airy bread. For dessert, their pain Suisse was the perfect example of a delectable crispy Parisian pastry as it was packed with that strong, rich chocolate flavor that coupled really well with its custard filling. Ending the meal on a high note, we tried out the sugar-covered towering cruffin overfilled with dulce de leche sauce. Merely biting into its crunchy exterior, you will be met with the delectable oozing creamy sauce that will give you a satisfying type of sugar rush.
By tasting Ratio's selection of pastries, the bakery proved to be superior when it comes to the flavor and quality of its baked goods but there are a few aspects of the shop that some may not enjoy. From the get-go, Ratio is known for its serve-yourself style like for example how at the end of your meal, rather than the waiter taking your plate, you will have to get up yourself and place your dishes on a specific rack labeled "dirty dishes." The same goes for ordering a beverage wherein you'll have to go to a designated bar to order your drink whether it's coffee or juice.
Their hefty prices are another downside as some of their pastries are on the pricy side like their stuffed cruffins which cost 90 EGP while their turkey and cheese croissant cost a whopping 75 EGP. As the bakery is in high demand, it's important to also note that for first-time visitors it's best to aim for when Ratios would begin to open its doors at the early hours of 7:30 am as, by 12 or 1 pm, most of its menu items would be sold out.
It was time to move on to our next destination as part of our day-long exploration of Maadi's bakeries so we drove to Molly's Bakery, only a six-minute drive from Ratios.
Molly's Bakery
Unlike Ratios, considered a quaint standalone bakery, Molly's is more of a commercialized take on a typical bakery with multiple branches open all over Cairo. Opening its doors to the masses back in 2021, the bakery's iconic pies have been such a hit that their frozen counterparts are now also sold at most of Cairo's supermarkets. Knowing of its popularity as a bakery, we decided to drop it a visit.
Stretched along the pavement was the bakery's glass-paneled shop decorated with a blended palate of brown, grey, and black fixtures. On entering through its glass doors, croissants, pates, fresh bread, and desserts including cheesecake and brownies stood behind its multiple glass display cases. Its commercialized vibe really shone through from its wide array of ready-made sandwiches and salads encased in plastic packaging.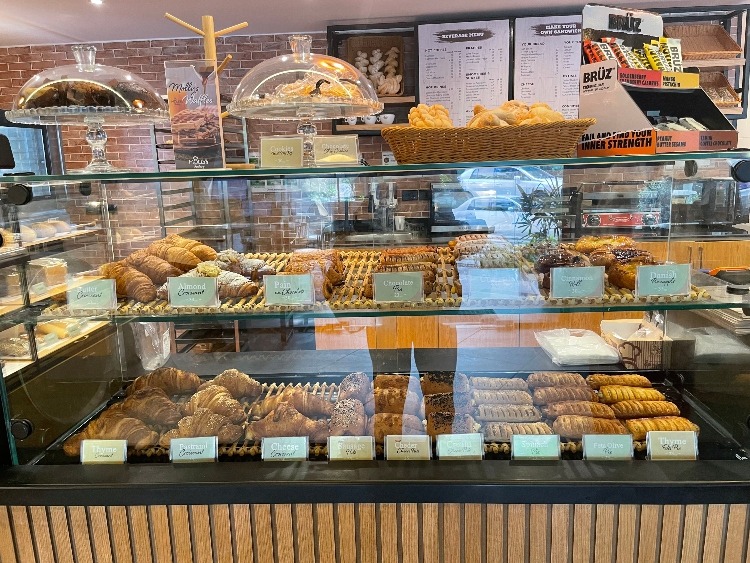 For our order, we went with our usual mix of savory and sweet options and decided to try out their cheese pate, almond croissant, and cinnamon roll. Stepping outside, we headed to their outdoor seating situated under Molly's open-faced grey-roofed deck. Unlike Ratios, the waiter brought our order right to our table but instead of metal utensils, we were served plastic forks and knives. This was impractical as most of the pastries especially the cinnamon roll were very dry and hard to cut.
The cheese pate was tough to eat and had a coarse texture but its cheddar cheese filling had a strong flavor that really shone through. When it came to the almond croissant, it also had a very hard texture but in terms of flavor, its gentle dusting of powdered sugar melded well with its almond filling. The cinnamon roll was the most disappointing out of the three as it barely had any flavor. We could not taste any traces of cinnamon and its raisins were very bitter. It was also very tough to chew or even bite into which made the entire experience end on a low note. Its prices, however, were pretty decent as each dessert did not exceed 35 EGP.
We were hoping for a better experience at our next stop which was the small and intimate bakery known as Madeleine, only a five-minute drive from Molly's Bakery.
Madeleine
Hidden in a narrow street is a tiny cozy shop that exudes Parisian charm and elegance known to many as Madeleine. Since last January, the bakery began its operations, churning out handmade baked products in its tiny kitchen. To reach its entrance, you'll have to walk on a designated path of cobblestones decorated with a large black flower. On your left will be the shop's outdoor seating consisting of a select few tables that stand in front of the shop's large white sign with its name emblazoned with large black lacquered letters.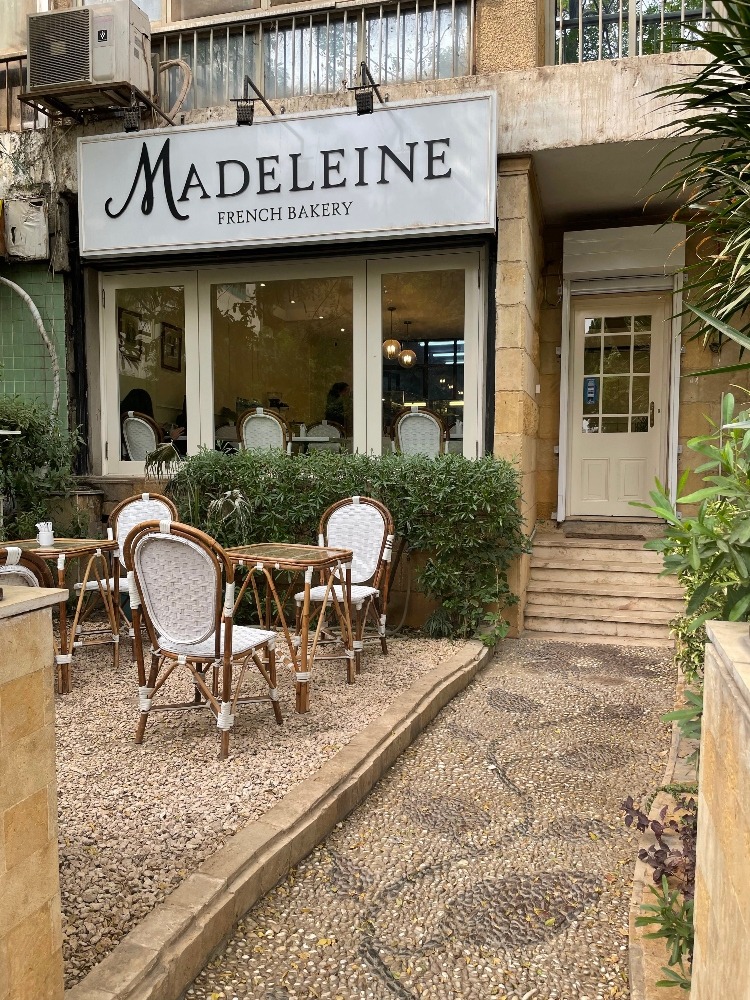 Once you enter, you'll find yourself in a small room with soft pastel green paneled walls lined with paintings that contrast with its black and white patterned floor. In the front of the room stands the L-shaped display case of picturesque tarts, smooth eclairs, and their signature madeleines, all sitting under the brightly illuminated hanging pendant light fixtures. Behind the displayed desserts is a large glass black paneled window giving visitors a behind-the-scenes look into the inner workings of the kitchen as bakers donned in black aprons and hats slather freshly baked choux pastry with a rich, thick caramel sauce.
Stepping inside, we immediately headed to the display case where a young woman, probably in her twenties greeted us with a warm smile. Looking around, we decided to go for their red pepper quiche, lemon meringue tart as well as fig tart which the young woman brought to our table.
Unlike Ratios, Madeleine's quiche did not have a crust but rather was mainly made up of its rich egg mixture blended with red pepper. It was extremely soft and warm mirroring the texture and flavor of a frittata. Its lemon meringue pie gave a completely different flavor profile as the moment we bit into it, we were overpowered by the shocking citrus kick given off by its rich lemon filling. The buttery crust around the tart was the perfect accompaniment to the tangy lemon. Our gastronomical experience came to an end with the final dessert, the fig tart, a refreshing soft gently sweet fruit that meshed well with the tart's creamy custard.
When it came to the prices, Madeleine was on the slightly pricy side with its lemon and fig tarts costing 52 EGP each while its red pepper quiche costing 63 EGP. To bring our challenge to a close, we ended the day at Maadi's Eden.
Eden Bakery & Coffeehouse
The vibrant coffeehouse and bakery known to many as Eden stands across Maadi's Zatoun park and just like Molly's, it was able to branch out to a few locations including Cairo's Mokattam. Surrounded by walls of greenery is this special bakery which exudes a casual, fast-paced vibe with its wooden fixtures and brightly lit interiors. Its small Maadi branch is usually crowded with young visitors tapping away on their laptops or chatting away with a big cup of coffee in hand.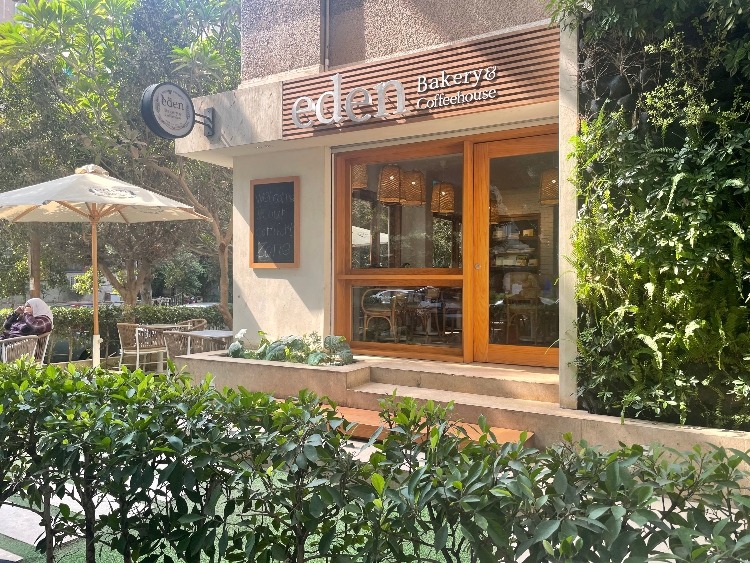 Unlike all the other bakeries, Eden specializes in donuts as it houses an entire display case devoted to the well-loved fried dessert. Slathered with lotus or drizzled with caramel, stuffed with Nutella, or covered in pistachio, the choices are plenty when it comes to their donuts. To try both their savory and sweet items, we went for their Nutella bomb donut, turkey and cheddar croissant as well as their pastrami croissant.
When it comes to taste and quality, Eden did not disappoint as both their croissants were crispy on the outside, and soft and bubbly on the inside with the flavors of the pastrami and cheddar really coming through. The donut was a great way to sweeten things up as it was heavily filled with chocolate but at the same time, did not feel dense or heavy because of its airy texture.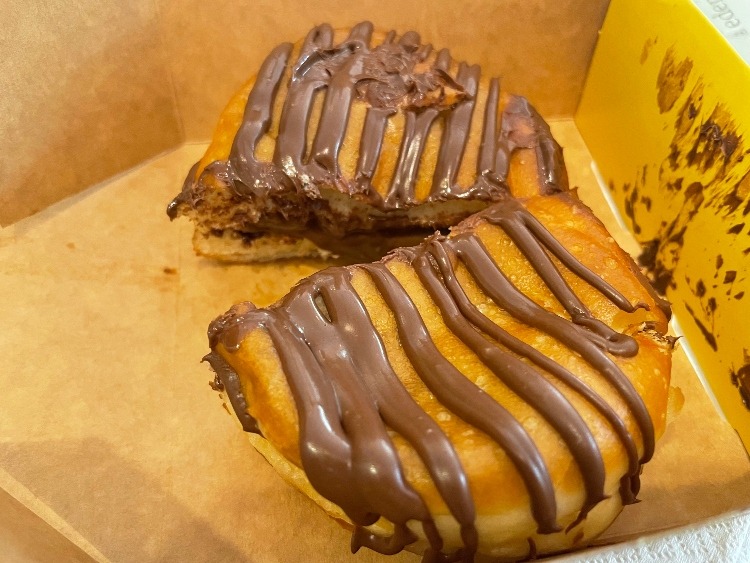 As each item ranged between 33 to 38 EGP, we found the prices to be very reasonable but when it came to the ambiance and authenticity of the bakery, unlike Ratios and Madeline, Eden was very similar to Molly's Bakery in terms of being too commercialized and modern.
The Verdict
By the end of the day, after recovering from an inevitable sugar rush and food coma, a decision was made on the winner of the bakery showdown. With its authentic and extremely delicious Parisian desserts and down-to-earth vibe, Ratios bakery was hands down the ultimate champion of this exciting battle. This is all based on personal preference so we would love to know if you agree with our choice or if you instead have your very own preferred Maadi bakery.