AScoopOfHope: Shireena, the Libyan Medical Speech Pathologist and Yogi Who is Making a Change, on and off the Mat
Yoga is one of the most soul-rejuvenating and enthralling activities in life. It is a type of art that crosses all cultures and religions with the goal of uniting the mind and body in harmony. It is widely regarded as one of the healthiest activities available since it greatly improves the body's physical capacities while also teaching the body to harness the energy in the air through breathing techniques that stimulate the soul beyond comprehension.
On the other hand, healing can occur off the mat, as speech therapy is a field with practitioners known as "Medical Speech Pathologists" or "Speech-Language Pathologists (SLPs)" Their role stems far beyond just a speech disorder. They are licensed clinicians who assess, diagnose, and treat speech, fluency, language, cognitive, voice, or feeding/swallowing disorders. SLPs work in private practices, schools, and hospitals as part of the rehab team.
Today, we'll take a deeper look at an exceptional yoga teacher who is deeply committed to helping people reach their greatest potential while keeping connected to their feelings and emotions. Shireena El Gallal, who is known for her creative upbeat flows, intelligent transitions, and cueing great music is a one-of-a-kind dancer turned yoga instructor and a Medical Speech Pathologist who treats all communicative, cognitive, and swallowing difficulties. She is of Libyan descent and spent much of her life between Egypt and Boston. Her two jobs are very important to her and she is very passionate about them. To shed more light on her, we connected with Shireena over email for an interview, where we got to truly break down and understand her profession as a yoga instructor in addition to being a speech-language pathologist.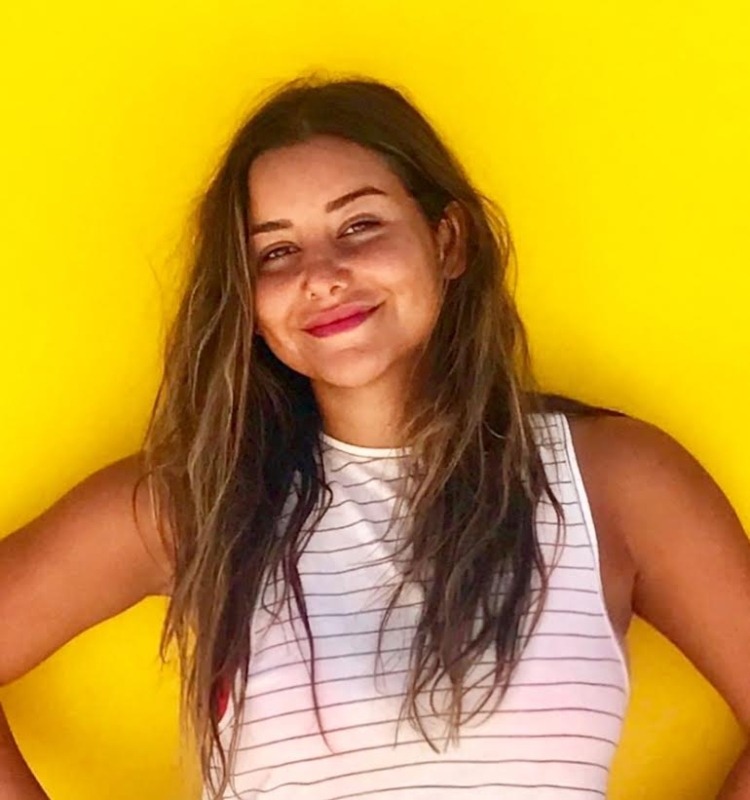 How did your journey start in the USA?
Well.. my family moved to Egypt before I was born, and some of my family members migrated to Boston. I was born there and used to go regularly. Finally, after graduating from the American University in Cairo (AUC), I decided to move to the United States for a bit to pursue a few of my interests, such as yoga, dance, and the art industry, while applying to graduate school, so I've been here for about six-seven years. However, I want to return to Egypt soon!
How did you become a Medical SLP and is this something that you're passionate about?
Shireena is a Medical Speech Pathologist who had prior personal experience with stuttering and aims to help others overcome their various forms of speech and swallowing disorders. Here is what she had to say in regards to her experience being an SLP:
I actually used to stutter, SEVERELY, and I needed a speech-language pathologist (SLP). I had a great therapist in Boston and when I decided to get my master's, it made sense to become an SLP myself, because I went to many therapists in Cairo and was underwhelmed and I knew I had to raise awareness in the region regarding stuttering and the role of speech pathologists and all the impairments/disorders we actually work with. I wanted to bring my learning back home.
To understand more about her journey with education to become an SLP, Shireena added: "I graduated from the MGH Institute of Health Professions, and although I didn't specialize in stuttering, I do have experience with it." I did delve into the medical field, so I was a voice disorder specialist in school and now through my work at the children's hospital, I am a pediatric feeding, swallowing, and resonance specialist. My role in the hospital is evaluating and treating all communication, cognitive, and swallowing disorders inpatient and outpatient. Additionally, I work with babies as young as two days old and as old as 23 years old!
I am passionate about it for sure. I never thought I'd be someone with a speech disorder, who now treats this disorder and many more!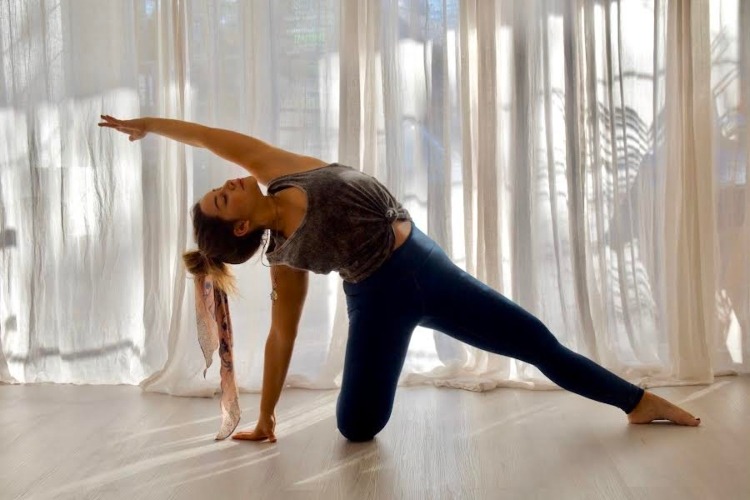 How do you balance your schedule between teaching yoga and being a medical SLP?
Oh, I am still trying to figure it out! I do try my best and work both schedules around each other, I teach five-six classes a week, sometimes before work which is at 6 am, or after work. I used to teach more but I realized I wasn't offering myself the time to practice and take care of my mental health. My hospital is also very understanding and shifts my schedule as I need. I work full time, but I only work four days a week, which helps in giving me some time for myself, my classes, and my website. I think I am a workaholic and a dreamer so I am actively learning to not fill up every slot in my day.
Balancing one's life is more than crucial for a healthy lifestyle that prioritizes one's mental health over anything else, that's why Shireena told us that: "You know, someone told me once, 'the best way to take a break is to do something else' and I love that! So when I go teach after work, I am somewhat exhausted at first but once I stand in front of the class, I feel rejuvenated and ready to show them what I planned for them. So it is a nice break for me."
What does yoga represent to you and how did you start your journey in the field?
Yoga is an art form, a method of self-expression, and a form of self-discovery for me. I get goosebumps from the united movement, the breath and the vibration in the room because I find harmony, balance, and an awareness of who I am. I'm a dancer at heart; I've done it all and I particularly like hip hop, synchronization, and dancing to the beat! In 2012, I stumbled upon a hip hop yoga class and was immediately hooked! I took the class several times after that; I was so engrossed in the moment that I got a yoga high, and I finally realized what the 'Yoga magic' was.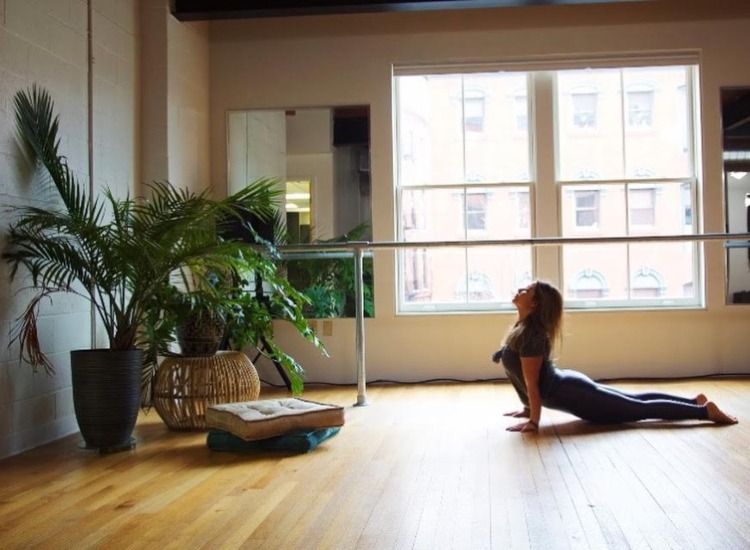 I was in a state of trance, total presence. So as a dancer, movement is so important to me, and with experience, I have learned to use this physical practice of yoga as a means to understand myself more, my purpose, my reaction to challenge, my narrative, and the importance of mindful efficient movement.
Yoga is something different for everyone, and I don't believe there is a right or wrong answer. For me it is my work of art, my creative outlet, and my way of soul searching, unleashing my inner child, finding strength, patience, and resilience. That's why I created Soul Flow- my signature class. That is also why I created a website where I offer these classes on demand!
Do you have a favorite type of yoga that you like to teach or does it depend on the people and their preferences during class?
I mainly teach a vinyasa-based flow with transitions, a theme, and a diligently curated playlist with purpose. I offer a journey, an experience, and a vibe. Vinyasa is a very broad term but it depends on my mood and what I am feeling week to week and the theme and message I am sending etc.. so some sequences will be clean, firm, sharp and to the point, some will be dynamic, round dance-like. I want it to be fun, whimsical, creative and meaningful. I get inspiration from my teachers and fellow yogis but also from so many other sports and movement-based practices like dance meditation, cross-fit, pilates, dance, a song- you'll be surprised what can inspire me! I once did a flow inspired by Rosalia..lol!
Being flexible and open-minded is a must as Shireena explained: "I definitely read the room before I teach and I have developed enough experience to alter/modify and think on the spot. I feel like my class caters to everyone and a part of practicing yoga is to be mentally flexible and open-minded to take different styles and learn something from every teacher. You can't please everyone and as a teacher, it is best when you are true to yourself and the style/teachings that speak most to you. You'll have to come and try a class for yourself!"
How important is music for your classes and do you believe in the influence of music on the mind?
SOOO IMPORTANT- music is my life. I create playlists for my classes like a DJ- I think of everything, fading, beats per minute, transition, mood, theme, and speed of flow. I get inspired by music all the time. I think auditory input is a crucial part of yoga practice and what you expose them to hear is important to think about as a teacher. I also believe in the need for silence, which is appropriate in some parts of the practice. However, I truly believe that music is a healing tool and a method of finding total presence. It can mute the unwanted noises in your head. Music is a mood changer, an energy shifter. Beats, rhythm, repetition, harmony, and having a sense of nostalgia; all set a tone and can drastically change people. Bhakti yoga is a devotional practice that is heavily based on music/songs/chants as a form of expression and unity, and I have started to incorporate it into my classes now.
Do you have a favorite yogi or a guru that inspires you the most?
Hmm.. I get inspired by the teachers that I have learned from like Caitlyn Visconte, Jess Ray, Lynne Begier, Erica Bornstein, and Raghunath. I also read books from Pema Chodron, Deepak Chopra and others. I get inspired by their teaching style and how they deliver a class, a message, and cue alignment. How they make me feel at the end. There are so many great practitioners on Instagram, but for me, I seek inspiration in the method, the intelligence of sending a feeling/sensation across. It is important to make yoga accessible to everyone and so I am constantly learning ways to make the practice available to all.
Can you tell us more about yoga retreats in Costa Rica?
YES! So.. I am in LOVE with Costa Rica- It is definitely a destination I try to go to whenever I can. I picked up surfing about a year ago and go there whenever I can to work with my surfing instructor. There is something so organic and effortlessly joyous in Costa Rica. I usually find myself there whenever I am too invested in my career, finances, achievements, successes and need to wake up and ground down. My profession is very demanding and me being away from my family gets really taxing that I sometimes feel like a zombie.
So what significance does Costa Rica has for Shireena? Well, she claimed that: "Costa Rica teaches me that happiness is free and, for me, is usually at the beach with friends. I decided to start a chain of yoga retreats there with my dear friend, and fellow yogi, Maddie. I can't say much yet, but we are announcing it very soon! Our purpose, idea, and teaching style are definitely going to make this retreat unique and filled with awesome opportunities to connect with yourself, with nature, and unleash YOUR inner child!"
I plan to do retreats everywhere, and most certainly want to utilize the beauty of Egypt and the Middle Eastern region!
Helping people is one of the most beautiful things in the world and you're doing a great job empowering people to become connected to their mind & body. How do you feel about this?
I think both my jobs are rewarding and allow me to have an opportunity to help. By day I help people eat & swallow safely, communicate, find their voice, and rehabilitate back to baseline… and by night, I help people feel good, feel better and find their true selves. I am very lucky I get to do both for a living and have met amazing souls along the way. They complement each other and keep me balanced.
Why do you advise people to do yoga and not other physical activities?
I advise people to move. It doesn't have to be yoga, or just yoga. I myself do so much outside of yoga, I think any movement is healing and meditative. Any form of expression and movement is a way to let go of unwanted energy and release much-needed endorphins. I think yoga stands out because not only does it have a strong physical practice, but it also taps into the mind and soul which gives it a spiritual aspect that is not really prominent in other activities. But learning yoga, in my opinion, makes you do any other activity with the same amount of dedication, presence, and mindfulness. I surf, skate, run, dance, do cross-fit, pilates, and a lot of yoga. My advice would be to move.
However, If you really want advice-I highly recommend dedicating 15-30 minutes to yourself in silence every day, where you do not absorb any information, be it verbal, visual, auditory, nothing- and just sit with yourself. You may call it meditation, you may call it "me time" or "bath time" it could be whatever time you want.
How does yoga help people as they start their healing journey and transition into a healthier lifestyle?
Yoga gives you a chance to connect and balance your mind body and soul. I think every yoga teacher will say some interpretation of this but it basically is a way to increase physical, spiritual and mental strength while improving body awareness, purifying yourself, un-layering the influence, increasing mental acuity in order to find a path of stability.
The challenge, balance, and unity you find during your practice usually lead to a more clear, intuitive, simple, purified, and peaceful state of mind. It is a workout for your body, but also your mind and your soul. It is important to note that yoga is mostly a practice off the mat and not just the poses. Taking your yoga off the mat will be the true healing process. The limbs of yoga stem beyond the poses and are about acts of kindness, detachment, and your responsibilities to yourself and to your society.
Does breathing play a big role? Definitely, it does! Let's see what Shireena had to say on this matter.
In regards to the asana (poses), practice-I think mindful movement with mindful breathing is the key here. Yoga poses were made to strengthen, tone, and mobilize you so you can use your body more efficiently and sustain poses for longer periods of time, especially when taking a meditative seated posture. It is also MAGICAL how much breathing can help your body and your mood. I always say breathing can warm you up, cool you down, stimulate you, calm you, heal you, and enlighten you- and it is 100 percent free. But I honestly feel everyone will discover what they need from yoga, what yoga means to them, and how yoga will benefit them on their own time.
Just get on your mat and practice. Take classes with several teachers until you find the teacher or style that resonates with you and you'll find the magic when you are ready.
Are there specific techniques that you advise to help people become more connected to their emotions?
I am a true believer in following your gut, and in times of silence and meditation, you tend to have better access to your gut and your thoughts so you listen to your gut better and make more intuitive decisions.
Shireena is a terrific example and an authentic role model because she exemplifies a noble quest that the world needs more of. She aspires to develop and assist others in their healing processes. This is a journey that emphasizes following one's passions while also using them to benefit society and gain knowledge along the way.
Do you have a question for Shireena about yoga or a speech impediment? You can look her up on LinkedIn!
WE SAID THIS: With her vast experience in guiding others, Shireena is here to heal people both on and off the Mat!