Throughout the week of July 3 to 6, 2023, Fashion Week returns to Paris. For four days, leading fashion houses present their Haute Couture collections for the Autumn-Winter 2023-2024 season. This week, the fashion world is buzzing with excitement as four talented Arab designers, including Elie Saab, Zuhair Murad, and Sara Chraibi, prepare to showcase their stunning creations. The highly anticipated event is already off to a sensational start, with Lebanese designer Georges Hobeika wowing audiences during last night's show. And if you weren't able to catch his show, don't worry – you can watch it on Fashion Network!
Last year, Murad's collection was a true masterpiece, telling a magical story about hamsa, tarot, horoscope, and the mystery of birth. Inspired by the ethereal art of Daria Hlazatova, the collection was a stunning display of cryptic and complex symbols that left audiences in awe.
Meanwhile, Moroccan fashion designer Sara Siham Chraibi made a grand entrance with her brand Maison Sara Chraibi. Her collection, which is steeped in her country's rich heritage, was showcased at the PARIS 2023 SPRING COUTURE event and offered a fresh, unique perspective to the calendar. As a designer and architect, Chraibi expertly wove together a collection that reflected her own personal history, resulting in a truly unforgettable show that left everyone wanting more.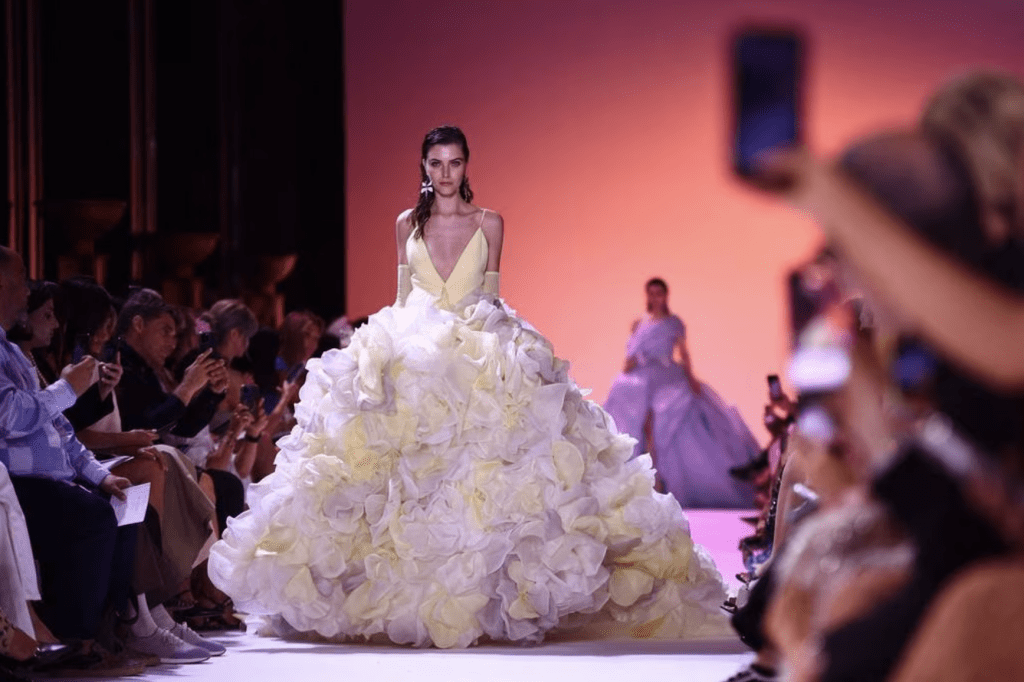 Arab Designer Shows for Paris Haute Couture Fashion Week:
Monday, July 3rd
13:00pm CET/ 14:00pm EEST– Georges Hobeika
Wednesday, July 5th
13:00pm CET/ 14:00pm EEST – Elie Saab
17:00pm CET/ 18:00pm EEST – Zuhair Murad
Thursday, July 6th
17:00pm CET/ 18:00pm EEST – Maison Sara Chraibi
The majority of the Houses on the official schedule will be offering live streams of their shows, digital presentations or shows to be followed live via social networks, a way of making the event more accessible to a community of enthusiasts or just the curious. If you missed yesterday's shows, here's the full schedule for the remaining shows so you don't miss out on your favorite designer showcasing this season. For more Information about the remaining shows and schedules, visit FHCM.
WE SAID THIS: Don't Miss: From Hollywood To Royalty: Celebrities In Arab Designer Wedding Gowns