I consider myself a well-traveled person, having visited over 30 countries and lived in five. But it wasn't until my move to Dubai five months ago that I heard of the hotel group Anantara. With over 40 locations in Asia, Africa and the Middle East, this high-end, luxury brand hotel is quickly becoming a fan favorite. My first experience with Anantara was at the Maldives Veli location — everything about this place screamed perfection.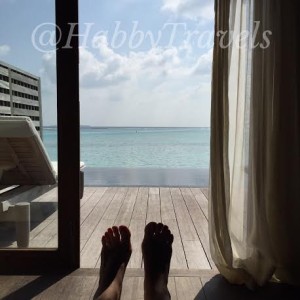 Upon arrival at the resort, the speedboat approached the dock and I was received with a lineup of employees playing music and clapping. They greeted me with warmth as they welcomed me onto their island and into their home. The check-in process was a new experience for me. I did not wait in line or stand opposite a clerk at a counter, instead I was offered a private seating area and fruit-infused water as a hotel employee sat beside me rather than behind a computer screen.
The property is very well-kept, designed and decorated. The rooms are spacious and comfortable with immaculate views of the Maldives' crystal clear water. The room felt more like a private apartment due to its high-end amenities and privacy. I was able to open the door at the foot of the bed and feel the ocean breeze. The private pool and deck were the perfect setting for sunrise yoga practice and the ladder down to the coral enhanced ocean was the cherry on top.
Anantara Veli shares a lagoon with two other Anantara resorts and a quick ferryboat will grant you access to more restaurants, beachfront and water sports. Anantara Veli offers a wide array of activities and dining; there truly is something for everyone.
Upon entering the spa, one is immediately struck with a sense of zen. The unattached treatment room was spacious, bright and warm. A side door leads out to a private outdoor shower and a few steps away is a relaxation room complete with a sauna, steam room, hot tub, pool and additional outside showers.
Hammocks, swings and loungers can be found spread across the resort and its shoreline. In the evening, we relaxed under the stars with an outdoor movie on the sand after dining at the delicious Maldivian dinner buffet complete with a dance and music show.
If you prefer a more active vacation, there are numerous water sports to keep you busy. I took a private surf lesson, with no expectation other than humoring myself, but I walked away addicted and wanting more. Tropic Surf, an independent surf company located at Anantara Dhigu, got me to face my fear of failure and fall in love with catching waves.
The serenity of Maldivian water is perfect for parachuting, sailing and jet skiing, but from May to October, the waves pick up and create an ideal setting for surfing. In fact, Chris from Tropic Surf informed me of a yearly Surfing Champions Trophy event. I did not anticipate being able to stand on a surfboard after only one lesson, but Tropic Surf provided me with detailed instructions and modeling as well as the encouragement I needed to have many successful stands. I went out of my comfort zone when I signed up for this class and I am glad I did.
The seafood lunch overlooking the calm waters at Sea.Fire.Salt was the best, let me repeat, best seafood I have ever eaten in my entire life. From start to finish, this meal was perfection. The tuna tartar and lobster salad were fresh and perfectly seasoned, but what really impressed my taste buds were the meat and seafood entrees served on a salt rock. My mouth is watering just thinking about it.
My first experience with Anantara did not disappoint; Anantara Veli set the bar very high. The staff was very friendly, warm and helpful. The quality of amenities and the variety of delicious food make Anantara Veli the ideal place for a romantic and relaxing vacation. Book Anantara Veli for an adult-only experience and their neighbor across the lagoon, Anantara Dhigu, for a family affair.
WE SAID THIS: Don't miss 8 Reasons You Should Travel Instead of Seeing a Therapist.