Cairo, a city that is as old as time, is teeming with little pieces of history, here and there, from ancient sites to modern landmarks. Its magic is something you won't find anywhere else on the globe, and this is part of the city's fascinating and remarkable history. We've previously taken you on a tour of Heliopolis' majestic Baron Empain Palace, so now we'll take you on a different adventure: the fabled Abdeen Palace, where we explore the palace of the Egyptian monarchy.
So, where exactly is Abdeen Palace? The palace is located in the Abdeen area, in El-Gomhoreya Square. Even more intriguing is the fact that the Abdeen Palace symbolizes the age of modernity in Cairo. Khedive Ismail ordered the city to be reimagined in European architecture, complete with big squares, wide streets, palaces, buildings, and Nile bridges, as well as gardens with trees and unique palm plants. That's why, after paying your 25 Egyptian Pounds entrance fee, you'll fall in love with the palace's green areas. It's an invitation to reconnect with nature while also bending with our culture's rich history.
As soon as you enter the palace, you will be greeted by many guides who will fill you in on all of the palace's intricacies. Fortunately, I was able to speak with Mariam, who had worked at the palace for almost 5 years and knew everything there was to know about it. She told me that once Khedive Ismail was enthroned back in 1863, he ordered the palace to be built and that the construction process took 10 years. The palace was named after Sultan Abdeen Bey, a military officer during Mohamed Ali's rule who maintained a residence near Abdeen Palace. Later, he constructed the Saray on the same plot of ground, making use of the vast land that surrounded it.
But what was the palace's purpose? The Citadel of Salah El-Deen served as Egypt's formal ruling location for more than 700 years until Abdeen Palace's construction. Khedive Ismail felt a need for a civic palace at the heart of Cairo rather than a military fortification on its outskirts to serve as the administration's official seat of power. Furthermore, Mariam said that, inside the palace, the ground floor was for ruling and the first story was for private gatherings, with a total of 500 rooms. On the one hand, khedival guard rooms, ceremonial offices, warehouses, and servant dormitories are located on the bottom floor. Salamlek and Haramlek, on the other hand, are on the first floor. The Salamlik has a reception area, ballrooms, and meeting rooms for official gatherings. Women and household room wings were of the Haramlek and forbidden from entry.
Now that you've learned a lot about the palace's history and purpose, it's time to learn more about the museums that house a lot of history.
The first illustrates King Farouk I's love of hunting, particularly in Fayoum, Dahshur, and other desert locations in Egypt. On official invitations, the king was generally accompanied by high diplomatic members, foreign delegate chiefs, and princes from royal houses. For this reason, the weapons used by King Farouk I on such hunting journeys were highlighted, including a Sudanese spear made of wood and metal.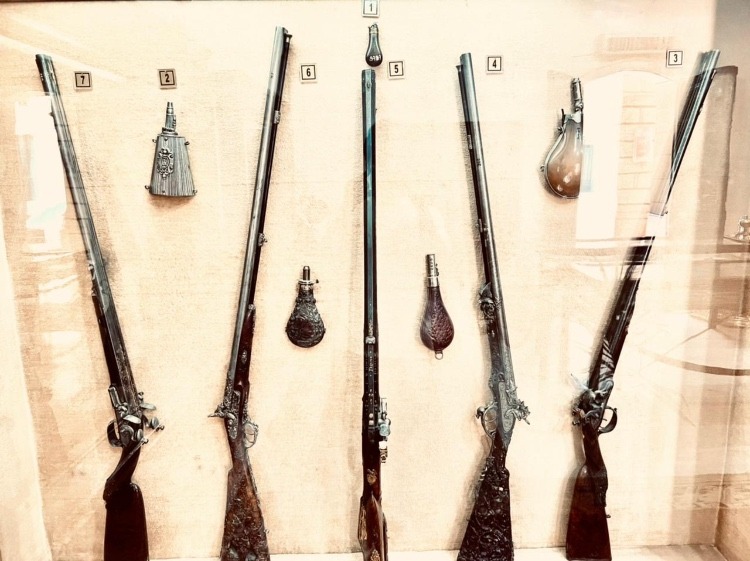 As you walk to the second museum, you'll see statues of Khedive Ismail and King Fuad I in an artistic representation.
It is also worth noting that King Fuad I was the Sultan and later King of Egypt and Sudan. Making him one of the icons of Egypt's history with no doubt!
Now we head to the second museum where you can find even more weapons from Khedive Ismail's era. Some of them are interesting and even are covered in jewelry.
Now the final museum, where all the gifts from the leaders of the world have given to Egypt is located and portrayed in a way that embraces how significant Egypt was to the rest of the world.
This is a painting tablet that was presented by Mr. T.M. Mbeki, the president of South Africa, on the occasion of late Egyptian President Hosny Mubarak's visit to South Africa in 2008.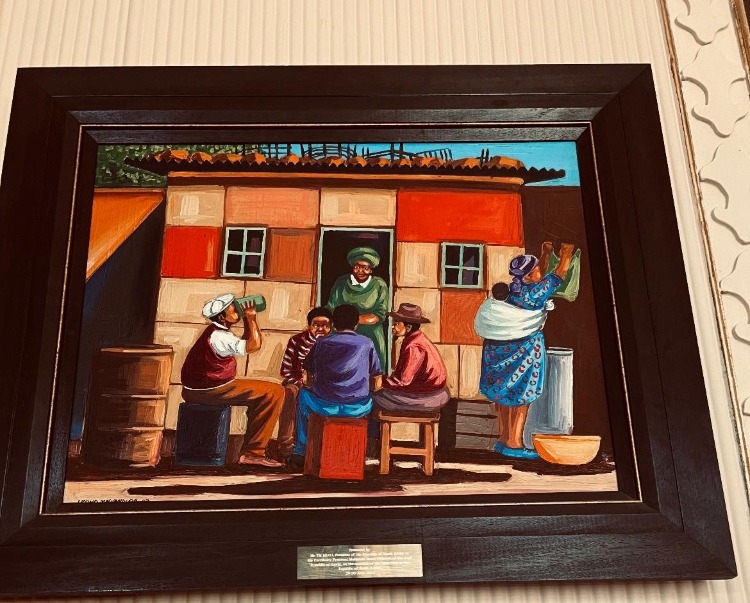 This is a wooden statue of a man with a musical instrument presented by Guinea in 2014.
By noon, the palace was packed with schoolchildren on field trips and even locals who came to see the palace with their children. This is a place where you can rediscover Egypt's history via the preservation of art and aesthetics that, if anything, demonstrated that Egypt was a crossroads for several cultures and welcomed people seeking new experiences.