Éclairs are thought to have originated in France at the turn of the nineteenth century, according to food historians. It is usually assumed that Marie-Antoine Carême, a pastry chef for the French nobility, invented them. Yes, they're most likely French, as the name suggests, but that's no excuse for Egypt not to have places that make delicious èclairs, right? While éclairs are delicious and there aren't many people who don't like them, there is one place in Egypt, specifically Sheikh Zayed City, that is bringing them to a whole new level. Chouchou (means my favorite), which is located in Arkan Plaza Phase 2, is an "Éclair Bar" that provides éclair fans with a variety of unique tasting experiences.
Why Chouchou chose to open in Cairo specifically? Well, Chouchou's creators, Sherif Fanous and Khaled El Nady, are Egyptians who have lived abroad for over 10 years, decided to return to their hometown after studying the Cairo market and discovering some exciting new opportunities!
But first, let's look at how Chouchou displays its signature éclairs to get a better sense of the store's idea. Chouchou's design emphasizes the éclair as a magnificent collection of goods that customers will want to sample one by one to choose their favorite ones! The store, which was conceived as a showcase for Joakim Chambon's prized éclairs, is a genuine idea that displays 13 different éclairs, each with precise flavor notes and a correlating flavor number, aiming to evoke object descriptions found in museums.
Nonetheless, do you have any idea who Joakim Chambon is? He is the executive pastry chef and was born and raised in Cannes, on the French Riviera. He has worked with renowned chefs such as Jean Fajeau at L'Antidote de Christophe Ferré since he was a child and has a passion for pastry. "I'm quite sure in the idea that Chouchou will spread first in Egypt, then internationally," he told Scoop. This implies that not only Egypt will be able to sample Chouchou's delectable éclairs, but the rest of the world will as well.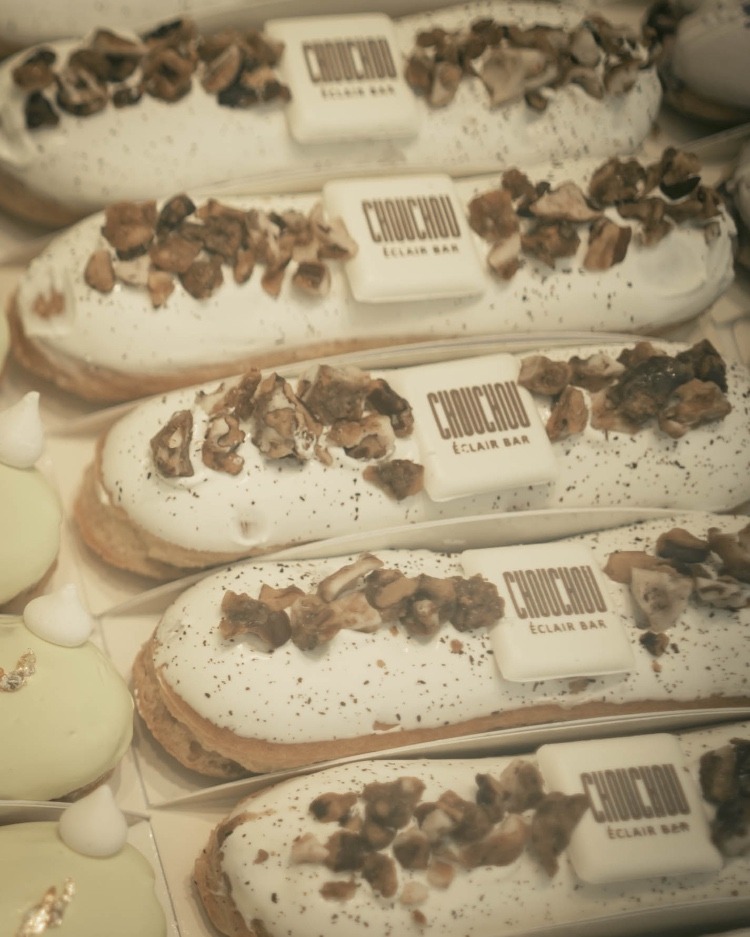 According to Mohamed Talaia, Chouchou's designer and managing partner of The Design Avenue, the goal of Chouchou's interior design is to create a distinct customer experience through subtle color and form movement, one that sets a certain tone and context in the consumer's subconscious. Meaning that the customer will know he is at the correct place at the right moment when he takes his first bite of éclair.
Clarisse Laiguillon, Chouchou's third co-founder, was born and raised in France, namely between Cannes and Paris, and has an intriguing perspective on Chouchou's objective. According to her, "Chouchou is unique in that it was the first èclair bar to be created in Egypt. With only one product, the pâte à Choux, this is a strong mono-concept that delivers a range of flavors and colors. Chouchou was founded by her husband, Sherif, and herself because Sherif liked Éclairs. "As a French expat in Egypt, I want to contribute my French touch and experience by developing a nice store," she says.
People came to try Chouchou's éclairs at their launch event, and they were enthralled by the interior design, which appeared to be both inviting and relaxing at the same time, providing an exquisite environment for éclair enthusiasts to try out different flavors and have the time of their lives!
So, the next time you're craving an éclair, Chouchou is the place to go for the best éclairs in the country! Chouchou is here to reinvent the pastry game in Egypt, with a great blend of flavor and elegance, in the heart of Sheikh Zayed.