Imagine waking up on a Friday, a day off in Egypt and you're tired of going to malls and restaurants. You recall one of your friends or co-workers telling you about the "Baron palace" and the entire Heliopolis region, which has some of the most gorgeous palaces and old streets dating back many years. That is how my scenario went so I got out of bed, dressed, and thought to myself, "Heliopolis you had better be worth the heat!" It was. While admiring the magic indeed present on my journey, I needed to drink something refreshing and indulge in some historical sightseeing. With that being said, El Korba street came to mind right away. It is home to some architectural masterpieces and some of Cairo's most historic landmarks.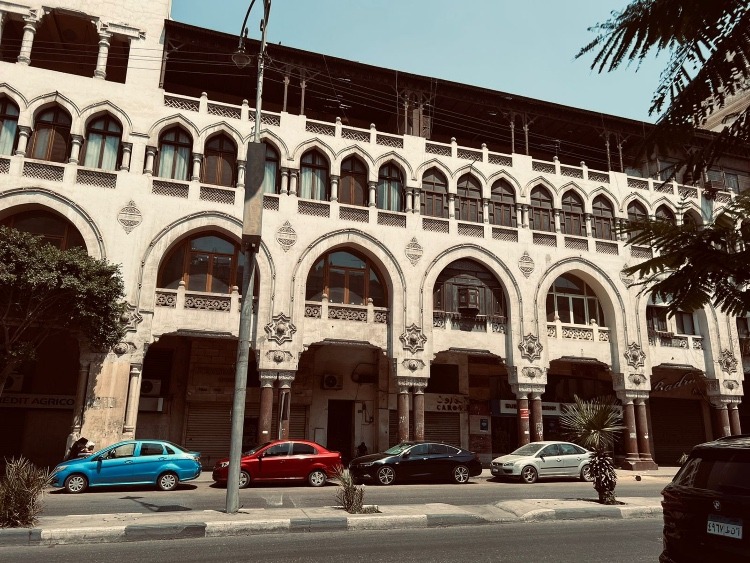 El Korba…magnificent architecture
Moving ahead, I came across a bookshop, known as, Every Man's Bookshop on Baghdad St. in El Korba which was founded in 1943. This bookshop sells a wide range of items, including small presents, novels, gift cards, card games, and a variety of accessories. I chatted with one of the ladies who works there and has been there for ten years; she explained how many of the bookshops in the neighbourhood have accepted the change and converted their bookshops to a different form of business in order to adapt to new trends and become more relevant to Egyptian society. Everyman's Bookshop, on the other hand, she noted, is resistant to change and loves the original and retro aesthetic that they have used since 1943. Of course, the products differ, but they remain faithful to what a bookshop needs and delivers to the typical customer without losing sight of their own identity.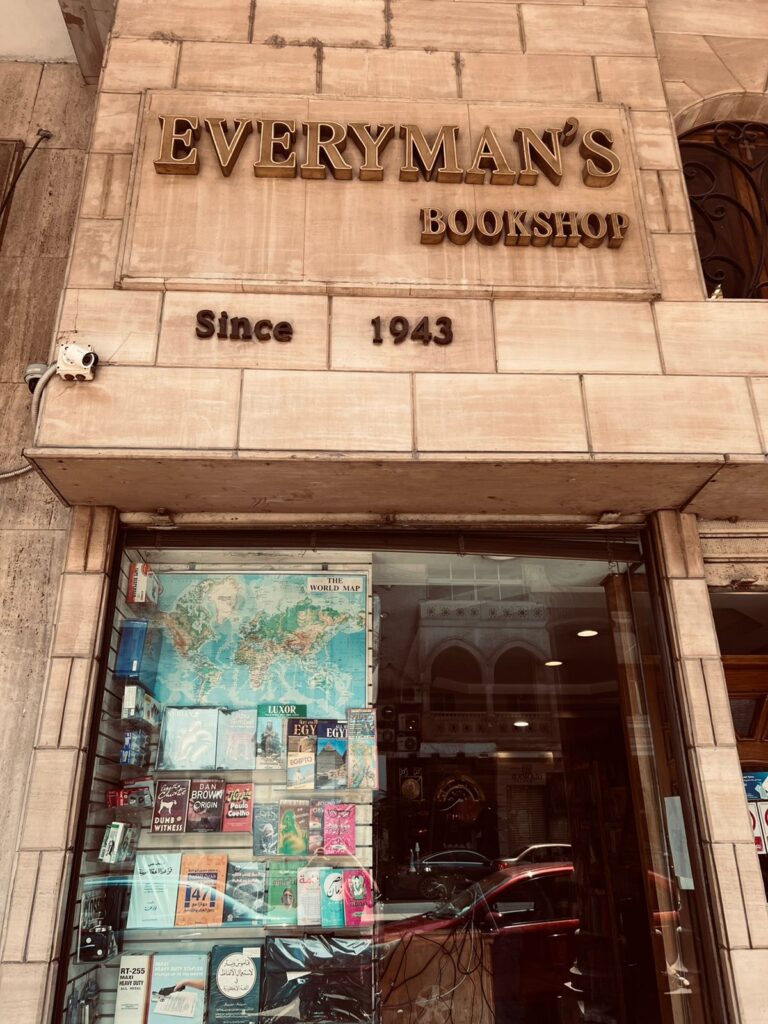 I considered what kind of book I should buy for a relaxing read while sipping on some cool beverages. As I recalled, the way I planned to spend the day was to participate in some historical activities and learn more about historical sites, Abu Simbel and the Nubian Temples seemed like the right choice. While I have never visited the Abu Simbel Temple, I thought I would read about it. The books variety was very appealing and I found a good selection on Egyptian wonders. The pricing there is reasonable, I even purchased my friend a card game as a present, which she loved.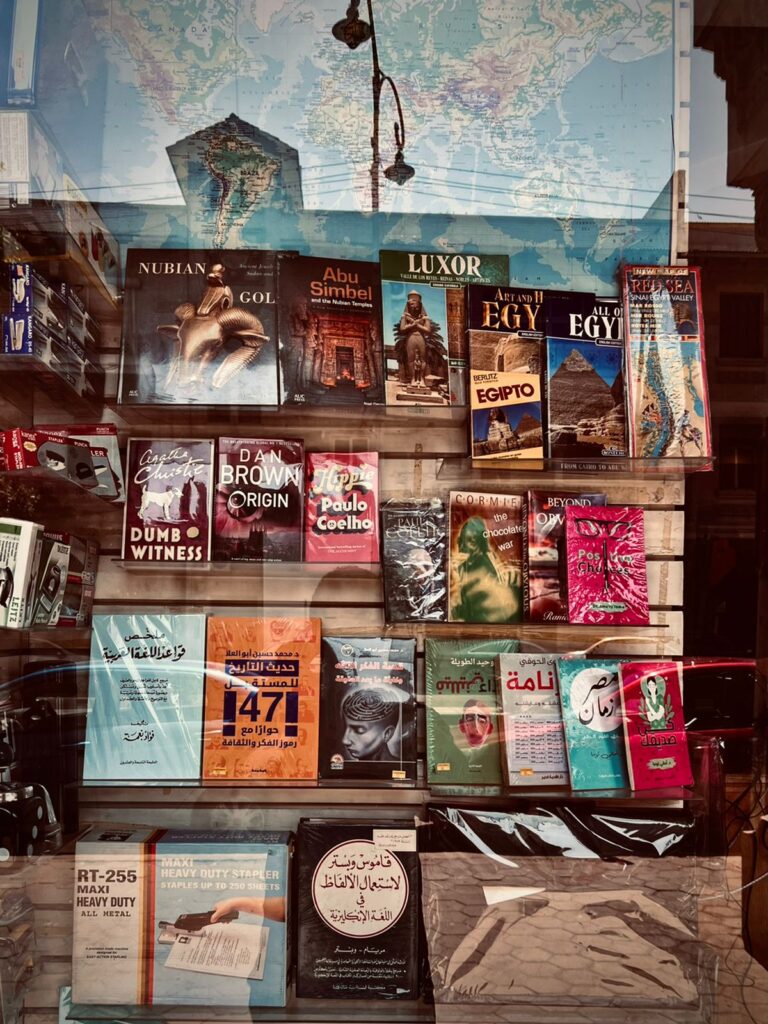 Got the book and ready to go the 32 degree weather outside required a cool drink. Cafè Aman, located in Thwart street next to Koshary Hend, seemed like the perfect pick, and as you enter the establishment, you'll hear some old classical music ranging from singers Abdel Halim Hafez to Umm Kulthum. Aside from the great music, the folks inside are fascinating. Yasser, for example, told me that sports have become the center of his life, and that when his favorite team loses, he is deeply impacted.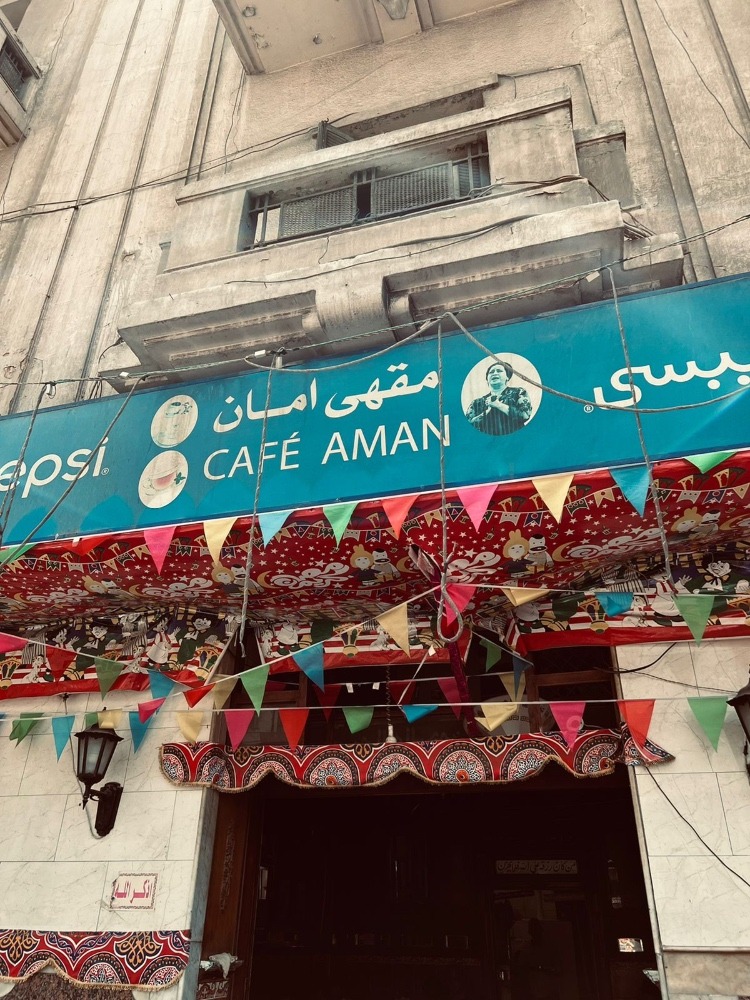 I recognized that sports are always a popular issue anywhere you go and that we Egyptians, in particular, are passionate about sports, particularly football. The discussion was lively and covered a wide range of topics, including current news and sports.
Yasser then had to leave, and my lemon juice arrived just as my mouth was becoming a little dry from the lengthy chat. The juice was delicious, and I also ordered coffee for kick of energy.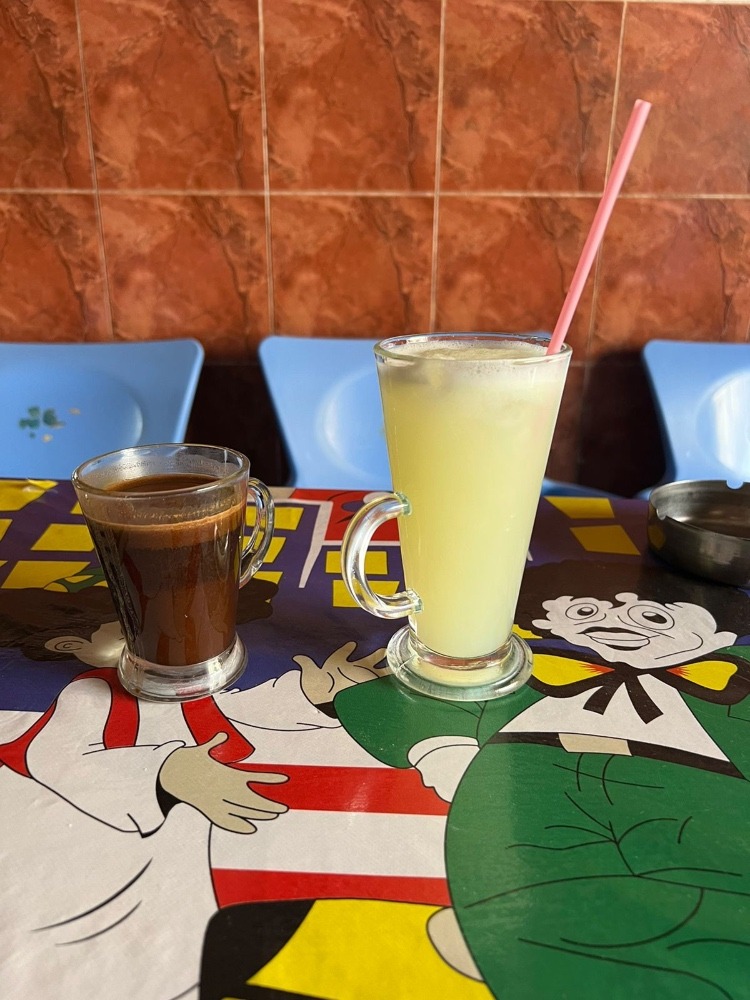 Baron Empain Palace
The Baron Empain Palace was next, roughly a 5-minute drive from El Korba on El-Orouba Street. Yes, the palace is as magical as everyone says, and there aren't enough words to describe the architecture and statues that connect different civilizations and mythology together. From 1907 to 1911, Belgian industrialist Èdouard Empain created the palace as his and his family's mansion in the new city of Heliopolis, which he co-founded with his friend Boghos Nubar Pasha on the outskirts of the desert. The palace was also created by French architect Alexandre Marcel, who was highly influenced by Hindu temples. Several decorative moulds based on Hindu and Buddhist myths were claimed to have been carefully imported to embellish the palace's exterior.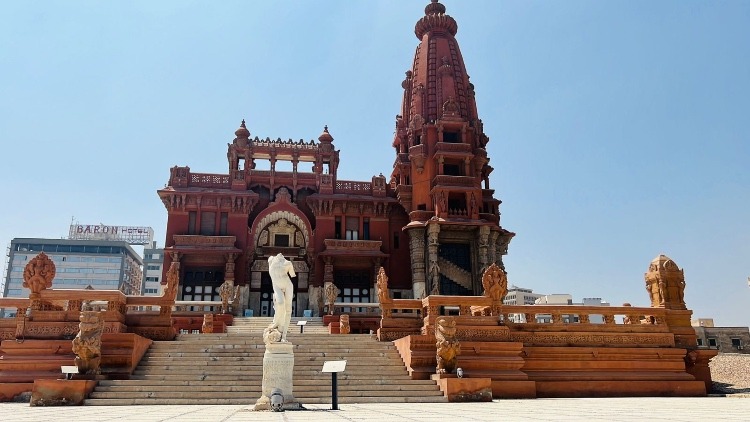 For example, this statue resembles "Shiva The Destroyer," the third god in Hinduism's Trimurti, or Triad of Deities. Within a fiery round framework, this statue represents the God encircled by cobras that were employed as weapons. This is the cosmic fire circle, which portrays the universe's eternal cycle of creation and annihilation.
To know more about the place, I chatted with Mohamed, a security guard who has worked at the palace for four years, to learn more about the area in today's context. When I asked him about the types of events that take place here, Mohamed said that weddings and bride and groom picture sessions are the most popular. He also informed me that concerts are held at the palace during major festivals and occasions, and that people get together to celebrate them. Interestingly, on his day off, he even took his family to the palace, and they described the experience as "awesome."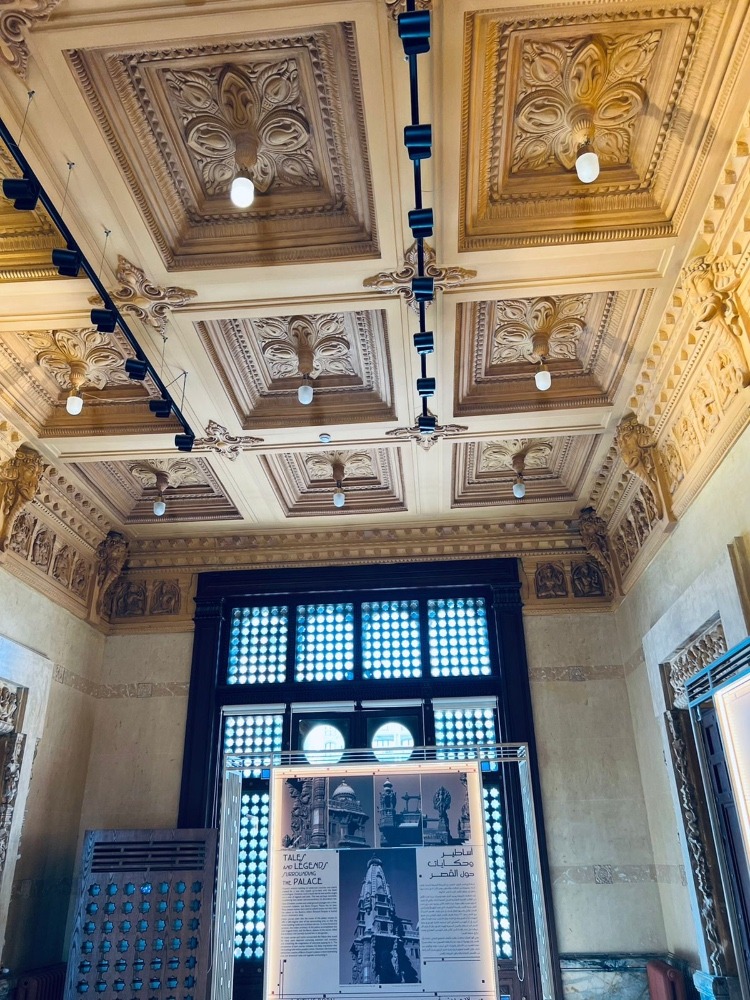 The chimney has been one of the most striking features of my time at the palace. This one-of-a-kind architectural feature exemplifies brilliant design that mixes form and function. To match the palace's exterior style, this chimney was designed to resemble a Torana aka a Buddhist gate.
Finally, my journey came to an end, and overall, the experience was epic; The Baron Empain Palace, as well as El Korba, were both fun to venture through. This was an experience that offered me a taste of what the great Heliopolis has to offer. The authenticity of the streets, as well as the ancient architecture and structures, piques your interest and makes you want to learn more about the history and how we might approach such art in the contemporary day. If there's one thing I learnt from this day, it's that you can take a break from the routine and treat yourself to a day trip to all the historical sites you've always wanted to see. There's nothing to lose here, and if anything, you'll gain more knowledge…and maybe shoot some amazing images along the way to make an eventful day for yourself.