Located on the China-Nepal borders, Everest, dubbed the world's highest mountain rising to 8.848 meters in elevation, which to put in perspective, is the altitude a commercial airplane flies. Climbing this grandiose structure comes with unpredictable avalanches, risky storms with large masses of slippery snow, gusts of wind, temperatures that can go below -30°C and of course altitude sickness. For so many this does not explain why thousands of people are drawn to climbing it every year and yet there are those who do not see it as the deadliest mountain out there but a majestic gift from nature, peaceful and humbling.
Historically, climbing Everest has been a male-dominated territory demonstrating male endurance and an ability to compete, female mountaineers have been taking over in a way and showing that this is a sport that does not stop at fitness but encompasses more of a mind over matter approach. Arab women have been soaring to new heights literally as several have made it to the top of Mount Everest. In light of Egyptian Mountaineer Manal Rostom's latest triumph of summiting Mount Everest we are celebrating the Arab Women who have taken on the magical and difficult journey beforehand.
Manal Rostom
Egyptian Manal Rostom has reached the summit of Mount Everest on May 16th, 2022. After a long and challenging trip, Rostom was able to finish her two-month expedition to the summit of the world's tallest mountain. Just days before her final climb, Rostom shared a video expressing her doubts and fears, "it's been tough, challenging, isolating, physically demanding, mentally draining. Call me a drama queen but I've been here almost two months attempting this lifelong dream and goal. I have this humongous pressure to represent and deliver and I'm trying and will try hard and please note that I have not quit yet." Those were Rostom's words shared on social media before pushing through the pain and reaching the top of the world.
Climbing with a cause, Rostom aims to raise awareness about tolerance, inclusivity and equality for all women. She is the founder of "Surviving Hijab" an online platform and community for Hijabi women and is considered the first Hijabi model in Nike's running campaign.
Tima Deryan
Tima is considered one of the youngest Arab and Lebanese women to summit Mount Everest just at 26 years old. In May 2019, After a two-month expedition, Tima was able to stand at the top of the mountain after managing one of the deadliest seasons on Everest. Climbing 18 mountains around the world and the highest active volcanic-mountain in the world are just a few of Tima's accomplishments that speak of her determination. When asked about her Everest experience Tima told us, "being one with the mountain elevated my perspective and outlook on life. I did not conquer Everest, I became part of her as she too became part of me." Tima is more than just a mountaineer, she is an entrepreneur, a mindset coach a speaker and a community mobilized.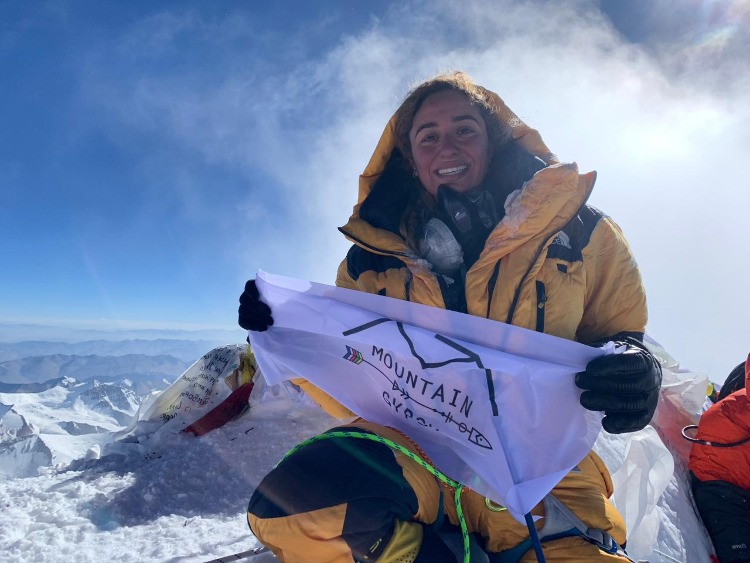 Raha Moharrak
Raha Moharrak, is a Saudi Arabian adventurer who started her mountaineering journey sumiting Kilimanjaro in Tanzania, the highest mountain in Africa. Standing at the top of the mountains, at the serene landscapes just her and the skies, Moharrak then decided that this was the journey for her. That one summit turned into seven others which led her to become a pioneer, the first Arab woman to climb Everest. She is the first Saudi Arabian and Arab woman to summit Everest back in May 2013. She has also successfully climbed the seven highest mountains in each continent. Moharrak talked to us about her humbling experience once she reached the Everest summit, "it was a very special moment, I never imagined I would ever live that, but I did, I managed to live my dream. Although, reaching the summit was one of the greatest moments in my life, I think what happened in between was more life-changing. Reaching the summit is very special for everybody, but in my case I felt two very opposing and polar opposite emotions. On one hand I felt very grandiose and very powerful, but at the same time I felt very small and obsolete. Because even though you are standing on top of the world, a gust of wind can blow you off or you can fall down."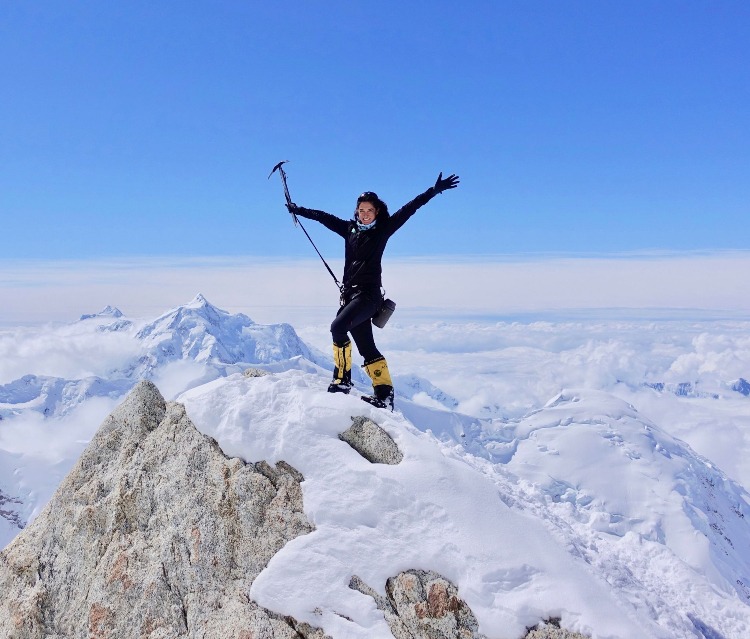 The Dream of Everest Team
With a true example of women empowering women What's more empowering than seeing an all Arab women team summiting Everest hand in hand. Joyce Azzam and Nelly Attar from Lebanon, Nadhirah Alharthy from Oman, and Mona Shahab from Saudi Arabia together made the climb on the memorable day of the 23 May in 2019.
Joyce Azzam
Joyce Azzam is a Lebanese woman whose journey in climbing is beyond astonishing, summiting more than 26 mountains throughout her life. She has officially climbed the seven summits with Everest kept best for last. Azzam is considered the first Lebanese woman and third Arab woman to summit Everest.
Born into a modest family during the Lebanese civil war, Azzam talked to us about the difficulties her family faced and their struggle to survive in times of crisis, "as a kid, it was difficult for someone like me to have a dream, we were hustling to survive, to eat and to be safe. In my childhood we were fleeing from one place to another seeking shelter in bunkers. If you would ask 15 year old Joyce, she would never imagine that she would climb Everest, but I did." It seemed that for Azzam it was a journey proving that anything is possible with the right mindset.
Azzam's first encounter with the mountains was back in 2005 when she went on a simple hike with her friends, "it was a difficult experience and I kept falling down, apparently it was because I was diagnosed with hyper mobility syndrome, that targeted my knees and made it very difficult for me to move." With the help of her brother, Azzam started going to the gym, training carefully and slowly but surely started to recover. It wasn't till 2012 when Azzam got the idea of climbing the seven summits, "I was technically ready but not mentally. I still feared society especially as a woman athlete in the Arab world. Convincing sponsors to fund my climb was very challenging because sometimes they make you doubt yourself. That is why I started project mountain turtle, because although I go slow due to my syndrome, still I never give up." Azzam raised the Lebanese flag on Everest on 23rd of May 2019 marking the completion of climbing to the summit. "It was a glorious moment" said Azzam.
When asked about Manal Rostom's recent accomplishment Azzam commented, "Congratulation to Manal. Although we are each working to represent our own country, we are all empowering one another and fighting stereotypes together." It is refreshing to see that nationality is not a barrier for those inspiring climbers but rather a unifying cause. Azzam expressed that she is very happy for Rostom and that she was rooting for her.
"My purpose and mission is to inspire future generations so that they are capable of achieving even more than we ever did. My journey isn't just about Everest. After my Everest accomplishment I went in to a very dark place because I had no dream and I needed another dream to hold on to. This showed me that life is not just about climbing the highest mountains of the world, but rather living in a content way and enjoying everyday with it's new challenges."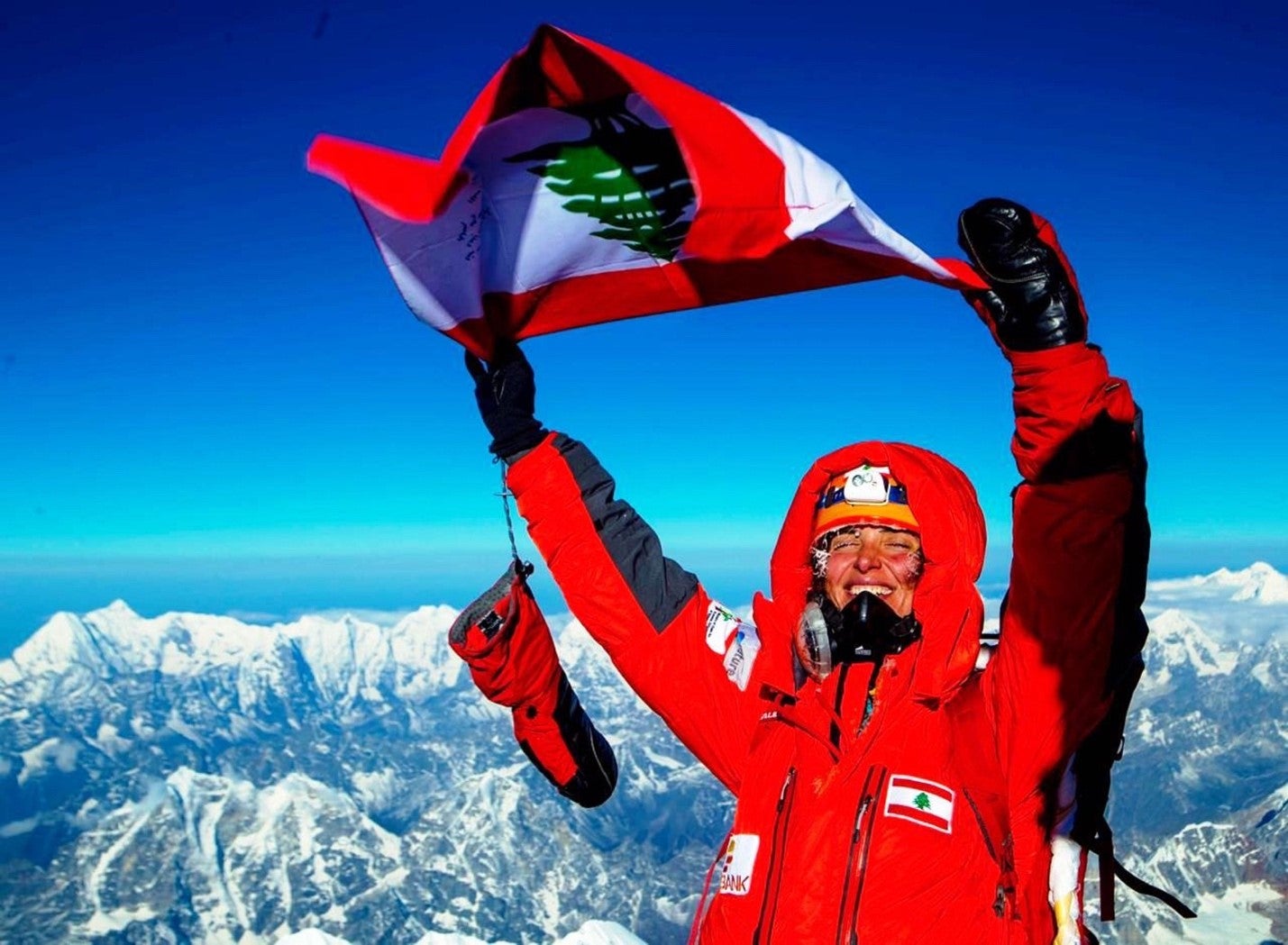 Nelly Attar
Nelly Attar is a Lebanese national, born and raised in Saudi Arabia. Everest was not the only mountain she has climbed. In fact, Attar has ascended 14 mountain peaks across the world, including four of the seven summits. Surely Everest was special to Attar as she recalled the "cocktail of emotions" once she reached the summit of Everest, "I was filled with disbelief, overwhelming joy and relief but also fear. Fear of the cold, crowd, and descent, I cried for a while. I also felt strong yet super cold."
Attar's story is more than just being a mountaineer, she climbs, runs and even dives, "I don't consider myself a mountaineer as much as I consider myself an athlete and lover of movement." Yet surely her climbing journey and the mountains have taught her a lot, "mountains add so much value to my life, every climb is not just a physical climb but also an emotional and spiritual climb." Perseverance, sense of community, working towards a goal and being in nature is what inspires her on her climbs, "when you are on the climb no matter how you feel you have to persevere if you want to reach that goal, it takes a lot out of you but gives you so much more in return . Every climb feels different and I come back feeling I want to do more and learn more."
The athlete managed Everest with lots of preparations and training, explaining that, "a climb doesn't begin when you start climbing, but it begins the day you decide to attempt the climb. We even travelled to climb in Nepal in winter. There are all sorts of layers that go into it from physical training, visualization mentors, coaches and cold exposure training. All I was thinking was suffer now so that I can summit and I'm safe later. All that preparation really did reflect on the climb." Staying close to her community and connecting with her family was also one of the ways by which Attar managed the climb, "of course there are times were I would disconnect but for the most part I felt very connected. I always thought to myself do your best no matter what that looks like because even though some days were extremely difficult, I always said do your best and trust the process."
An excelling entrepreneur, a bubbly personality, trainer, athlete, mountaineer and dancer, she considers herself "an athlete with a dancing problem." Attar continues to push through boundaries in the ever-growing sport industry in Saudi Arabia. Through launching the first dance studio in the Kingdom, she has paved the way for dance and continues to offer thousands of people opportunities to be more active and lead a healthier lifestyles.
Mona Shahab
Mona Shahab is a clinical psychologist by profession and a adventurer by birth. Being the second Saudi women to reach the top of Mount Everest, Shahab's discipline and commitment is the key to her success. Climbing for a cause, Mona has climbed for cancer patients and refugees. Her commitment to her late friend's charity was the motivation behind her climb of Everest.
When asked to recall her feelings of her Everest journey Shahab beautifully said, "this is a portrait of what I felt and continue to feel about Everest. Mixed emotions. From subzero temperatures to the scorching sun. From howling winds, headaches, and movie nights, to bonding over meals, becoming more tolerant and accepting, and funny enough – connecting by disconnecting. From feeling broken to making life decisions. From losing that appetite to craving Pringles 24/7. To those endless hours playing Monopoly Deal and Nomination West while inhaling plates of popcorn. Here's to the life lessons 55 days on the mountain taught us. To sweat, blood, panic attacks and tears that accompanied us along the way. To loss, determination, exhaustion, and safety lines. To the what if's that still play catch me if you can with little me. To our hidden soldiers and unsung heroes who we are all in debt to, Chombbi and Ang Dorjee you taught me what no textbook, classroom, or professor ever will. To the strangers who become family…this is my Everest."
The climber known to help fellow climbers during climbs and always keeping cool and composed during the most difficult of weather changes is no stranger to danger and has summited over 15 mountains around the world. Climbing for pivotel causes such as Kilimajaro in Tanzania for cancer, Elbrus in Russia for Cancer, Aconcagua in Argentina the climber believes that nature always has the upper hand, "as complex as the human brain is, nature will always win, for we can only conquer the mountains within us".
Nadhira Al Harthy
Nadhira Al Harthy is the first woman from Oman to climb Everest and an inspiring storing in hand. Starting with the highest of mountains, Everest was Al harthy's first summit, "I never had any experience with this sport or climbing in general, the dream was to climb the summit of Everest and this was my very first summit. I started from scratch, and began outdoor training and running, all this with the sole purpose of reaching Everest."
The accomplishment has left a long lasting effect on Al Harthy's outlook on life, "my life changed completely after reaching the summit, on a personal and professional level. I was able to set my goals and reach them. I am so happy that I was able to find myself, my freedom and build my character through this sport. I would like to continue being a climber as long as I can." She reflects on her training for her Everest journey which she owes to her home country Oman, "I consider myself lucky because Oman has natural and geographic landscape that allows me to practice climbing without having to travel abroad. My training for Everest took place in Oman, I didn't have to travel."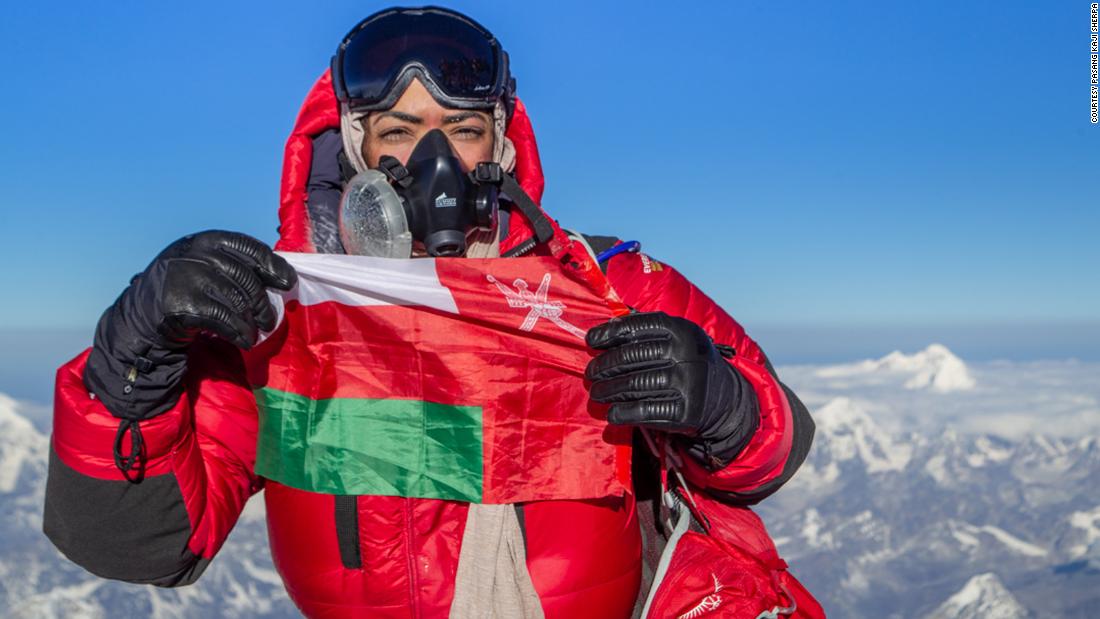 A wealth of inspiration and new outlooks have been shared by these strong willed women through their life journeys as well as their decision to take part in a journey of mind, body and soul. The climbers refused to say that they had conquered Everest but rather had been welcomed by nature's juxtaposing phenomena, deadly to some and a wonderous life lesson to others.
WE SAID THIS: We can't wait to keep adding to the list of Arab women summiting Everest!