Women in our society have long struggled with various types of violence and abuse, compromising even their everyday safety and security That's an issue we've been addressing for a long time now, fom sexual harassment to domestic violence and familial abuse. This time, unfortunately, another woman fell victim to the heinous crime of blackmailing.
The hashtag "Passant's right must return" has been trending on social media, following the death of a 17-year-old girl from Kafr El-Zayat in Gharbia Governorate, who sadly committed suicide after a young man photoshopped sexual images of her and shared them on Facebook.
The man had been pressuring her into a coercive sexual relationship on the threat of causing her a scandal and sharing her photoshopped pictures, and he did. The situation escalated even further when her story became the talk of her neighborhood.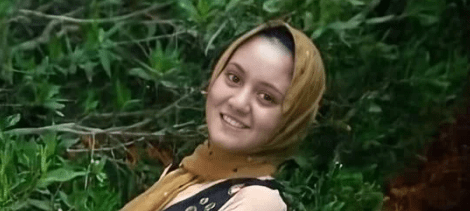 Basant Khaled, a young lady and a victim of fabricated photos, was subjected to psychological pressure from everyone, which eventually pushed her into the painful decision of taking her own life.
The culture of gossip, passing on judgments, and throwing accusations in the face of others unmercifully, has been present shamelessly in our society. Attacking those who are in their most vulnerable of positions is a harsh stance to have, and has now caused a young girl to lose her life as a consequence.
Men's brutality and ways of harassment, violence, and abuse have been an inkling issue we're trying so hard to combat. And now it has cost a girl her life. The girl left a note to her mother before committing suicide, telling her mother that the girl in the pictures is not her and that the situation has taken a toll on her mental health, causing the severe depression that she can no longer bear.
We see people preaching about supporting those who fall victim to any form of abuse and harassment, but why is it the minute someone is subjected to such a thing, people end up being harsh and attacking? Social Media platforms were jammed with stories about her death, with users expressing their disdain for those who made the situation harder on her. Those who could've provided non-judgmental support and put the blame on the blackmailer, but chose to pass on judgments and stir up a conversation about her unfortunate incident instead.
Instagram pages and users have also been calling on authorities to capture the blackmailer who caused this tragedy. A criminal who photoshopped a girl's images blackmailed and defamed her should never be roaming freely under any circumstances.