It's a Wednesday and you're in Zamalek, Cairo having a stroll with one of your friends or by yourself. You pass by Giza's Aquarium Grotto Garden in El Gabalaya St. and decide to go explore, what would you expect to find there? Well, I decided to take the journey myself and went there to uncover what the garden has to offer.
The garden entrance fee is five Egyptian Pounds for a single ticket. Once I entered a member of the garden's staff then greeted me and gave me a brief history of the place. It turns out that Khedive Ismail founded it in 1867, making it one of Cairo's most well-known gardens. Following that, the Giza Zoo has been in charge of it since 1902. As you move around the garden, you will come across several Gabaliyas (cave-like buildings) where you can go and explore the creatures residing there. These cave-like structures looked wonderful in the sunlight and gave me the impression that it was part of an Atlantean Kingdom.
Before going into the caves, I decided to climb on top of them first to see the view, and it was gorgeous. The trees and the lush gardens all made it look so picturesque and serene. From atop, you can also see the tall buildings of Zamalek and I was even told that the legendary Egyptian musician, Abdel Halim Hafez lived in one of those buildings that look directly into the garden.
After climbing to the top, I descended into the caves in search of fish, but there was a twist in store. The tanks were empty and had no fish in them. Instead, I found several amphibians and reptiles that were mummified naturally and had been preserved for display. Many different fish species can also be found in the same environment as those seen below, from crocodiles to puffer fish.
Next, I was told by one of the workers there that there is a laboratory in the garden near the caves that has a fish tank and finally I found some fish! Unfortunately, there was not much fish and it felt like there should have been more efforts to fill the tanks with more of them to portray their beauty and stay true to the objective of the garden and aquarium.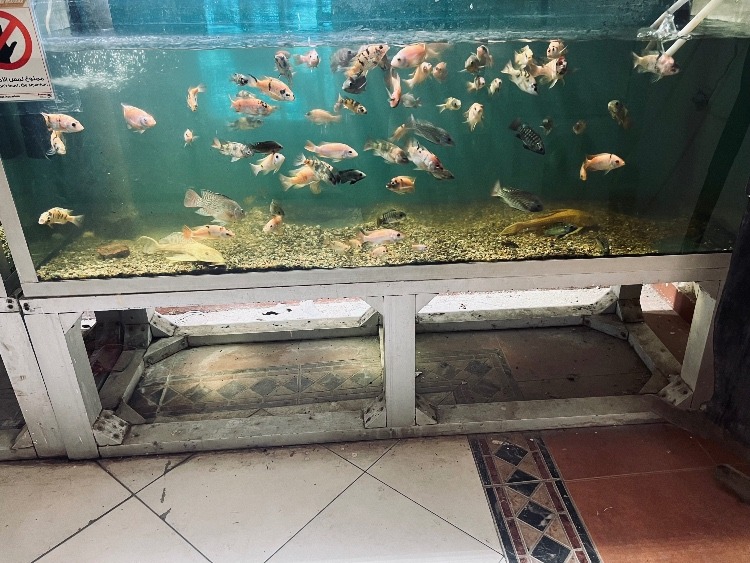 Big fan of bats? There were several bats stuck to the caves' roofs. These bats are vegetarian and known as "fruit bats," or megabats because they feed exclusively on fruit and nectar. Therefore, they are completely harmless and won't even approach you.
Finally, on my way out of the garden, I found this place in the corner behind the cafeteria that was flooded with cats. There was a man who was feeding them and even got them chicken wings for lunch. As I approached this man, he turned out to be called "Rob" and has been living in Egypt for almost 27 years. He is originally from the United States and came to Egypt to visit, but then fell in love with the country and decided to move and live here for the rest of his life. He explained that he comes every morning to feed those cats, relax a bit in the garden, then take few of them to the vet so they can get the necessary shots and then returns them back to the garden. He even told me that he named a few of them and his favourite one was called "Shawkia."
I made my way to the exit sign and what a beautiful visit it was. The garden featured magnificent views, green lush, bats, and exotic cave-like structures; but missed the most important part, fish.