By Lojain El Shawaf
Last night, an hour-long interview with Karen Wazen was published on Anas Bukhash's youtube channel that gave us a deep insight into the personal life behind our favorite social media blogger, Karen.
Let's take a look at some of the most significant questions that made us feel related to Karen on a whole new level.
When Anas asked, what do you say to the people who think you're a bimbo or too perfect or that you have no depth? Wazen replied, "I'd definitely say that they don't know me well enough". She went on to say that it definitely crosses her mind if she might be selling something unrealistic and if it would have a negative effect on them because what she really wants to spread is positivity and only positivity.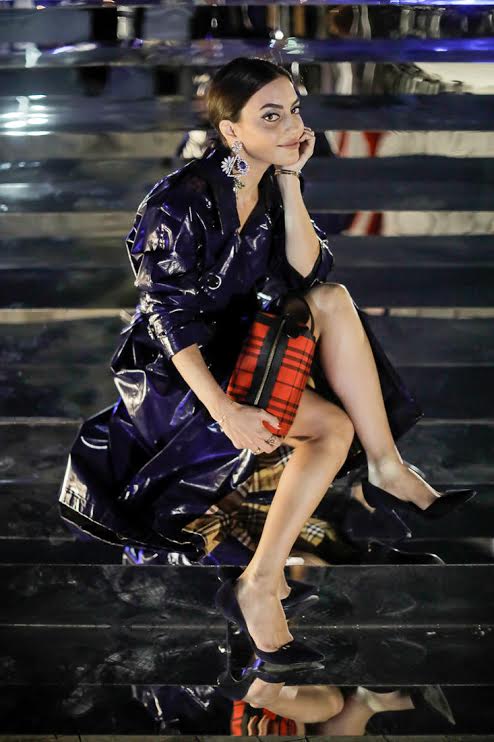 Wazen also said "I don't consider myself a bimbo because I've gone through a lot in my life". That was the beginning of Karen giving us an exclusive look into her life.
Anas tackled numerous parts of Wazen's life beginning with herself and what she is behind social media. Wazen seeked the guidance of a psychiatrist for two years in search for happiness, "this experience is what shaped my understanding", Wazen said. She had a long-distance relationship and was extremely content, but as she said she always thought that this happiness won't last forever. "My psychiatrist made me realize that I'm happy because I'm choosing to be happy'.' She continued, "I'm choosing to focus on the positive things in my life, rather than focusing on the negative things and making it a part of my life".
Wazen came from a divorced family, how did this divorce affect her?
She confessed and said that she feels lucky because now she has two families, not one. "I'm not a victim of divorce", she said. She believes in divorce when it's needed and a couple shouldn't agree to stay for the kids because divorce is sometimes better for the kids and Bukhash was really approving knowing that he came from a divorced family as well.
When asked about her mother Wazen said, "We're very close actually, my mom is my best friend. She's been someone that has been constantly supportive in my life". She went on to mention how strong her mother is and how that makes her happy knowing that she has someone this strong in her life.
Let's delve deeper into Karen's love life. Shall we?
Karen had three romantic relationships in her life. The first one she called "childish", while the second she called "really bad one". She talks about how emotionally and mentally abusive it was, so Karen wasn't really messing around when she said that she went through bumps in her life. The third is, of course, her loving relationship with her husband.
"How is your marriage behind the scenes?" Anas asked. "We argue, but I don't show it on camera of course". Karen mentioned that their personalities are not similar and how they both compromise to make it work saying, "marriage is like a muscle if you don't work on it, if you don't feed it or use it, it's going to die and I care about my marriage".
Moving to Karen's motherhood side, Anas asked, "Do you consider yourself a hands-on mom?" Karen responded, "I try to be the best version of a mom, but I don't always succeed." She mentioned how she loves her kids and respects them, she doesn't force their presence on her social media and that they can always have a say on whether or not they want to appear in pictures.
When asked about her exposure to negativity, she said that she gets exposed to negativity but she also doesn't expect everyone to love her as you can't always be granted everyone's approval. She went on to mention her job's disadvantages stating,  "First, it makes you feel insecure because you compare yourself to others second, you're in the public eye so people think they can give their opinion about you whether they know you or not".
Karen went to describe herself as humbled and grateful because she never takes anything she has for granted. Finally, wrapping this up, Karen mentioned that she might not be representing Arab women in the way she dresses or the language she speaks, but on a side note, she's just representing herself.
As vulnerable, honest and deep this conversation was, it surely touched us.
WE SAID THIS: Karen Wazen won our hearts!!